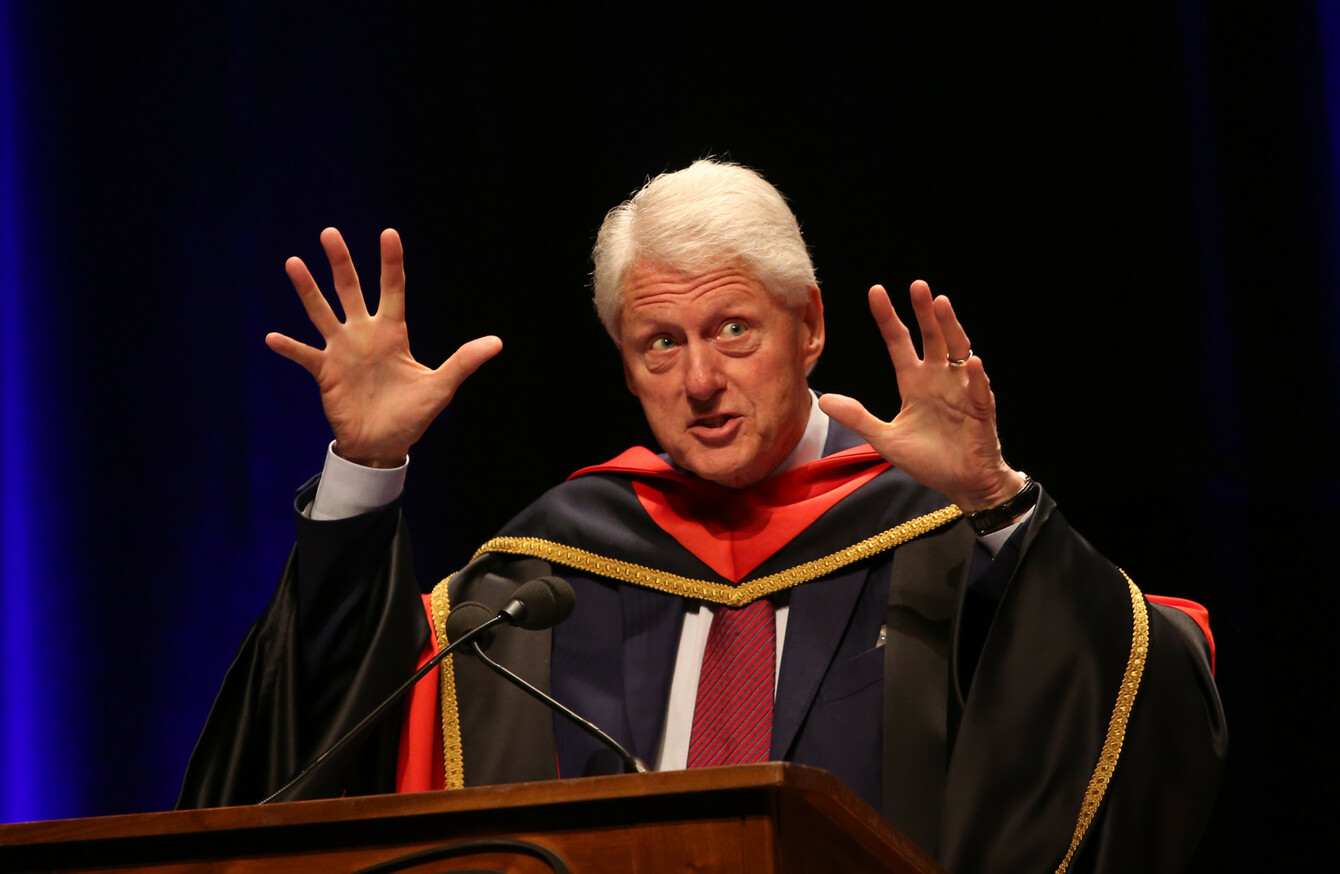 Image: Sam Boal/RollingNews.ie
Image: Sam Boal/RollingNews.ie
FORMER US PRESIDENT Bill Clinton tied together topics as diverse as the Human Genome Project, the plight of the Samaritans and the importance of always singing the second verse of Danny Boy as he accepted an honorary degree today at DCU.
Clinton was also due to visit Belfast yesterday to try to help out in the stalled political talks as part of his current Irish visit, but those plans were delayed by the arrival of Storm Ophelia.
The former US leader was spotted walking the streets of the capital yesterday instead – and surprised more than a few Dubliners making their way home to take shelter from the former hurricane.
The former US President was accepting a degree in philosophy from the college today – and, suitably for the occasion, appeared in philosophical mood as he spoke. The speech didn't particularly lend itself to soundbites – but as far as broad themes go, the message was about the importance of diversity and agreement in an increasingly divisive world.
He segued into that topic (eventually) with some observations about Danny Boy. A choir had given a performance of the ballad before he spoke – and the song was also referenced by the professor who made Clinton's introduction.
"I always like it when people sing the second verse of Danny Boy," he began.
"Most Americans don't know the second verse of Danny Boy but it's quite important to sing the second verse because it reminds you that you can be very big, very famous, very rich, very powerful, very able to push other people around – to hold them down or lift them up – but it all amounts to the same place.
And what you have left is wondering if anyone will ever kneel and say that they love you.
I'm pretty sure it has very little to do with power and everything to do with the power of the heart.
I'm fairly sure it has very little to do with what is so special and unique about us and everything to do with how human we are with the gifts we all share.
Why am I saying this? It appears to be almost anti-intellectual… Because the world right now is awash in the very thing that we were trying to get around in the Good Friday accord. And you have been kind enough to give me this degree because I did what I could to make it happen.
He continued:
But it was pretty simple – a raging conflict that had gone on between two communities in Northern Ireland, infesting politics in the Republic and politics in America and everywhere there was a larger Irish diaspora.
The conflict, he said, was based on the "simple proposition" from each community that "what really mattered to their identities was their religious, political and philosophical differences".
Bringing in another, apparently unconnected topic, he went on to talk (in more than a little depth) about the long-running international scientific effort to determine the sequence of the human genome.
The $3 million of US taxpayer funds dedicated to the Human Genome Project under his presidency was "the best money we ever spent," Clinton said.
The most important thing for this gathering is that every non-age related difference you can see in this room is contained in one half of one percent of our genome.
In every human on Earth not 100% descended from Sub-Saharan Africa, Clinton said, between 1% and 4% of his or her genome is inherited from our pre-human ancestors – the Neanderthals
As an aside, he told the audience:
I remember reading that one day and going prancing into Hillary expecting to be impressing her with my vast knowledge of life sciences.
To laughter, he continued:
She said she could have told anybody that I was part Neanderthal.
In an interdependent world, he said, one in which you could not get away from "the other", the "great trick is to own your own identity, embrace your own tribe, but form a community in which what you have in common with those you can't get away from is more important than your differences".
Going on to speak specifically about the Northern Ireland peace talks, he asked:
So how did they achieve that in the Good Friday accord?
The agreement said we'll keep democracy – real democracy, which is not just majority rule, there are minority rights and individual rights, the rule of law and the absence of violence as a tool for political advancement.
People who sought to distance themselves from others because they didn't regard them as neighbours should be mindful of the parable of the Good Samaritan, said Clinton. During the period of the tale, he said, "the Samaritans were very much not buddies with the tribes of Israel". He observed that the Samaritans, these days, were one of the world's endangered religions.
Brexit
Addressing last year's Brexit vote and recent elections across Europe, he told the audience:
All over the world and here in Europe people are reassessing whether what we have in common is more important than our differences.
Summing up the thought process that led to Brexit he said it amounted to voters saying: "I'm sorry we can't stay together we had a disagreement", but then observing, "Oh my God I didn't know what it was going to do to all those customs things and to all these economic benefits, why didn't anyone tell me about that?"
Do you realise that if we approached families the way we approached this debate all over the world people would run fleeing from their homes the minute parents gave them an instruction they didn't like?
Said Clinton:
All partnerships that are community-based are held together not because everybody agrees with everybody else, not because we don't all still have our different identities – they are because cooperation is better than conflict or isolation in any environment in which you must be in touch with others.
It was, he said, a simple proposition, "but we're re-litigating it now in elections in France and Germany and the Netherlands and Austria".
#Open journalism No news is bad news Support The Journal

Your contributions will help us continue to deliver the stories that are important to you

Support us now
In each election, he said, there was a nationalist party which said "the others are dragging us down – we can't accommodate all of this diversity".
So the world is now in a conflict between whether we should stop our mingling with others at the tribal level or whether communities are better, whether diverse groups make better decisions and create more wealth and life and opportunity or homogeneous ones do because they don't push us so hard and we feel more secure.
Scientific evidence overwhelmingly showed the former was the case, Clinton said. "But more important – we can't get away from each other and so [we shouldn't] look at our neighbours without regarding their rights."
I don't think we should agree with each other all the time. I don't think anybody should be right all the time – but that we should encounter each other as people and find ways to be together.
That's really what the Good Friday accord is about. Majority rule, minority rights, shared economic benefits, shared social participation in the community, shared political participation, and a special relationship with the Irish Republic as well as the UK.
All over the world, he reiterated, people want to "re-litigate" the basic concept behind such agreements.
"In my country there are even people who think it's okay to disenfranchise people they say are community-oriented rather than tribe-oriented.
"The world is now revisiting this."
As he concluded, the former president said:
You don't have to give up your tribal identity to respect the larger humanity without which our world will not continue to thrive.
How we think about this issue, Clinton insisted, would will determine how humanity dealt with everything else facing the planet – from economic inequality and cyber-terrorism to climate change.
Focus Ireland founder Sister Stanislaus Kennedy and businessman Martin Naughton of Glen Dimplex were also honoured at today's event. The audience included former Taoiseach Bertie Ahern and Communicorp owner Denis O'Brien.
Clinton also said in his speech that he had met current Taoiseach Leo Varadkar yesterday (which partly explains why he was seen strolling around the city so much). He described him as a "very impressive man".
Clinton's storm-delayed visit to Belfast went ahead this afternoon. He met DUP leader Arlene Foster and was scheduled to meet separately with Sinn Féin.