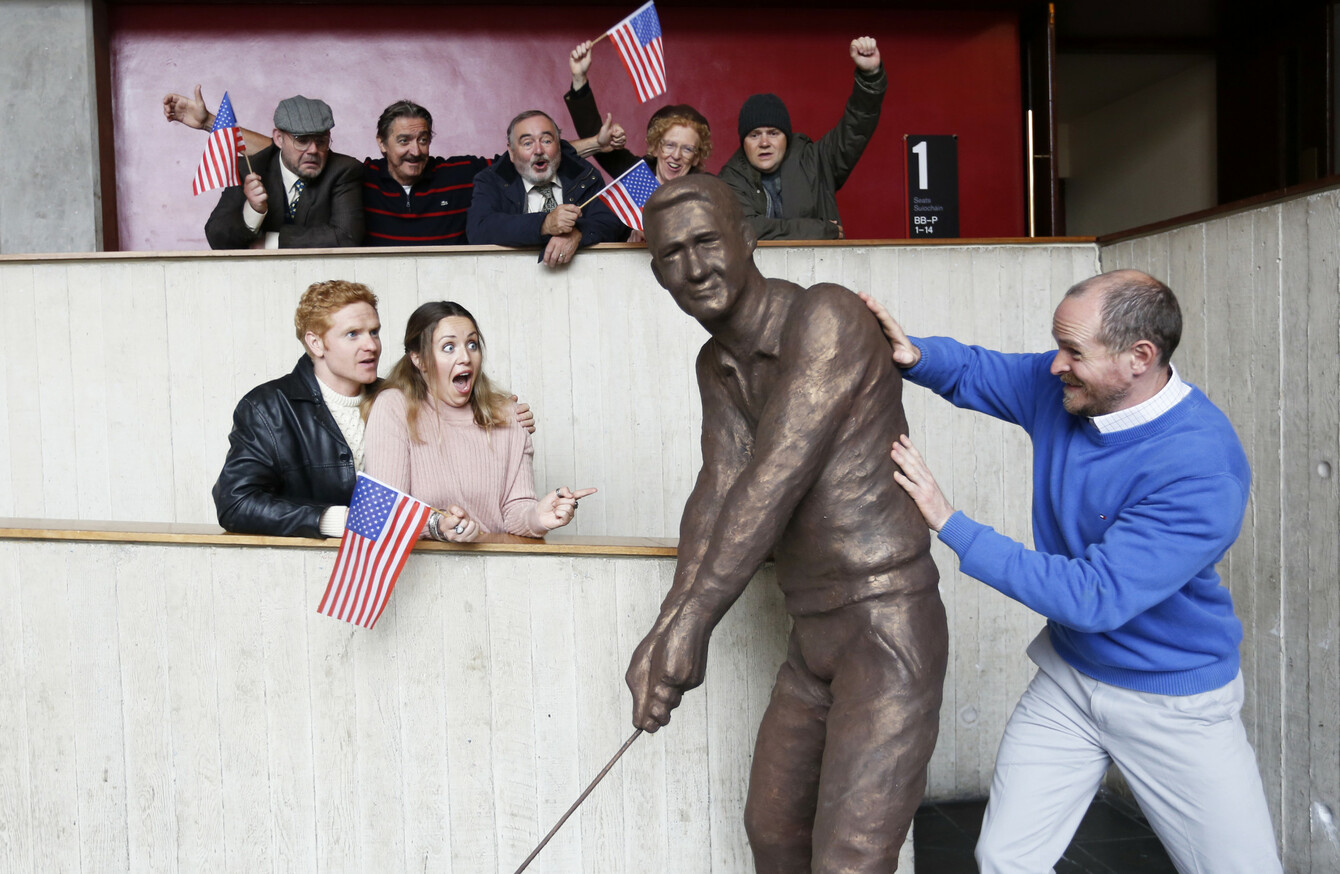 The cast of A Statue For Bill Clinton.
Image: Sasko Lazarov/RollingNews.ie
The cast of A Statue For Bill Clinton.
Image: Sasko Lazarov/RollingNews.ie
IF YOU'VE EVER been to Ballybunion in county Kerry, you'll be familiar with the statue of Bill Clinton.
The former US President has played at the town's golf course and a statue of him teeing off was erected in his honour.
The story of Clinton's 1998 visit is being immortalised on the Dublin stage in A Statue For Bill Clinton.
The play opened earlier this week in the O'Reilly Theatre at Belvedere College on 6 Great Denmark Street, off Parnell Street, Dublin. And, while it tells a very Irish story, the play is written by a former mayor of San Jose, California.
Tom McEnery is an American author, businessman, teacher and former first citizen of the Californian city.
Being the grandson of Irish emigrants, his Irish links are deep, having completed his Masters thesis on Michael Collins and spent four months living in Ballybunion.
He told TheJournal.ie that the play came from a desire to tell a story of a major moment in time on a very micro scale.
It comes from the brutal and completely inspirational truth. Those few months happened exactly as they're portrayed in the play – the Good Friday Agreement, the Monica Lewinsky scandal, the votes in Ireland and Northern Ireland.
"Clinton had huge problems at home and what they generally do is get out of town. So what we have added is the love affair between a man and his town and an American and a local girl, but the chronology is intact."
While the Irish emigrant story is one that is well told, McEnery says that his time in Ballybunion made him interested in the Irish who stay behind.
"This story tells about Irish people who stayed here – those who couldn't or didn't leave – what are they here for? What are they working towards?
"There is a lesson in the play for Ireland in 2017 – if you're committed and work day by day, sometimes good things happen. It all came together that one day in 1998 for this town.
"[When I lived in Ballybunion] I just learned so much about Ireland – why my grandparents left, why others stayed. Immigrants have always fascinated me, but I became fascinated with those who stayed.
Down in Kerry, the locals are pleased to have the town back in the news, with 25 people travelling up to Dublin for the opening night.
The people of Ballybunion are pleased. It's not a good scene out in the west and they're happy with the renewed interest in the town.
As for the future, McEnery thinks the play could translate to the other side of the Atlantic.
"It's possible that this could have a life in Ireland and in the US.
The Irish story is so universal. I thought there was a story to tell here about this moment in time, wrapped around what happened this little town.
"If I've done my job, the audience will see that story."
A Statue for Bill Clinton runs for a short and limited time until Sunday, 13 August, at the O'Reilly Theatre off Parnell Square, 6 Great Denmark Street, Dublin 1. Tickets are available here and by phone on (01) 443 3774 and range from €25 to €30, with show time at 8pm and matinées on Saturdays and Sundays at 3pm.