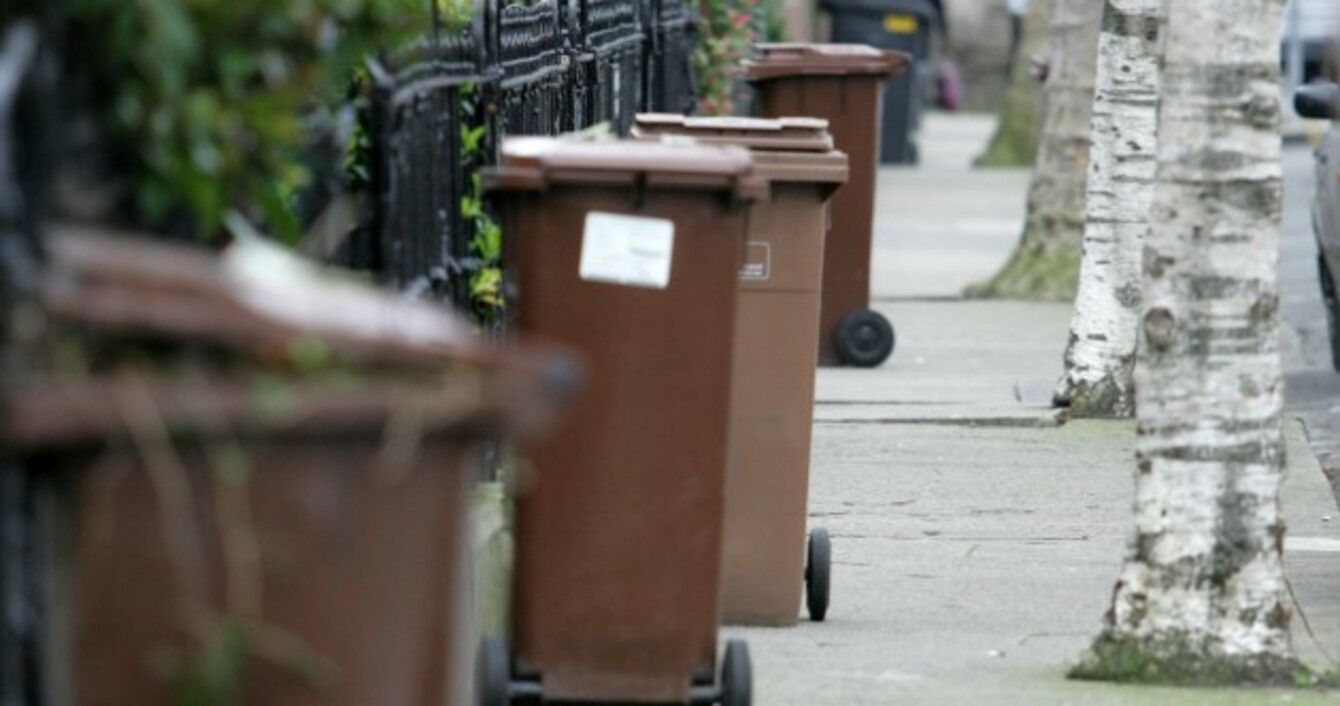 Image: Sam Boal/Photocall Ireland
Image: Sam Boal/Photocall Ireland
THE PAY-BY-weight system is not going to be scrapped, but is being delayed, according to the Minister for Communications, Climate Action and Environment, Denis Naughten.
Today the minister said the new system will be introduced by the middle of next year.
The pay-by-weight regime hit a stumbling block during the summer when it emerged waste collection companies began to hike up their service charges, with some consumers being hit with 200% increases in their bills.
The debacle was the last thing the newly formed government needed, and resulted in the Housing Minister Simon Coveney (who was, at the time, responsible for the waste collection industry) putting a freeze on bin charges for a period of 12 months.
This was to give government and the sector enough time to negotiate a new charging system.
From 1 January, householders were due to get dual-invoices, which would outline their bin charge that they regularly pay, but also specify what they would be paying when the new system is introduced.
This has now been delayed by Naughten (who took over responsibility for the industry after the price freeze).
Speaking to reporters today, he confirmed the dual pricing invoicing system which was due to kick in in the new year is not going ahead.
He said the reason for the delay is because discussions between government officials and the waste industry are ongoing.
Naughten denied that waste companies were refusing to back down to government on the new pricing regime, stating that "is not the case at all".
"We have had very productive engagement with the industry up to now," he added.
"We haven't agreed to the new pricing regime so there isn't much point to introducing an invoicing system that will reflect a pricing regime that hasn't yet been agreed with the industry," said Naughten.
Once there is agreement, the minister said there will be implementation of the new system.
The minister added:
Part of problem last year was some of the operators last year were trying to change their pricing regime to increase their own margins as well as introducing pay-by-weight system.
The problem was the pay-by-weight system hadn't been fully thought through. In fairness to Simon Coveney, when he came in as minister, when he saw that it was going to be impossible to implement it last summer, made the announcement of postponing it for 12 months to allow for that engagement to take place.
Naughten said it was his intention to have an agreement in place before Christmas, but stated: "It hasn't been possible to do that."
However, he said he expects to be bring a memorandum to government early in the new year to outline the new process. A public information campaign will then be launched, in conjunction with the waste industry, he said.
Naughten said he was not going to rush the process now just to meet a "political target".
The Green Party today criticised Naughten's decision to defer pay-by-weight scheme.
A statement from Green Party spokesperson on local government, Councillor Malcolm Noonan, said that further delays "are playing into the hands of the incinerator industry by facilitating a dysfunctional market for recyclables, undermining the viability of waste collection and ultimately offering consumers very poor value for money or tangible incentives to reduce waste".