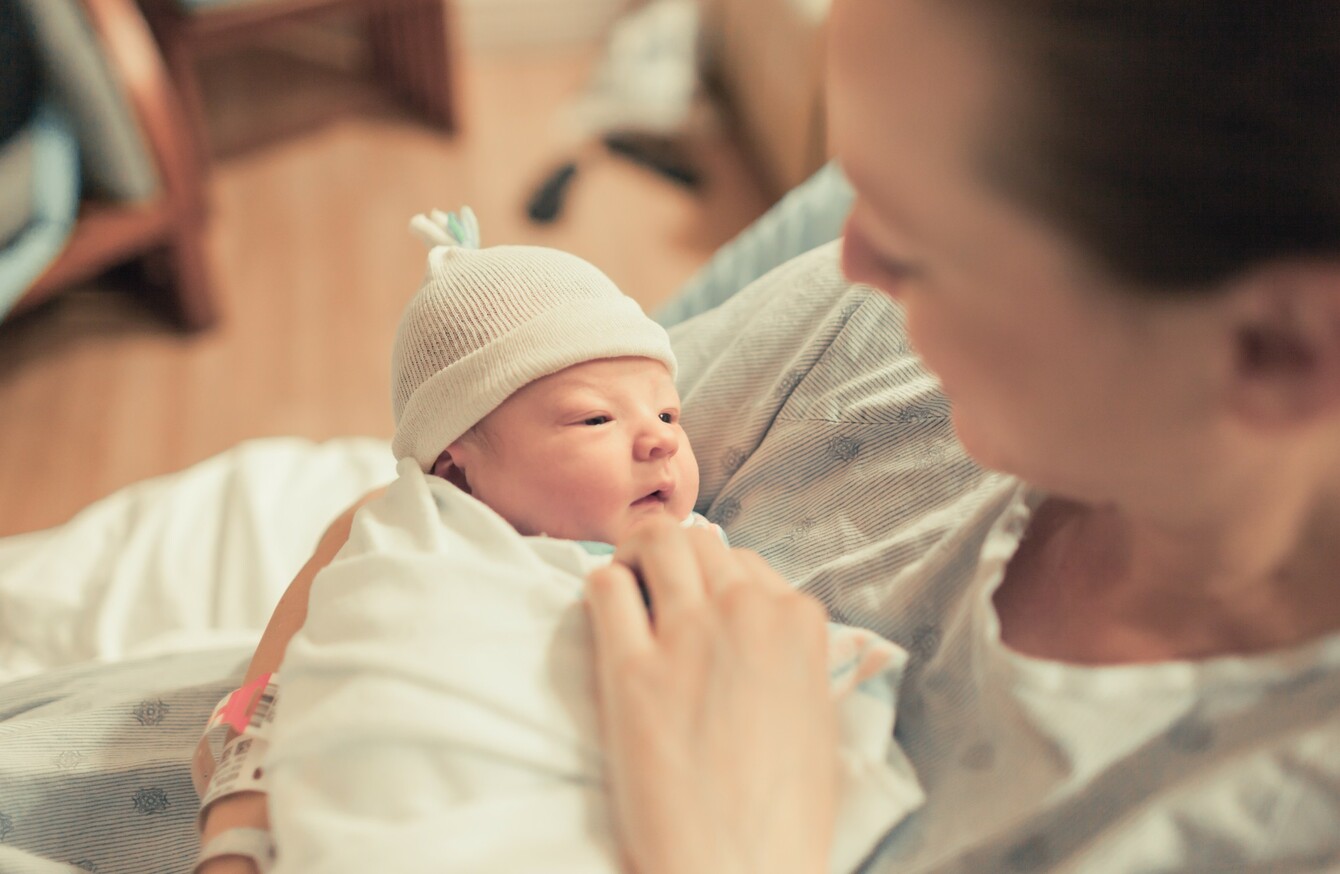 Image: Shutterstock/KieferPix
Image: Shutterstock/KieferPix
WHEN I IMAGINED my labour, I tried to visualise a calm room, dimmed lights, my carefully curated songs gently playing away in the background.
I would practice the breathing techniques I learned in hypnobirthing as I pushed my baby into the world. The midwife would lift her up and place her on my chest. I would stare down at her perfect little face and enjoy skin-to-skin time. I would then be sent home with my little bundle 12 hours later to begin our new life together.
Let's just say, this didn't go exactly to plan!
My due date came and went and when I reached 42+ weeks, it was time to be induced. Even though I laboured for two days, I ended up giving birth via cesarean section.
What I hoped would be an all natural, quick labour ended up being a long, medicated affair, which meant a much lengthier stay on the ward than I anticipated. 
These are the ways my expectations for giving birth didn't quite line up with the reality I encountered. 
1. Expectation: We'd be rushed through to the labour ward on arrival
Reality: A frustratingly admin-heavy check-in process.
Nothing feels as long as the check-in process when you're in labour! I was irrationally angry at the man whose job it was to take our details. He was alarmingly upbeat. There was a system and he was sticking to it. I, however, was clinging to the wall and my contractions felt like a lightning storm in my cervix. No amount of heavy breathing, hip swaying or death stares was going to speed him up.
I couldn't tell you if we stood at reception for three minutes or three hours. Either way, it was too long. 
2. Expectation: I'd be wrapped in a serene bubble with no distractions
Reality: Those paper curtains don't hide much noise…
You'll never empathise more with anyone than the couples going through this journey alongside you. I never saw the woman beside me thanks to those paper curtains, but I know she had a rough time. Her partner was running in and out to the nurses station looking very worried. The woman across from me progressed so quickly she ended up birthing her baby on the ward. I heard his first cry. We were all so different, but in some small way, I felt we were all in this together.  
3. Expectation: Labouring in the bath would be an eye-opening experience
Reality: Yes, but not for the reasons I imagined…
While water births aren't an option in the hospital I attended, you can labour in the bath. I was delighted when my midwife suggested I give it a go. I was a little shocked by how, shall we say, basic, the bathroom is. It was at the end of the corridor and had floor to ceiling tiles in a rather fetching brown pattern. It also seemed to be the room people used for a quick wee if they didn't have time to make it to the staff loos. It was certainly not a spa experience, but it did help with the pain. As long as you don't mind the odd awkward wave at a shocked midwife, I'd recommend it.  
4. Expectation: I'd hate the noise in the labour ward
Reality: It wasn't all that bad, tbh.
Yes, it's noisy and crowded. Yes, some women scream. Yes, the midwives are run off their feet. But it isn't anywhere near as bad as I worried it would be. I was expecting hell on earth! In a perfect world, it would be amazing to have your own space. But if you do end up having to labour there, please don't be scared. I only heard horror stories, but I actually remember very little about the ward, so it can't have been that bad – or maybe I blocked it all out! 
5. Expectation: I'd need a few blankets and warm PJs to stay cosy at night
Reality: Labour wards are hotter than the sun.
I was there in February, so I can't imagine what level the thermostat reaches in the summer months. I was cooler when I spent three weeks in Bali. I understand it's important to keep newborns nice and cosy. I, however, felt lightly steamed by the time I got home. The glamourous compression stockings didn't help either.
#Open journalism No news is bad news Support The Journal

Your contributions will help us continue to deliver the stories that are important to you

Support us now
6. Expectation: Bland, beige hospital food
Reality: Vegan chilli, burritos and other deliciousness!
The tea and toast aren't a myth, but I really was not expecting the incredible standard of food I experienced throughout the rest of my stay. Each day I chose what I wanted from a menu and the loveliest ladies served it directly to my bed. A burrito, a Spanish omelette and even a vegan chilli were on offer on just one of the days. And don't get me started on the desserts and personalised cupcakes! My husband had a lot to live up to when we got home!
7. Expectation: Visiting hours don't apply when you have a C-section, right?
Reality: They do – my partner was sent home three hours after the delivery.
Really tough. I couldn't believe he was being asked to leave just three hours after our daughter was born. I had just been through two days of labour and major abdominal surgery. My legs were still numb. I had IVs in both hands and an uncomfortable catheter bag attached but rules are rules and away he was sent. I sobbed. So did the woman in the bed beside me when her partner left. As did the woman in the bed next to her…
8. Expectation: My birthing plan would lead the way
Reality: Birthing plan? LOL.
It's really important to educate yourself and know what you are and are not comfortable with but these babies have minds of their own! I was asked if I had any birth preferences which I think is a great way to look at it. My good intentions, birthing plan and raspberry leaf tea didn't get me the birth I hoped for, but the kindness shown to me by my midwives and surgeons meant I wasn't afraid or disappointed at any point.
I may not have had the birth I was hoping for but my little girl arrived safely and that's all that matters. Although nothing went to plan (there was even a nurses and midwife strike during our stay!), it was all worth it when I saw my baby's face for the first time. Stress levels are high for all of the staff but care and compassion levels are even higher.
I couldn't wait to get home to my own bed but the main thing I realised when I was there is that there is literally nowhere else on earth like a maternity hospital.