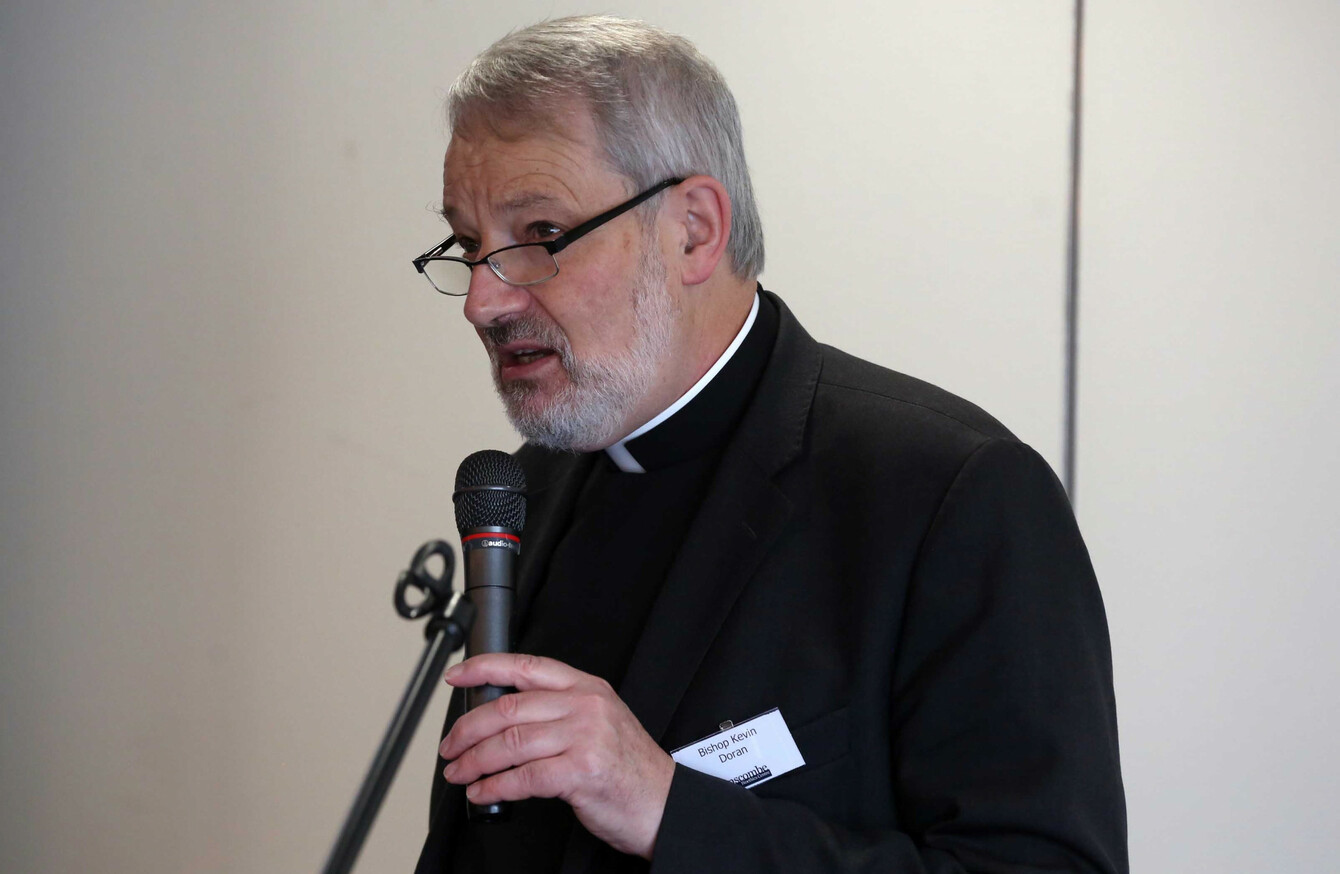 Catholic Bishop Kevin Doran.
Image: Sam Boal
Catholic Bishop Kevin Doran.
Image: Sam Boal
Updated at 8.40pm
A BISHOP HAS said that voting Yes in the Eighth Amendment referendum was "a sin" and those who did so should consider going to confession.
Bishop of Elphin Kevin Doran told RTÉ's Today Sean O'Rourke that if a practising Catholic "voted Yes, knowing and intending that abortion would be the outcome, then you should consider coming to confession, where you would be received with the same compassion that is shown to any other penitent".
When asked should someone receive communion if they had voted yes, the Bishop answered:
"I think that's a matter for their own personal conscience. I can't see into a person's heart or soul as they approach the altar. I have to say quite honestly in over 40 years as a priest I have never turned anybody away from Holy Communion because the presumption is that the people who approach the altar come in good faith."
He says that although the result "was obviously quite clear-cut" that he believed those who voted Yes knowing abortion would be the outcome had committed "a sin".
Speaking on RTÉ Radio One's Drivetime, Father Brian D'Arcy reacted to Bishop Doran's comments and said that he "wouldn't like to attribute sin in this manner, at all".
It's the wrong language for this because this isn't an issue about Church law at all.
"This is an issue about how the State is attempting to treat all its people in an emerging way, in an emerging Republic, in an emerging world, an ever-changing world in which many values have to be changed and looked at," he said.
Each of us has to struggle, that's exactly what a Christian conscience has to do, to struggle to find a way of accepting what is right for yourself, while also allowing what you couldn't allow for yourself to be allowed for others who might view life, ethics and morality in a different way.
The language of sin is not one I would use in this, at all.
'Can't take a casual approach'
Earlier on Today with Sean O'Rourke, Bishop Doran said that Catholics couldn't take a casual approach to this, "as though it didn't make any difference", he said.
Personally I'm obviously very sad about this. I still believe in the right to life of every person, and obviously as far as the Church is concerned, what was said Thursday last [about the referendum] is still true today.
Father D'Arcy to RTÉ's Drivetime that a priest of the Order does not have the right to tell people how to vote.
"I would feel very insulted if someone told me how to vote," he said.
#Open journalism No news is bad news Support The Journal

Your contributions will help us continue to deliver the stories that are important to you

Support us now
Father D'Arcy added that Catholic teaching wasn't up for discussion on this issue. He added that the Catholic Church has a position on abortion, but nobody was asking the Catholic Church to change their teaching.
The results of the referendum were 66% in favour of repealing the Eighth Amendment, and 33% for retaining it, a landslide in favour of liberalising Ireland's abortion laws.
"Personally I'm surprised by the extent of it," Doran said. "I was conscious that there seemed to be a silent vote, we didn't know what way it was going to go."
I do find it surprising that the majority of people voted for this.
When asked whether Bishop Doran was wrong to ask those who voted Yes to go to confession, Father D'Arcy said that it is up to those who voted that way to decide. He added that going to confession is a good thing for people to do anyway.
A number of the shows listeners reacted strongly to the comments by the bishop:
I was a silent Yes, I'm a Catholic mother, grandmother, regular Mass-goer, minister of the Eucharist and above all, a compassionate person… I do hope that it will only be in extreme cases that abortion will be allowed.
I cannot believe my ears, Bishop Doran saying go to confession if you've voted Yes, is it any wonder that the number of people going to Mass is dropping.
I'm a practicing Catholic and I feel so sad and unwelcome now. I voted Yes, I will always stand for a woman's right to choose, and I feel I can't go to Mass now on Sunday if that is the way the Church will regard me.
I'm delighted at the Bishop's comments, the celebrations in Dublin Castle was very sad.
Well done Bishop Doran, he is merely upholding the teaching of the Catholic Church.
With reporting by Hayley Halpin.