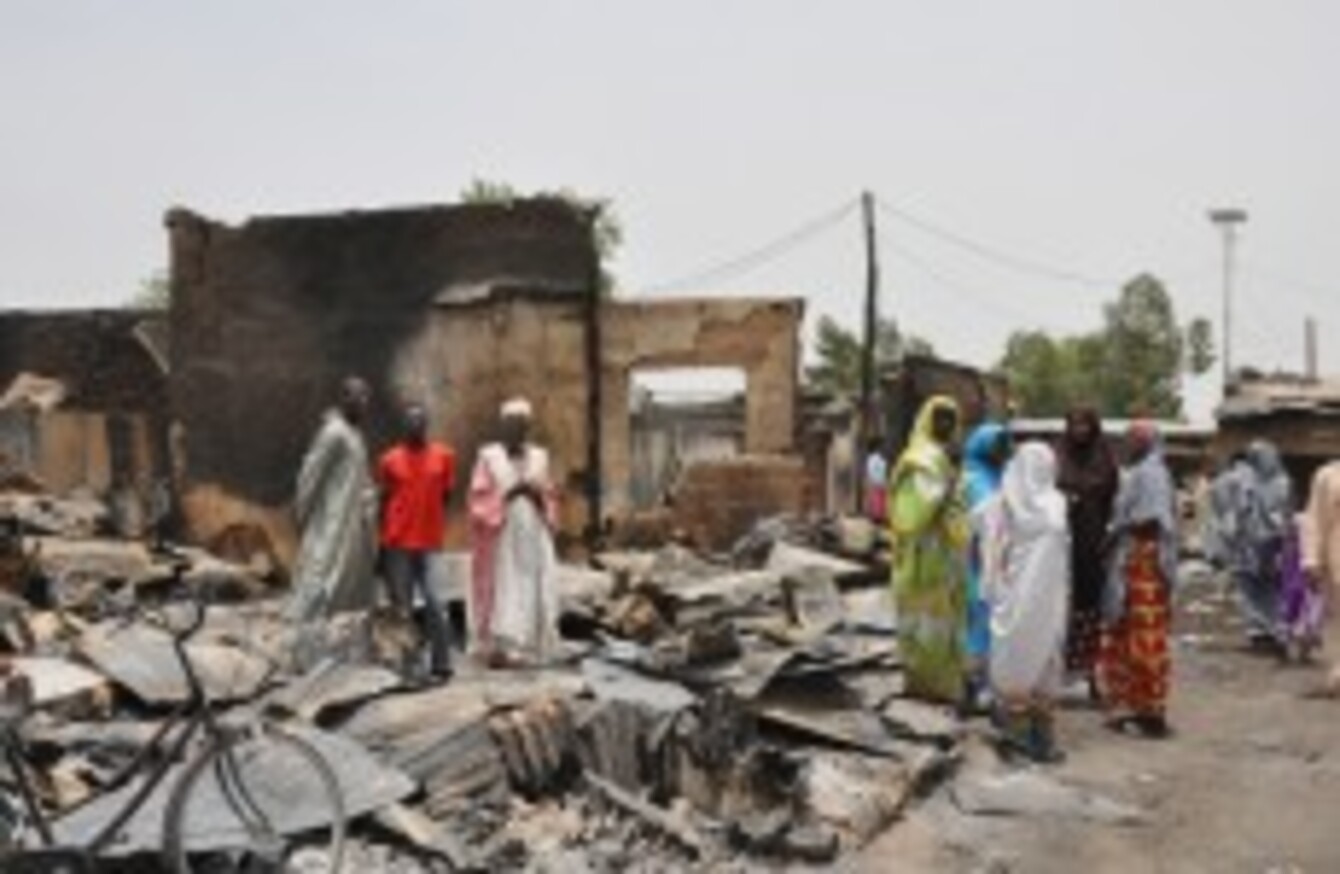 File photo of the aftermath of a Boko Haram attack in Gambaru, Nigeria.
Image: Jossy Ola/AP/PA
File photo of the aftermath of a Boko Haram attack in Gambaru, Nigeria.
Image: Jossy Ola/AP/PA
TWO EXPLOSIONS HAVE ripped through a crowded mobile phone market in the northeast Nigerian city of Potiskum.
The blasts rocked the Kasuwar Jagwal market within seconds of each other at about 3:10pm when business was at its peak but there were no immediate indications of the number of casualties.
"The first explosion happened inside the market and the second went off just outside the entrance as people rushed out to flee," said witness Ibrahim Dambam.
It was not clear whether the blasts were caused by suicide attacks or explosives left in the market, where new and second-hand phones are sold and repaired.
Sunday is Potiskum's market day and attracts traders and shoppers from all over Yobe State and beyond. It comes after two explosions yesterday, with one involving a 10-year-old child suicide bomber.
At least 19 people were killed when the young girl, thought to be aged just 10, exploded outside a market in Maiduguri, the state capital of neighbouring Borno. Later, car exploded outside a nearby police station in the city, killing the driver and a policeman. The vehicle was being escorted to the facility after being stopped earlier at a checkpoint.
Boko Haram were suspected of instigating the Maiduguri attack, as it has increasingly used female suicide bombers in its violent campaign for a hardline Islamic state in northeast Nigeria. The New York Times reports witnesses said it appeared the girl might not have been aware of exactly what it was she was concealing under her hijab.
This girl may not necessarily know she was conveying a timed bomb. The girl was torn into two halves, and half of her body was thrown across buildings by the devastating blast.
In December, this 13-year-old girl was arrested with explosives strapped to her body, following a double suicide bombing at a police headquarters.
She told police her father gave her to Boko Haram. She was arrested after refusing to explode her bomb.
Car bombings and explosions caused by devices left in crowded places have also been hallmarks of the group's bloody, six-year insurgency.
In November last year, a female suicide bomber killed 12 people in an attack on another mobile phone market in the town of Azare, in nearby Bauchi state.
On Friday, Amnesty International said hundreds of people were killed in Baga in what the organisation described as the "deadliest massacre" in the history of Boko Haram.
Mike Omeri, the government spokesman on the insurgency, said fighting continued Friday for Baga, a town on the border with Chad where insurgents seized a key military base on 3 January and attacked again on Wednesday.
Most victims are children, women and elderly people who could not run fast enough when insurgents drove into Baga, firing rocket-propelled grenades and assault rifles on town residents.
The human carnage perpetrated by Boko Haram terrorists in Baga was enormous," Muhammad Abba Gava, a spokesman for poorly armed civilians in a defense group that fights Boko Haram told reporters. He said civilian fighters gave up trying to count all the bodies.
- © AFP 2015 with reporting by Michelle Hennessy and Associated Press.