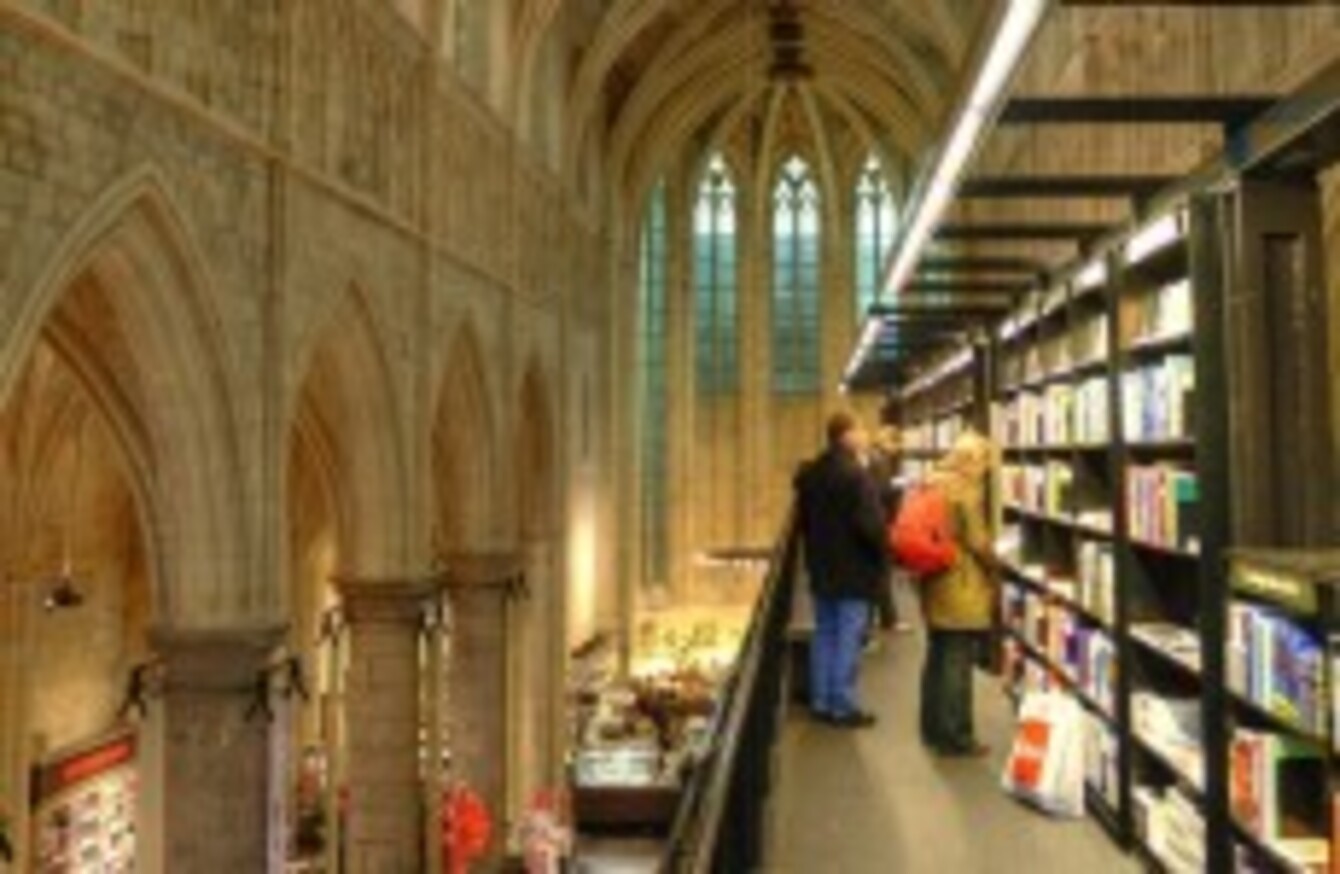 Boekhandel Selexyz Dominicanen in Maastricht, Holland
Boekhandel Selexyz Dominicanen in Maastricht, Holland
BOOKSHOPS CAN BE a destination upon themselves.
From ones bordering a canal where the books are kept in bathtubs and boats, to a converted 13th century church, check out some of the most interesting book retailers out there.
Shakespeare and Company, Paris, France.
The original Shakespeare & Company on Paris' Left Bank was a hangout for Ernest Hemingway, Ezra Pound, and James Joyce, but closed during World War Two.
The store re-opened in 1951 and has become a popular favourite because of its ambience and selection.
"Time has not sundered the love-in between literature and Paris's Left Bank," writes Time.
"The Shakespeare and Company bookshop has long been a fixture of the affair."
(Image Credit: zoetnet via Flickr/Creative Commons)
Libreria Acqua Alta, Venice, Italy.
This bookshop features classic volumes of American and Italian books packed in traditional Venetian gondola boats. But the show-stopping attraction is the back of the bookshop, which opens up to a beautiful canal.
"It's a bookshop right on the canal that floods every year, so the eccentric, stray-cat-adopting owner keeps his books in boats, bathtubs and a disused gondola to protect them," writes Paris Review.
The store is also lauded for its extensive art and postcard collections.

(Image Credit: anniejay via Flickr/Creative Commons)
Livraria Lello & Irmao, Porto, Portugal.
This gorgeous, 100-year-old bookshop is known for its stunning architecture and "stairway to heaven."
"Once inside, there is the curvaceous red stairway connecting the two levels (inspired on the Parisian Galleries Lafayette), the heavily decorated walls and ceilings, and the magnificent stained-glass skylight with Lello's motto vecus in labore will no doubt impress you," one visitor writes on bookstoreguide.org.
(Image Credit: chilangoco on Flickr)
El Ateneo, Buenes Aires, Argentina.
This bookshop is housed in an ornate theater building from the 1920′s. Customers can sit in still-intact theater boxes to relax and browse their books.
"While the selection of books on offer is standard chain store fare, bibliophiles will find the staggeringly opulent display of books to be reason enough to pay El Ateneo Grand Splendid a visit," according to Atlas Obscura.
(Image Credit: Wikimedia Commons)
The Bookworm, Beijing, China
The Bookworm is both a lending library and a bookshop with a ridiculously expansive collection. There's also a gourmet European cafe on the premises.
"We love this Beijing spot when we're craving a double-dose of intellectual stimulation and decent café food. Thousands of English-language books fill the shelves and may be borrowed for a fee or read inside. New books and magazines are also for sale," writes Fodor's Travel.
(Image Credit: stephenrwalli on Flickr)
Boekhandel Selexyz Dominicanen in Maastricht, Holland.
This epic bookshop is a converted Dominican church from the 13th century. The serene alcoves of the church now serve as reading nooks.
"A superb example of adaptive re-use, the Selexyz Dominicanen infuses rich and historic architecture with plentiful shelves ripe with information," writes Diane Pham at inhabitant.com.
(Image Credit: Bert Kaufman via Flickr/Creative Commons)
Strand, New York City.
This East Village retailer boasts 29 kilometres of books.
#Open journalism No news is bad news Support The Journal

Your contributions will help us continue to deliver the stories that are important to you

Support us now
"Its prices and selection are seldom beat, and there's still the unique thrill of finding a copy of The Grapes of Wrath once belonging to the Rikers Correctional Library in their 49-cent bin," writes Gothamist.
(Image Credit: drivebysh00ter via Flickr/Creative Commons)
Powell's Books, Portland, Oregon.
This former car dealership takes up an entire city block and boasts more than 1 million titles.
"The sixty-eight-thousand-square-foot space is divided into nine color-coded rooms, which together house more than 3,500 sections," writes Poets & Writers.
"From the moment you walk in, it feels as if you could find anything there."
(Image Credit: Peyri via Flickr/Creative Commons)
The Winding Stair, Dublin city centre.
And right here in Ireland, we have this little gem.
It's made up of the winning combination of a beautiful book shop downstairs, and an equally beautiful restaurant upstairs.
The whole thing comes together quite nicely in a rickety homely kind of way.
(Image Credit: Google Maps)
What Irish bookshops would you recommend? Tell us in the comments below.