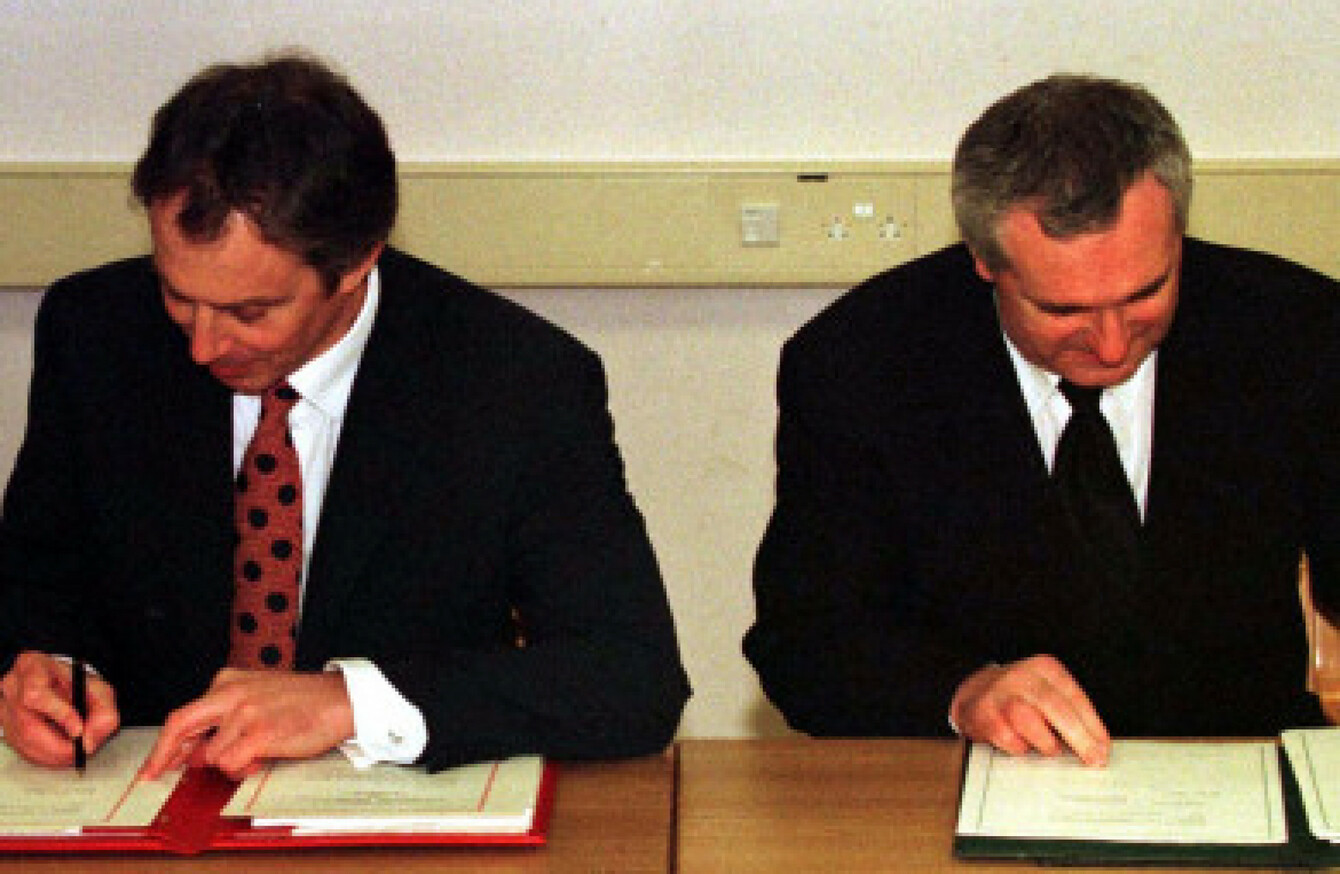 Former UK Prime Minister Tony Blair and former Taoiseach Bertie Ahern signing the Good Friday Agreement in 1998.
Image: RollingNews.ie
Former UK Prime Minister Tony Blair and former Taoiseach Bertie Ahern signing the Good Friday Agreement in 1998.
Image: RollingNews.ie
A BELFAST MAN who describes himself as both an Irish and British citizen, as well as a unionist, has lost his High Court challenge against the Northern Ireland Secretary over her power to decide when a border poll can be called.
Raymond McCord, a campaigner for victims of the Troubles, took a judicial review, arguing that it is not clear in the Good Friday Agreement or Article 3.1 of the Irish Constitution if a majority in favour of a united Ireland is required in both jurisdictions on the island of Ireland or if a combined majority of the people of Ireland is all that is required in order for a border poll to be called.
He said the current criteria gives the Northern Ireland Secretary (currently Karen Bradley) "unfettered discretion" as to when a poll can be called and said procedures are too vague.
How and when a border poll is held 
McCord was seeking the secretary to publish a policy document as a matter of urgency, setting out the circumstances in which a poll would be held.
According to the Good Friday Agreement (GFA), a border poll can only be called by the Secretary of State for Northern Ireland.
The agreement says the secretary can order a border poll:
If at any time it appears likely to him that a majority of those voting would express a wish that Northern Ireland should …form part of a united Ireland.
The agreement also provides for the people of the island of Ireland to exercise their right of self-determination by agreement between the people of North and South.
The GFA states:
It is for the people of Ireland alone, by agreement between the two parts respectively and without external impediment, to exercise their right of self-determination on the basis of consent, freely and concurrently given, North and South, to bring about a United Ireland, accepting that this right must be achieved and exercised with and subject to the agreement and consent of a majority of the people of Northern Ireland.
If such a vote passed, the process of Irish unification would begin.
McCord, aged 62, took simultaneous action against the Irish State and the Northern Ireland Secretary.
Lack of transparency
In his affidavit to the Belfast court, he argued that as a matter of "transparency" both governments should set out their policies as to how and when a border poll should be held, stating that it is a "matter of fundamental constitutional importance" for the citizens of Northern Ireland, the Republic of Ireland, Britain and the EU.
"Uncertainty and the lack of transparency in Northern Ireland have historically not be good for peace and open to abuse," he said.
In his ruling yesterday, Mr Justice Paul Girvan said he was "wholly unpersuaded by the argument that the Secretary of State be bound by a policy detailing the way in which that flexible and politically sensitive power is bound to be exercised".
It continued:
The court cannot intervene merely because it considers that a production of publication of such a policy would be sensible or desirable. It can only intervene if as a matter of law the Secretary of State is obliged to make and publish such a policy.
Discretionary poll to call a border poll 
The judge said that the current approach appears "entirely apt in the context of decision-making by the Secretary of State in relation to the discretionary power to call a border poll".
"The statutory framework does not specify the matters which must be taken into account or left out of account in deciding whether a border poll is or is not appropriate. In essence it must be for the Secretary of State to decide what matters should be taken into account on the political question of the appropriateness of a poll.
"The Secretary of State has indicated that a form of published policy prescribing how the discretion should be exercised and which pre-determines how public opinion should be assessed may prove unduly restrictive and not in the public interest.
"This is a tenable and rational conclusion on her part. Her decision not to make or publish a policy in relation to the exercise of her discretionary power cannot be impugned and there is no legal requirement to have a policy in place to govern and qualify how the broad discretionary power is to be exercised."
Not required to enunciate a policy
The matter of when and who should vote in a border poll falls on the Secretary of State to conclude, said the judge, adding that she is not required as a matter of law to enunciate a policy on how the pool of voters should be determined in advance of her exercising her powers. The judge ruled to dismiss McCord's application.
Speaking to RTÉ outside the court yesterday, McCord expressed disappointment at the outcome.
"For me, it's about taking politics out of the border poll, and putting policies in because quite clearly the border poll is being abused.
"And I'm disappointed in what the judge said, but we'll appeal it."
Fianna Fáil Senator Mark Daly, who has supported McCord's case, said yesterday's ruling was a "tragic result".
He said it is case that "politics rather than policy is what will decide when a referendum on a united Ireland is held, but as we have seen all too often policy neglect seldom goes unpunished".
McCord's case challenging the Irish government on its lack of policy on holding a border poll is due to be heard in Dublin on 3 July.