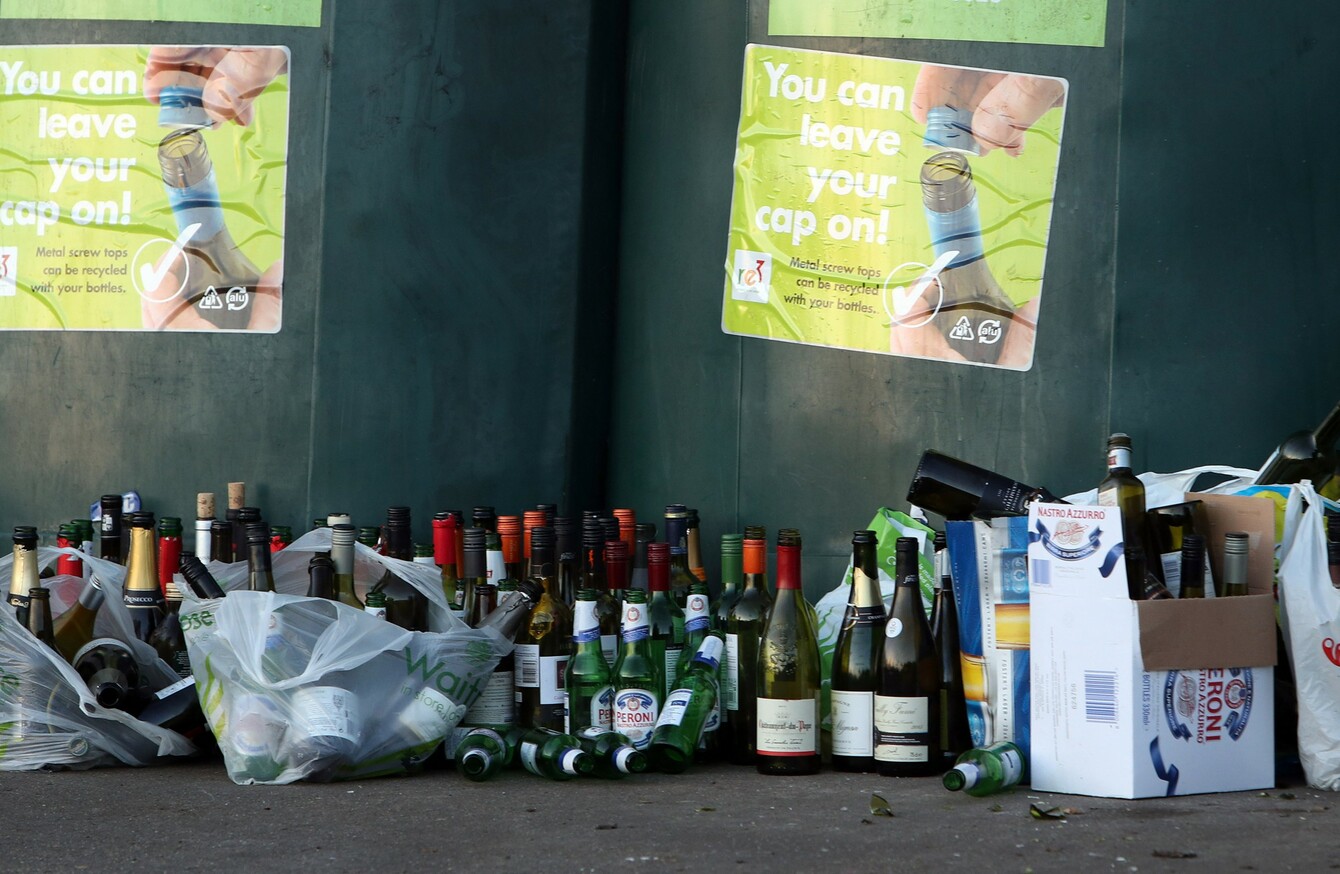 Image: Steve Parsons
Image: Steve Parsons
WITH THE POOLBEG incinerator firing up for the first time, the conversation about Ireland's waste has never been higher on the agenda.
According to CSO figures for 2014, the average Irish person is responsible for 586kgs of waste a year – the sixth highest in the EU. Of that, 233kgs per capita is sent to landfill sites – around 100kg more than the EU average.
With those figures in mind and concerns around the incineration of waste in Poolbeg, the Green Party has suggested a solution.
The party last week called for the introduction of a deposit refund scheme for recyclables to counterbalance the demand of Poolbeg.
Party spokesperson for Local Government, Councillor Malcolm Noonan said the systems were common across Europe.
"Deposit refund schemes are in place all across Europe; they provide revenue to community and sporting groups, create a local economy of recycling and most importantly divert large quantities of good quality recyclable material from landfill or incineration and in turn clean up our urban and rural areas.
"We cannot keep consuming at this rate; designing out wasteful and toxic packaging coupled with a deposit refund scheme as we are proposing are important steps in ensuring that incineration does not become our default way of dealing with the waste we produce."

How would it work?
Asked for clarification on just how the law would work, a party spokesperson told TheJournal.ie that the plan is based on a Dutch system.
The model we looked most closely at is how the deposit scheme works in the Netherlands. Deposit schemes are primarily aimed at glass bottles, as they don't biodegrade, are unsuited to incineration, and are easily recycled, but we would propose examining how plastics could also be included in such a scheme. There would be a nominal charge of 5 or 10 cent on each glass/plastic bottle, paid for at the point of sale.
"Automated machines, placed at recycling centres, supermarkets, off licences etc would refund the fee when bottles are returned to them for recycling. There are other models available, such as where retailers refund the deposits when bottles are returned to them. We would look to work with the retail and waste collection industries, and local authorities, to decide on which model would suit best in the Irish context and how it could be implemented."

The Dutch Model
In Holland, the sale of large soft drink bottles carries a 25c deposit. If a consumer returns that bottle to an automated machine or participating outlet, they get their 25c back. Beer bottles have a 10c deposit and crates of beer €1.50.
Source: Cereal Marshmallows/YouTube
The Dutch machines work something like a cross between a bottle bank and a change machine in a supermarket. A consumer puts their recycling in the machine and is given a receipt that can be cashed.
According to BottleBill.org, the system has had a 98% success rate.

Could it work here?
Container deposit legislation is common across the world and has been implemented in many countries without much of a fuss. With glass making up about 5% of total Irish landfill, and plastics around 15%, there is a decent amount to gain, but only if the legislation forms consumer habit.
In 2013, a councillor in Athy told TheJournal.ie that a river cleanup there had yielded 2,000 cans and bottles.
However, a Repak report in 2008 said that such a scheme would only increase Ireland's overall recycling rate by 1.4%.
At present it appears there are no plans for such a scheme in Ireland however.
"The Minister at this point in time is not considering a deposit refund scheme for recyclables," a spokesperson for the Department of the Environment told TheJournal.ie.
In July 2014 the Minister for the Environment published a Review of the Producer Responsibility Initiative Model in Ireland. As part of this review, a wider examination of issues within the packaging sphere was undertaken and consideration was given to the introduction of a bring back scheme for waste.
The review report did not recommend the introduction of a deposit and refund scheme and concluded that to establish such a scheme was inappropriate, in view of the operation of the existing packaging scheme (operated by Repak), and policies concerning household waste collection, plus the high administrative costs of introducing such a system.
"It is also conceivable that littering could occur where waste bins might be searched for items attracting a refund under any such scheme," they added.