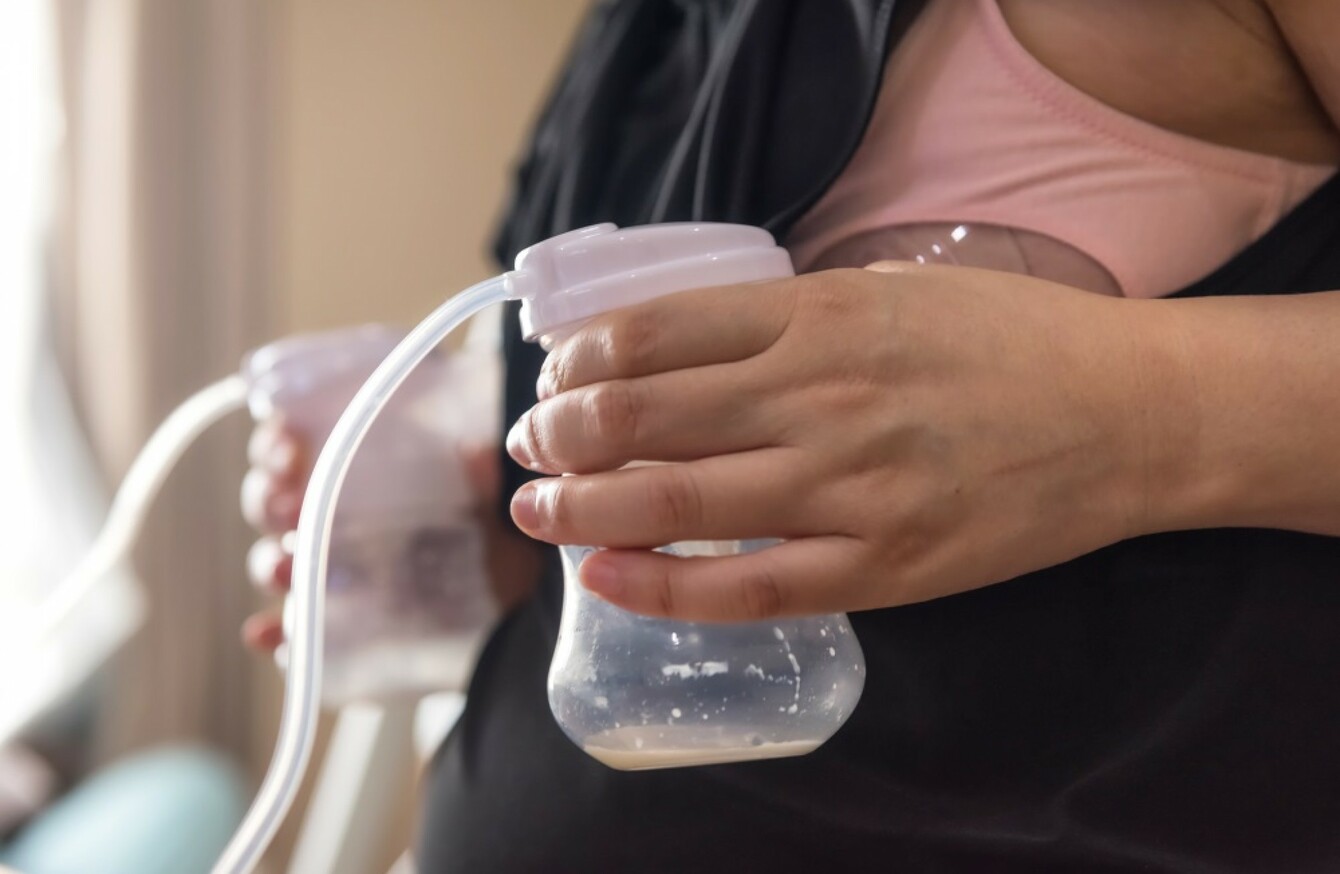 Image: Shutterstock
Image: Shutterstock
I'M CURRENTLY BREASTFEEDING my 13 month old and fed my first until he was three-years-old, but I never got the hang of pumping.
So to all the ladies pumping in toilets, store closets and motorways, in front of delivery men and window cleaners and at all hours of the night – I salute you, you absolute heroes.
As with anything to do with raising a tiny person, I know that breast-pumping doesn't always go to plan. Thanks to some of those very ladies for sharing these hilarious (and heart-rending) tales of their pumping adventures, from window cleaners getting an eyeful to TV screens covered in unwieldy sprays of milk.
You don't always get the privacy you hope for…
I was feeling all safe and secure and happy, eating my sandwich and pumping at work in the upstairs unused office (which my boss had begrudgingly put a lock on). I took the pump off to change sides and heard a rattle outside… it was only the flipping window cleaner looking in the window at me.
- Julie
I had my preemie suckling on one side and the pump on the other when my friend let herself into my house one day. She shouted something as she came in which I totally missed. Turns out she was letting me know the Tesco delivery man was coming in with her. I was topless, but he didn't blink an eye!
- Leah
With my son, I used to have to pump by his hospital bed so I ended up having full-blown conversations with neurosurgeons while pumping away. I figure, what's a nipple or two when you've cut into a brain?
- Gillian
But some interruptions will give you a smile
I was pumping when my three year old niece walked in, had a good look and asked me if I was using my 'boobie blasters'. I guess the pumps do look like space guns to the untrained eye. Now we obviously all say, 'Claire's going to use her boobie blasters,' if I'm pumping.
- Claire
When my baby was born, I started pumping daily to donate to the milk bank. My two-and-a-half year old would hear the loud pump noise and run down the stairs to let me know he wanted to help get the milk for the babies! He would drag his stool over to me, hold the bottles while I pumped then pretend to get on his motorbike (like the blood bikers) and take the milk to all the babies.
- Kelly  
Necessity really is the mother of invention…
I cut holes on each side of an old sports bra so I could slot the pump in and express milk hands-free. My 'hands-free kit' has been in action as I danced at Bruce Springsteen at Croke Park, during a Michelin-starred dinner and even on the M50!
- Eimear K
I'll pump any time, any place. It's now as essential to me as money, phone and keys! For supreme timesaving, I affix my trusty Haakaa before I embark on the M9 and drain as I drive. To the many truck drivers who have copped an eyeful – you're welcome!
- Danielle
Although it won't always go to plan…
I left my first baby overnight when he was five months old, to attend a wedding. After the ceremony, I spent an hour in my hotel room pumping and thought that would see me through to bedtime, but my boobs had other ideas. By the time the speeches were underway, I had boobs like Dolly Parton. With no pump to hand, I snuck off to the loo and had to hand express into the loo instead. And any thoughts my husband might have had about a night of passion were extinguished as I got back to the hotel room at 1.30am, plugged in my pump, and passed out with it clutched to my boob.
- Eimear 
When our daughter was born I used to feed her all day and then pump in the evening for my husband to do the night feeds. I was pumping in our cosy bedroom, and thanks to the white noise machine helping the baby sleep, I dozed off too. I woke up to see the breast pump had detached. My milk was squirting across the room and dripping down the TV. But at least the baby was still asleep!
- Lynne
No point crying over spilt milk (unless you're pumping)
Some mums are champion pumpers, spurting out Niagara Falls of nourishment. I'm not. I often endure half hours of milking myself cow to produce less than 10ml of milk, but I persevere. After one hasty pump in a public loo, I carefully placed the bottle upright in my bag to give to my baby later. I had to stifle a yell/sob when minutes later, I knocked it over, its milky goodness staining my fancy back-to-work-after-maternity-leave bag!
- Jacqueline of thedelicateship.com
You might be faced with a few awkward moments…
I was pumping in the toilets at a concert venue years ago and a woman banged on the door telling me to hurry up. It was Mamma Mia The Musical and the queue for the loos was huge. Then the woman said 'What's that noise? Is it a vibrator?' It was the breast pump of course – I was pretty embarrassed coming out to face her.
- Nicola
I was parking up at a family fun day and saw my boss in the car beside me. Thinking I should be polite, I gave a cheery rap on the window of his car. He looked at me really awkwardly for a while before eventually winding the window down a sliver and saying he'd see me 'later'. It was then I noticed that his wife was topless and double pumping in the back seat! We never mentioned it again.
- Sophie
But remember, you're doing an incredible job
My baby was born premature a few weeks ago. It is 24 hours a day, round the clock –pumping, washing, sterilising, feeding – often with no break in between. I can't say I enjoy it. In fact I've come to have something of a love/hate relationship with my rented hospital grade Medela machine, haunting me from my bedside. But it is the one way I know I can provide for my baby at a time when I cannot provide much else.
- Madeleine of @amomamongmen
Leaving my son's bedside in Crumlin Hospital's ICU to express for him was one of the hardest things I've ever had to do. But expressing also became one of the best things I've ever done. He recovered from heart surgery, I went on to breastfeed for 18 months and he's doing great now. Thank God for modern breast pumps enabling mums to continue their breastfeeding journeys under difficult circumstances.
- Jan
Thanks to the supporters of Friends Of Breastfeeding for sharing some of the above stories with me. The All About Baby Fair, a fundraising event for FOB, takes place on June 30 in Dun Laoghaire, Co Dublin.