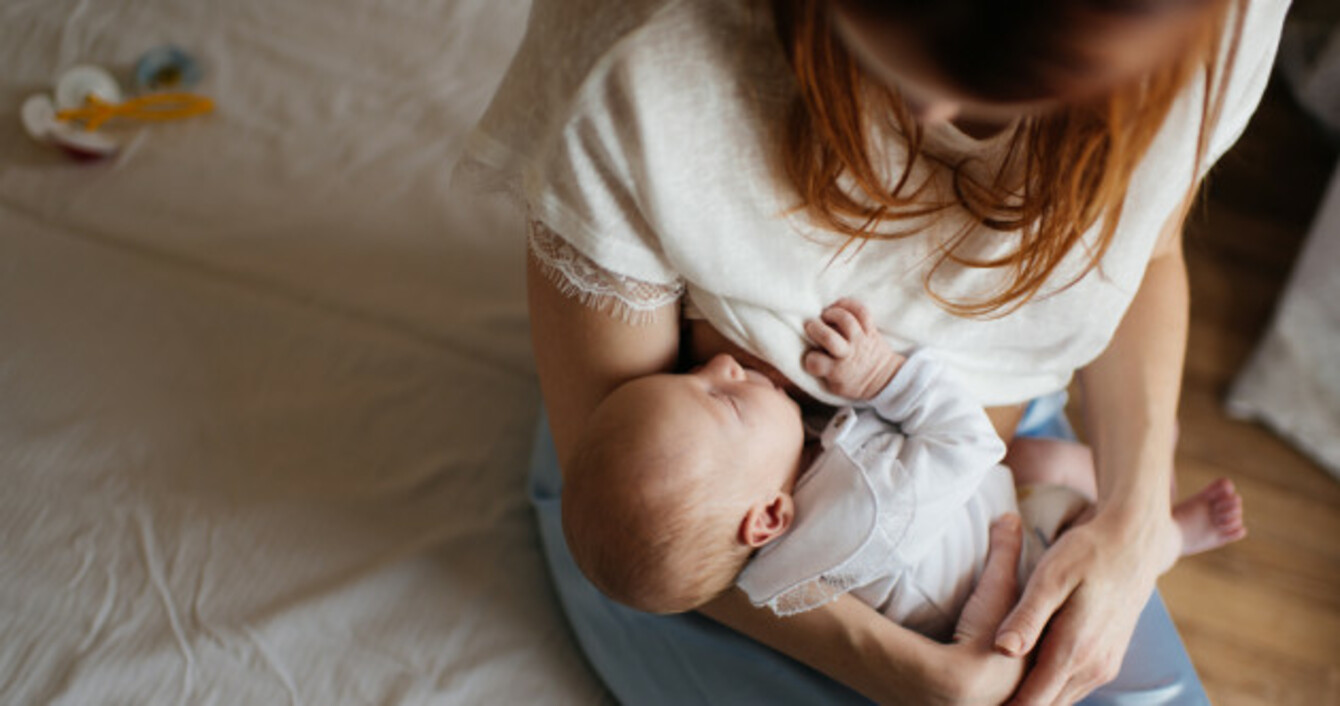 Image: Shutterstock/Lumen Photos
Image: Shutterstock/Lumen Photos
BREASTFEEDING IS ONE of those issues where everybody has an opinion but actual fact-based advice can be hard to come by.
I knew precisely nothing about breastfeeding before I gave birth. I thought I knew stuff – 'breast is best'; 'if they can ask for it they're probably too old'; 'it might not work for us' – but those ideas, largely garnered from TV sitcoms and often wrong, were nothing compared to what I know now. 'Now' is nearly three years later, and I'm still breastfeeding.
In hope that it might help someone else just starting out, here are the breastfeeding facts I wish I'd known…
1. Just because it's the most natural thing in the world, doesn't mean it'll come naturally. Breastfeeding is like learning a new skill, and, like any new skill, you're probably not going to do it perfectly right away.
"I'm just not getting this" I wailed to a harassed, overworked nurse on the delivery ward. I felt bad asking for help. I pressed that buzzer in the hospital incessantly and I felt guilty about wasting the nurses' time. On the third day I made a desperate dash to a breastfeeding support group because my milk had come in and my baby wouldn't latch to my giant, swollen, rock-hard knockers.
I cried in the class that 'if it was going to be this hard then maybe it wasn't for me' and then a nice lactation consultant spent an hour with me and it got easier.
Ask for help, demand it. There is support out there: Hospital breastfeeding groups, La Leche League, Cuidiú, Friends of Breastfeeding, online Facebook groups – find them and use them. If you've to pay for a lactation consultant – do it.
2. Maybe your child will suckle happily at your breast like a Madonna and Child image…Or maybe he/she will like lying on top of you, head squashing boob for maximum milk flow. They might like doing crazy yoga poses, demonstrating a previously unknown elasticity to your nipples. They might like coming off the breast mid-flow to have a look around, leaving you looking like you've sprung a leak. Breastfeeding doesn't look the way you thought it would.
3. This is a sensitive one, but I wish I'd known that my 'it might not work' mentality wasn't really founded in fact. We trust our bodies to grow a baby – why not trust them to feed it?
This is not a criticism of mums who have stopped breastfeeding because they've struggled, but it is a criticism of a system that peddles the belief that their babies and breasts have somehow let them down. Irish boobs are not substandard to Scandinavian boobs, our babies are not 'hungrier'. The size of your cleavage or child has no bearing on whether you can or can't breastfeed. There are ways to help you produce more, improve latches and resolve tongue ties.
If you don't want to breastfeed, fine. Everyone should make their choice. But that choice should be based in fact, and the fact is there are very few instances when you can't breastfeed. We don't need better boobs, we need better support from professionals to help find breastfeeding solutions to breastfeeding problems.
4. I wish I'd not wasted my time, or money, on pointless, faffy breastfeeding covers.
I wish I'd known that 'a time and a place' for breastfeeding means any time the child wants the breast and anywhere you happen to be when they want it. Breasts work on a supply and demand basis. Trying to operate within a schedule is futile and counter-productive.
5. We have a very Irish tendency to put The Doctor up on a pedestal, but when it comes to breastfeeding the best advice may come from elsewhere. Of course you should seek a medical opinion if you're concerned about your baby's feeding, but not all GPs are given formal training in breastfeeding. If you'd a problem with your eye, you'd see an eye specialist wouldn't you? Boobs need a breastfeeding expert – see a lactation consultant.
6. It gets easier. The first six weeks are intense but it honestly does calm down.
Just like if you suddenly started working a different muscle group at the gym, it will probably hurt a bit at first. I found latching and letdowns left me feeling a bit tender, purely because it was a completely different sensation for my breasts. It will feel some degree of weird at first but it passes. If it doesn't, seek help.
7. Breastfeeding isn't just about nutrition. Yes, I'd heard vague stats about improved IQs and fewer illnesses, but I hadn't realised boobs are MAGIC and can help resolve tantrums, sleep problems, flying, development leaps, sickness, teething, lost toys…
8. Whether your kid sleeps or not has nothing to do with how they're fed. I know breastfed babies who will do 14 hours and formula-fed tots who are up and down like yoyos and vice-versa.
9. That 'when he's old enough to ask for it' thing is nonsense.
Want to win a two-night pampering break at The Kingsley in Cork? Simply enter your email address below. Full competition details here.