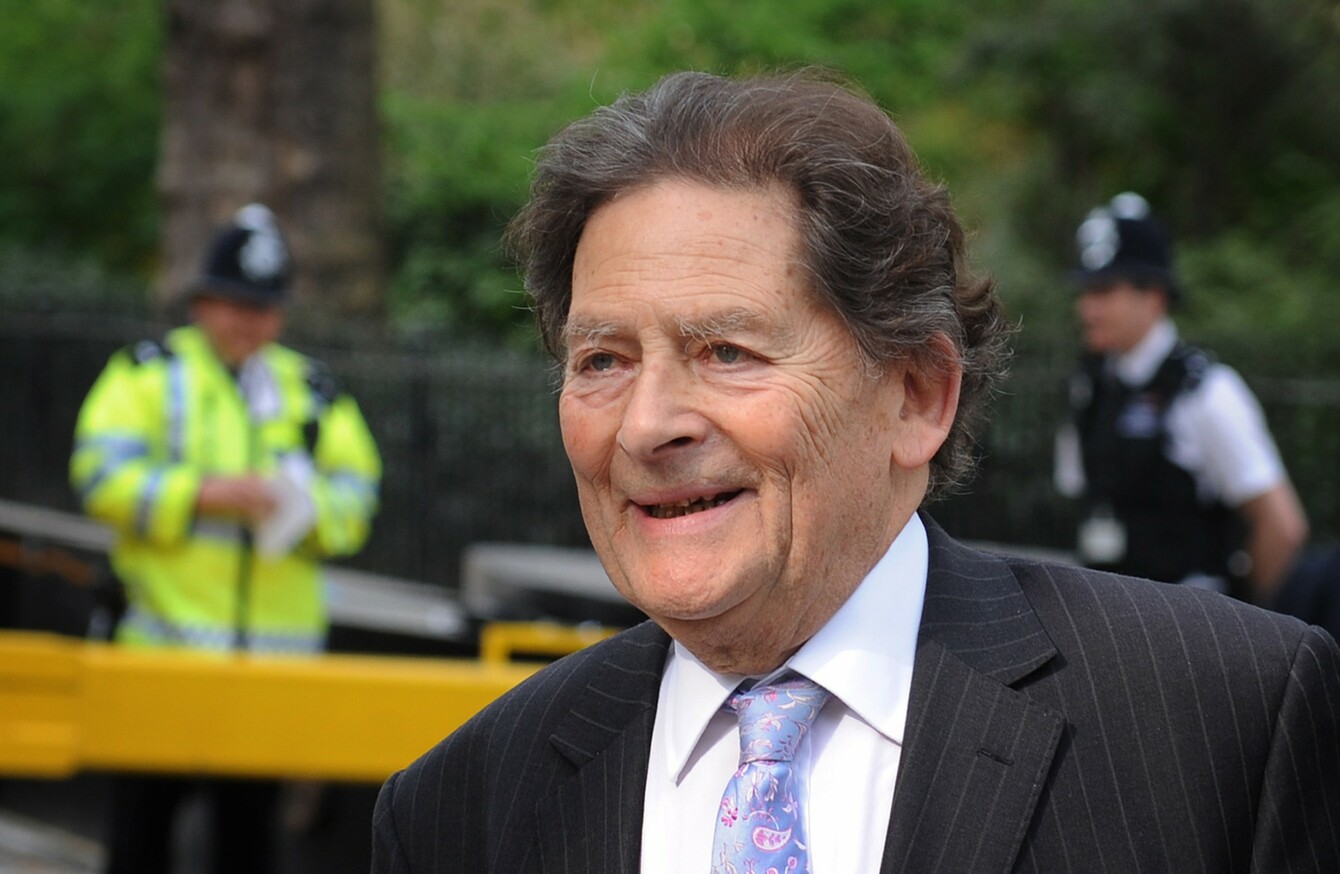 Former Tory chancellor Nigel Lawson
Image: Stefan Rousseau/AP/PA
Former Tory chancellor Nigel Lawson
Image: Stefan Rousseau/AP/PA
FORMER BRITISH CHANCELLOR Nigel Lawson has warned that border controls between Northern Ireland and the Republic could be reintroduced if Britain leaves the EU.
The Brexit campaigner told BBC's Andrew Marr Show yesterday that checkpoints may be needed to stop illegal immigration into the UK.
"That could be stopped. There would have to be border controls but not a prevention of genuine Irish from coming in, from crossing the border," he said.
The message was later echoed by British Justice Minister Dominic Raab, who also backs withdrawal from the EU.
The Conservative MP told Sky News' Murnaghan programme: "If you are worried about border controls and security, if you are worried about the effect of those EU rules, you couldn't leave a back door without some kind either of checks there with any country or assurances in relation to the checks that they are conducting.
"Otherwise, everyone with ill will towards this country would go round that route."
Source: Sky News/YouTube
Northern Secretary Theresa Villiers has previously rejected claims that Brexit would lead to border controls being reimposed in Ireland.
"I don't think anyone should assume that border checks should be introduced as a result of a UK exit," she told the BBC's World at One in February.
"We are in the area of scare stories. We do need to recognise that the relationship between the UK and Ireland when it comes to this common travel area is decades older than our EU membership and doesn't depend on it."
The common zone covering Ireland and the UK allows Irish and British citizens to travel between both countries with minimal ID. Some argue a British exit from the EU would force the reintroduction of passport controls to prevent people moving across the border for work.
Minister for Foreign Affairs Charlie Flanagan last week urged Irish people living in Britain to vote in favour of remaining in the EU in the June referendum.
The worry among political parties here – and Sinn Féin in the North – is that Brexit could damage Northern Irish trade and threaten the peace process.