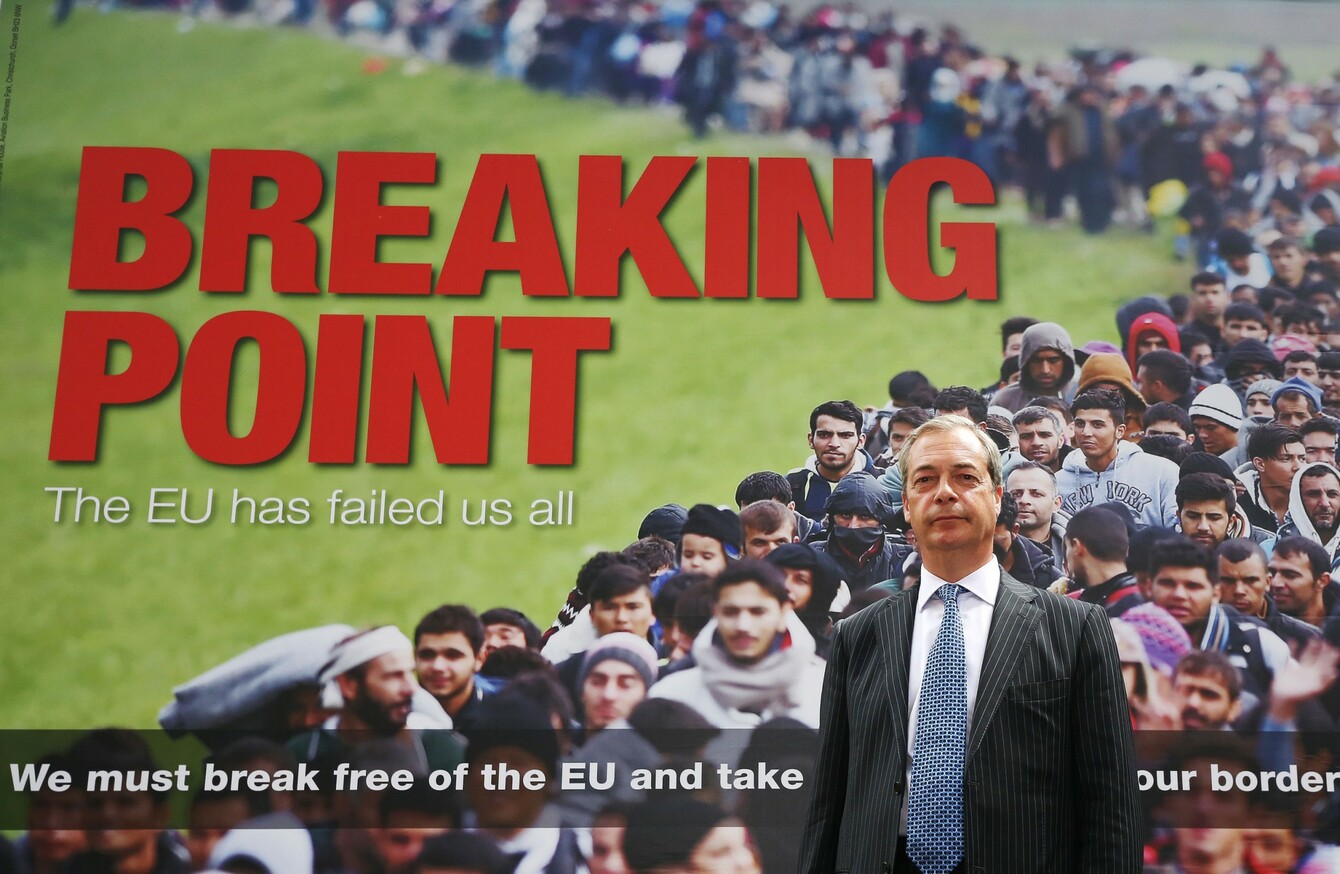 UKIP leader Nigel Farage stands before a Brexit poster featuring a queue of migrants. The poster's anti-immigrant tenor was criticised even by politicians, such as Boris Johnson, urging a Leave vote
Image: PA Wire/Press Association Images
UKIP leader Nigel Farage stands before a Brexit poster featuring a queue of migrants. The poster's anti-immigrant tenor was criticised even by politicians, such as Boris Johnson, urging a Leave vote
Image: PA Wire/Press Association Images
LONDON HAS SEEN a huge spike in hate crimes since the Brexit referendum, with almost 600 incidents of race-hate crime in just over a week.
There were 599 incidents of race hate crime reported to the Met from Friday, 24 June to Saturday, 2 July 2016.
A substantial number of malcontent racists appear emboldened by the United Kingdom's seemingly imminent withdrawal from the continental system.
The daily average of hate crimes in the UK capital is 67 since Brexit, up from 44 before Brexit.
Last year's daily average after 24 June was also just 44.
There have been 216 more offences in June of this year, compared to June 2015, a 19% rise.
The statistics come as police launch an investigation after London MP David Lammy received death threats for calling for a rerun of the Brexit referendum.
A 59.9% majority of Londoners overall voted 'Remain' in the referendum to leave the European Union, with some boroughs voting over 70% to Remain.
Yet some boroughs - Barking and Dagenham, Bexley, Sutton, Havering and Hillingdon – saw a majority voting to leave.
Graffiti
Offensive graffiti was daubed on a Polish cultural centre in the wake of the vote, while in Huntington, Cambridgeshire, signs were posted through letterboxes of Polish families, stating, "Leave the EU, no more Polish vermin".
Referring to the rise in hate crime, Commander Mak Chishty, who leads on community engagement for London's Metropolitan Police Service (MPS), said:
We can report there has been an increase in hate crime offences since the UK EU Referendum.On any given day there are between 25 and 50 racial incidents in London and the MPS has been monitoring reported incidents of hate crime closely in light of recent events.
We are carefully analysing every incident to see what is happening across London and these figures may change as victims come forward and report incidents after the event.The vast majority of these incidents involve abusive and offensive language.
I would strongly urge both victims and witnesses to come forward and report any such incidents to police as soon as possible.We recognise that people are feeling anxious at the perception of increased intolerance against certain communities.