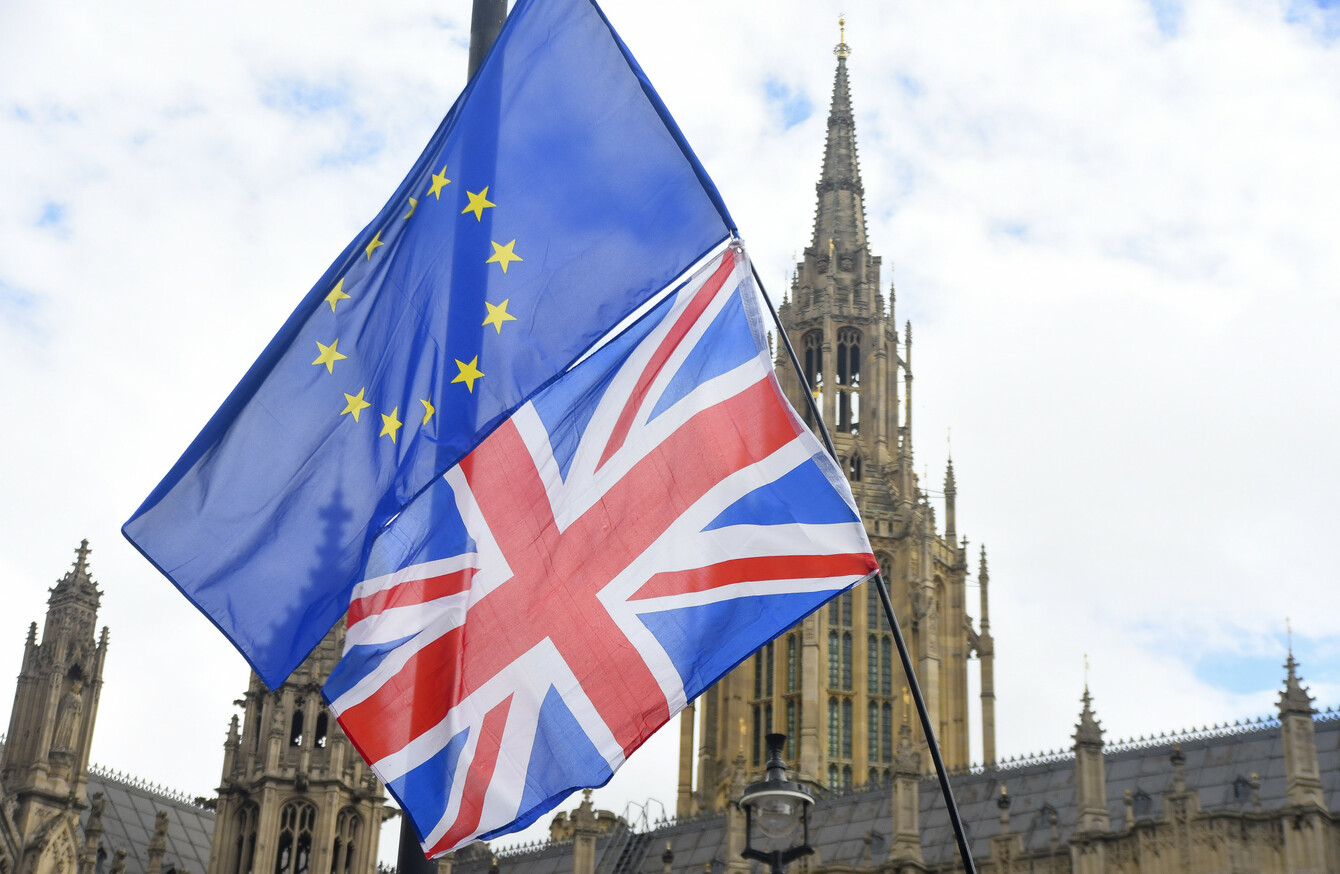 Image: SIPA USA/PA Images
Image: SIPA USA/PA Images
Updated Jul 9th 2018, 9:15 AM
BRITAIN'S BREXIT MINISTER David Davis resigned last night in a major blow for Prime Minister Theresa May as she struggles to unite her party behind a plan to retain strong economic ties to the European Union even after leaving the bloc.
Just two days after warring factions in May's cabinet approved the plan in a bid to unblock negotiations with Brussels, long-time eurosceptic Davis announced he was stepping down in a letter scathing of the agreement.
"The general direction of policy will leave us in at best a weak negotiating position, and possibly an inescapable one," he wrote to May.
Friday's agreement, which came after marathon talks at the Prime Minister's country retreat, would "make the supposed control by Parliament illusory rather than real", he added.
British media reported that junior Brexit ministers Steve Baker and Suella Braverman had also resigned.
Davis was particularly critical of the proposal for a "common rulebook" to allow free trade in goods, saying this "hands control of large swathes of our economy to the EU and is certainly not returning control of our laws in any real sense".
"I am also unpersuaded that our negotiating approach will not just lead to further demands for concessions," he said, concluding that his post required "an enthusiastic believer in your approach, and not merely a reluctant conscript".
May replied in a letter saying that her Brexit plan was in line with her commitment to leave the European single market and customs union.
"I do not agree with your characterisation of the policy we agreed," she said, asserting that it "will undoubtedly mean the returning of powers from Brussels to the United Kingdom".
"I would like to thank you warmly for everything you have done over the past two years as Secretary of State to shape our departure from the EU," she added.
Interview 
Speaking this morning on BBC Radio's Today show, Davis defended his resignation and said that the reason he didn't step down on Friday after the Cabinet meeting was because it needed to be thought through "carefully" and done "properly".
He said that as secretary he would have been "front and centre" in delivering May's Brexit strategy, and that that wouldn't have been plausible given the well-known reservations he had.
He said that the measures set out in May's plan would put Britain in a weak negotiating position with the EU. The "common rulebook" he said would make it impossible for Britain not to agree with EU rules.
If it did decide this, he said that meant that the Northern Ireland backstop could be triggered which would be a "sword of Damocles" hanging over the British government.
"It seems to me we are giving too much away too easily," he said.
Davis said it was important for May to appoint a new Brexit Secretary who agreed with her approach, and he said that he didn't not want her to resign as prime minister.
Irish response 
In response to the resignation, Taoiseach Leo Varadkar said that matters affecting the British cabinet were "a matter for the prime minister".
"We welcome that fact that the British cabinet agreed collectively on detailed proposals for the future relationship between the EU and Britain on Friday, and we look forward to seeing greater detail in the UK's White Paper later this week," Varadkar said.
"There's still a lot of work to do, particularly from the British side. Time is running out.
The commitments the UK has already signed up to must be translated into the Withdrawal Agreement and we need to intensify efforts on all outstanding issues, especially the Protocol on Ireland and Northern Ireland.
"Brexit in name only"
Davis was appointed two years ago to head up the newly created Department for Exiting the European Union after Britain voted to leave the bloc in a referendum.
He became the public face of Brexit, leading the British delegation in talks with Brussels, although his role had been increasingly overshadowed in recent months as May and her aides took a bigger role in the negotiating strategy.
The 69-year-old had reportedly threatened to quit several times over a perceived lack of firmness in Britain's negotiating stance but had remained strictly loyal to the prime minister in public.
May is due to address parliament soon to explain her plan for Britain to adopt EU rules on goods after Brexit, amid anger from MPs in her own party who want a cleaner break and businesses who say it may still cause economic harm.
She is set to tell MPs there have been "robust views" on Brexit among cabinet members and is also expected to announce a replacement for Davis.
Conservative MP Peter Bone said Davis had "done the right thing", adding: "The PM's proposals for a Brexit in name only are not acceptable."
Jacob Rees-Mogg, a leading Brexit hardliner, told Sky News: "This is very important. It raises the most serious questions about the PM's ideas. If the Brexit Secretary cannot support them they cannot be very good proposals."
Ian Lavery, chairman of the main opposition Labour Party, said: "This is absolute chaos and Theresa May has no authority left."
May's plan would create a free-trade area with the EU for goods, to protect supply chains in areas such as manufacturing, while maintaining flexibility for Britain's dominant service sector.
It is unclear whether Brussels will accept this, after repeatedly warning Britain it cannot "cherry-pick" bits of its single market.
With reporting from © – AFP, 2018