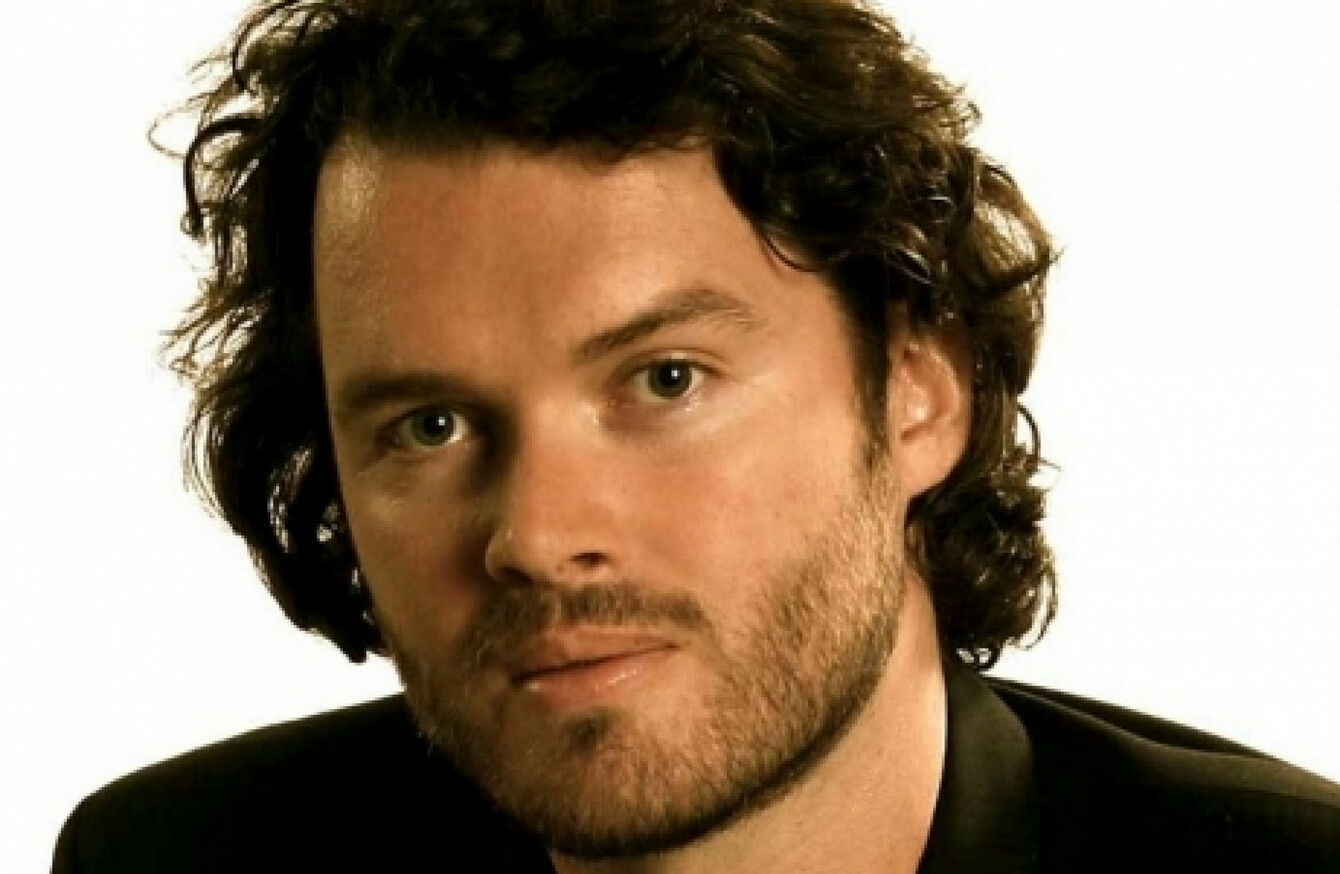 WHEN BRIAN BYRNE was a kid, if you'd told him that by his 30s he'd be happily ensconced in LA writing Hollywood film scores, he'd have laughed.
For starters, as much as he adored music – he'd been playing piano from a young age – he never thought he'd be a composer. And as a Navan native, LA was a place far, far away.
But fast-forward a few decades and Byrne is a Golden Globe-nominated composer who's worked on Hollywood films like Albert Nobbs, Disco Pigs, In America, and The Secret Scripture. The forthcoming Irish films Black 47 and Hear My Voice will also feature his work.
As a musician and conductor, he's collaborated with Katy Perry, Bono, Barbra Streisand, Pink, Josh Groban, Lisa Stansfield, Van Morrison, Alanis Morissette, The Corrs, Vince Gill, and Gladys Knight, and he found time in between to write his own album Goldenhair (based on poems by James Joyce).
Source: RTEConcertOrchestra/YouTube
'I had a five-year plan'
Byrne and his Oklahoma-born wife are currently in Ireland with their family, as he's due to perform with the National Symphony Orchestra and vocalists at an event celebrating the Great American Songbook (think songs like Somewhere Over The Rainbow and classics from West Side Story and Mr Wonderful) on Friday.
But how did he get from Navan to LA? "I had no plan to be a composer, period. I was studying classical piano and then I moved to jazz piano because I had a natural inkling towards that," recalls Byrne of his early years. A jazz teacher encouraged him to write his own songs. "I had no intention of being a composer, but he piqued my imagination," says Byrne.
He studied piano at the Royal Irish Academy, learning his Mozart and Beethoven. He was always drawn to music – as a young child he'd listen intently to scores he heard on the TV, and work them out himself. To the young Brian Byrne, this wasn't 'composition', it was fun.
He went on to do a postgrad on film music, where he studied Strauss, Stravinsky, Mahler and other greats.  It was a formative time in his musical life.
But in the grand tradition of Hollywood drama, it was a chance meeting with Tom Petty's tour manager 15 years ago that sent him to LA. The tour manager was living in Navan and Byrne helped him out with a low-budget project. Later on, the tour manager got in touch.
"He said 'I have told [renowned film composer Michele Legrand's] manager all about you and he wants to meet you'," says Byrne. "He said, 'move to LA and I will help you'." Legrand's manager in turn introduced him to the legendary songwriters Marilyn and Alan Bergman, which led to him working with Streisand.
"I had a five-year plan and if it didn't work out I would move home," he says of his move to America. That plan was surely soon scrapped for a brand new one.
What does he think has helped him succeed in the film industry? "I think it's being open to possibility, that chance comes into it, and being open to being nice to people and working hard." He's taken on some low-budget projects, prepared to put in the work if he believes in it.
"Nine times out of 10 it will lead to something," he says.
You have to show your wares, prove to people you want to do it and are hungry. Directors and producers latch onto that hunger, that energy. I think people want to work with people that are fun, not a big hassle, just get the job done. I think if you get enough of those connections or breaks under your belt that leads to bigger work.
Byrne's jazz background and its improvisational bent serves him well – when he's composing film scores, he watches the film multiple times, then lets his hands "drop" on the piano and sees what happens. If that doesn't work out, he goes with pen and paper.
Source: Hot House Big Band/YouTube
'At first, you're starstruck'
What is it like working with Hollywood stars? "It's great," says Byrne. "When it starts happening first, you're starstruck and you're meeting these people. But it comes a time when you have to get by that, because if you are going to produce good work you have to throw that out the window."
He likes to remember he's one of hundreds of people working on a film.
The perks of the industry include the premieres and red carpets, but that's not always guaranteed:
There are a lot of movies that sink and don't see the light of day. More often the successes are less than, because that's the film business.
When he collaborated with Barbra Streisand, he was told he'd have two hours to work with her on a song. But on the day, this was cut to just 27 minutes. It was hardly an ideal situation, but it meant Byrne just had to get on with the job.
For Byrne, "the real stuff is creating the music and the collaborations you get out of it. You create something that lasts".
"We are all led by our ego," adds Byrne, saying that often people get into the film or TV world because of the glamorous exterior.
"But once you get into the inner workings of writing film music, the glamour goes out the window when you're up three nights a row and the director is sending you changes. It can be a nightmare at times."
He might work with lots of big names, but for him it's also about working with people "that are a little more behind the scenes, but they are honourable to their craft".
'When I first moved to LA, I knew nobody'
What's it like being based in Los Angeles? "LA is wonderful, it's a big town. I've been over there since 2003 and when I moved there first I didn't know anybody."
At first, he worked in big movie studios as a piano player or conductor to pay the bills, and got to see famed composers like David Newman at work. Byrne encourages wannabe composers to embrace things like this – branching out to learn more about their career and the music industry.
At the NCH gig this Friday, Byrne will play a politically charged song that he composed a few years ago. It's the Martin Luther King Suite, which he wrote at the end of the Bush era during the Iraq invasion.
This year is the 50th anniversary of Martin Luther King's death, and as an Irish immigrant in LA, Byrne is reflecting on the timeliness of this work.
He is a keen consumer of news about American politics, and says he is horrified by what's happening under Trump's presidency. He describes the child separation policy at the border as "just horrendous".
Everyone over there is an immigrant basically and it's incredibly upsetting to see what's happening, and it's vile to see what's being spewed from the pulpit.
The atmosphere when he wrote the Martin Luther King Suite is "nothing compared to what it's like now" in America, says Byrne."For the first time that I've lived in the States it makes you think, do I want to come home, do I want to leave a place like that, if that is what the ethics of people in power are like? It makes Ireland look like a wonderland."
But despite all this, he won't be leaving any time soon.
"It's an amazing country and I think it's had these dark moments in history and I think they will get through it," he says of the USA. "I have two kids born in America and my wife is born in America, so I am all in there." All in there, but never forgetting that at heart he's a Navan man.
Brian Byrne and the RTÉ NSO celebrate the Great American Songbook on Friday 20 July at the National Concert Hall. For more details and tickets, visit the NCH website.