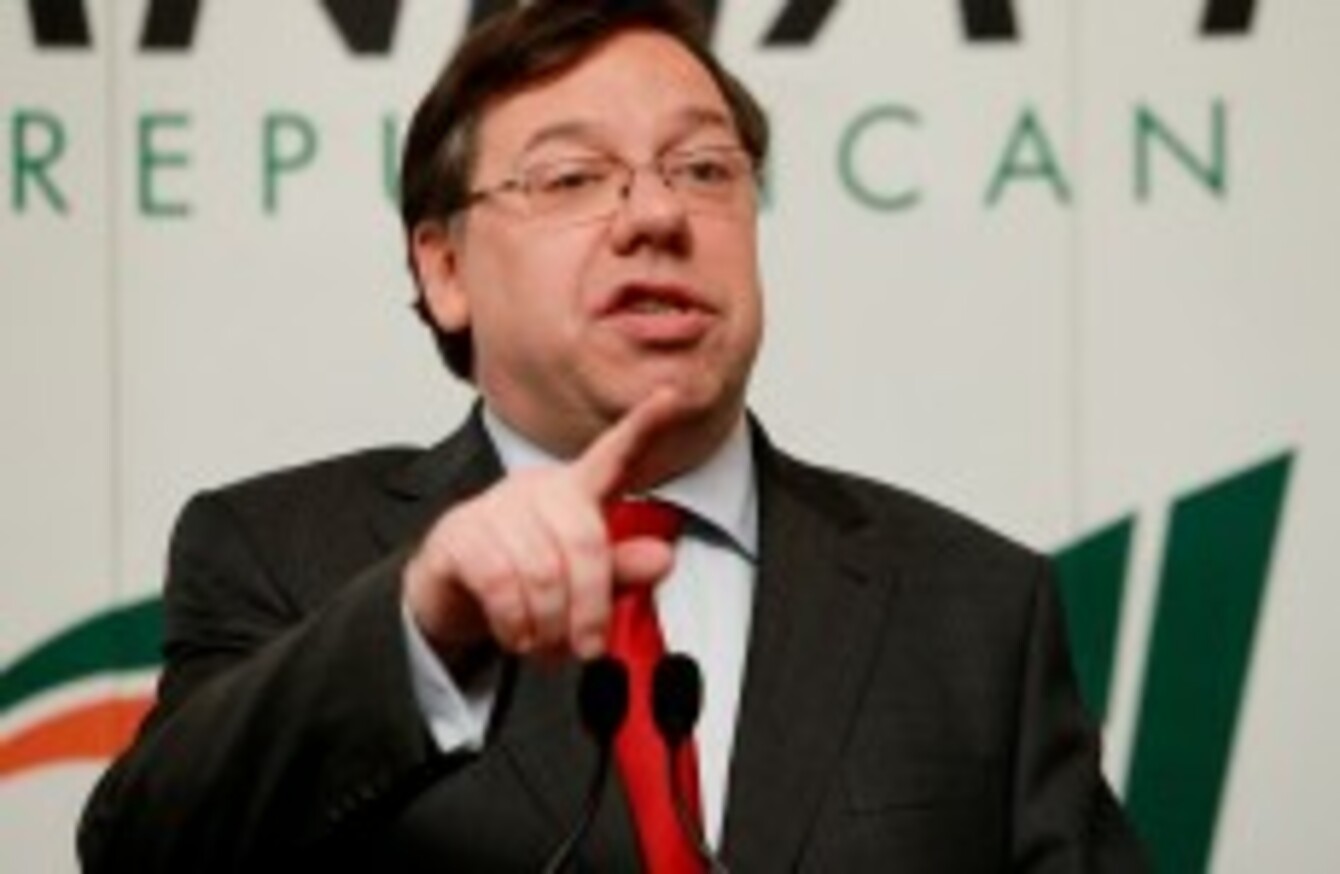 Image: Julien Behal/PA Wire
Image: Julien Behal/PA Wire
Updated, 18:53
TAOISEACH BRIAN COWEN has stepped down as the leader of Fianna Fáil, but says he will continue to remain in office as Taoiseach.
Speaking at a hastily-arranged press conference earlier this afternoon, 991 days after being Taoiseach, Cowen said he was proud to have been elected party leader in April 2008, and had believed Fianna Fáil's role in public development was in doubt.
Saying he understood the membership of Fianna Fáil is concerned about the party's prospects on 11 March, Cowen said the general election should be fought on the policies each party is offering.
As a result, he had decided this morning to step down from the party leadership, and allow the party to elect a successor to contest the election in the coming days.
Tanaiste Mary Coughlan and party whip John Curran stood alongside Cowen as he made his statement, and the Taoiseach appeared relaxed as he took questions from the assembled media.
Responding to questions, Cowen said he would speak to his family and to his party colleagues before declaring he will run himself in his Laois-Offaly constituency in the election, but said he would like to contest it.
His decision has been reached this morning, he said, after discussing the matter with his family last night. He had not been in contact with any senior party member in relation to his decision.
Regarding the potential difficulties of having a separate party leader and Taoiseach within Fianna Fáil, Cowen said it was not ideal, but the government will discharge its duties properly and appropriately.
He also said the party was a united, single entity, and denied that pressure over his failure to reshuffle the cabinet last week forced his resignation. He said that for him, doing common good is his duty.
The media had been notified just an hour before the press conference that it was being held this afternoon, and Cowen suggested the Green Party had been given even less notice.
He said he had "as a matter of courtesy" called Green Party leader John Gormley about 20 minutes before making his statement to inform him of the decision, insisting that his leadership was an intra-party issue.
Asked if he had appointed a "natural successor" in the same way that Bertie Ahern had nominated him, he said it was up to the party to elect a new leader and that it was not up to him.
He closed:
So the government gets on with its work. And we will have an election, as I've said, planned for the 11 March,  and I am simply saying that the FF party will now enter a process which will be outlined later this afternoon to elect a new leader of FF.

And we will go out and we will fight the election together. We will fight it with good heart, we will fight it with determination, we will listen to the electorate – what they have to say – and we will put our positions. And as we have always done, we will abide by their decision and we will build and work for the future, as we have always done.
Fianna Fáil party chairman John Browne said after Cowen's press conference that the party leadership nominations will close Monday at lunchtime. A vote will then be held at 2pm on Wednesday afternoon by secret ballot.
Already, Micheal Martin, Brian Lenihan and Éamon Ó Cuív have confirmed their intentions to contest the leadership election.
Additional reporting by Gavan Reilly