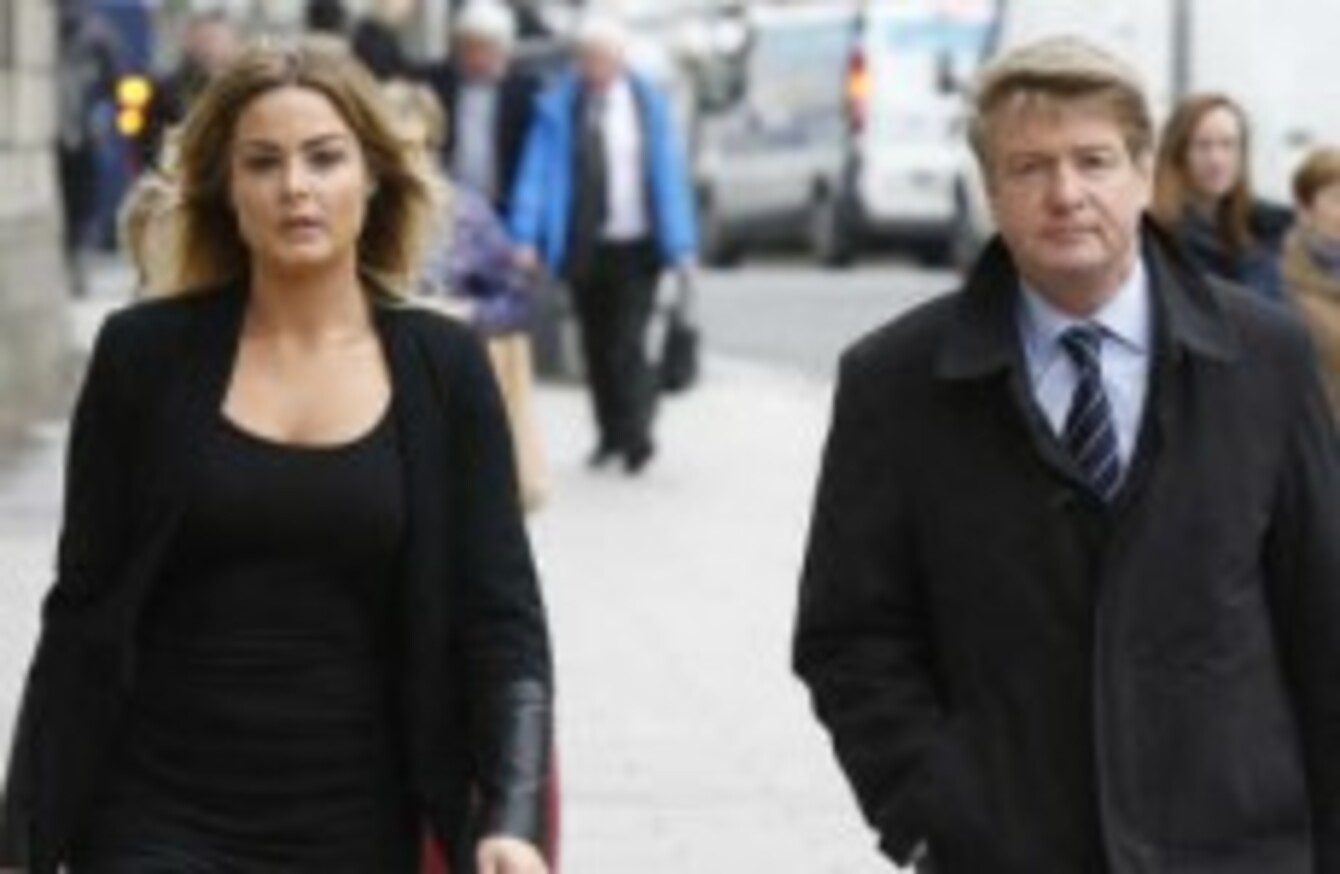 Brian O'Donnell arriving at the High Courts with his daughter Blaise today.
Image: Sasko Lazarov via Photocall Ireland
Brian O'Donnell arriving at the High Courts with his daughter Blaise today.
Image: Sasko Lazarov via Photocall Ireland
BRIAN O'DONNELL'S LEGAL battle for Gorse Hill in Killiney will continue into next week.
The solicitor is appealing against a High Court ruling that granted a trespass order to Bank of Ireland requiring him and his wife to leave their home.
Today, O'Donnell – who is representing himself in court – argued that the documents which saw the receiver appointed to the property were not carried out properly. He also questioned the authority Nicola Coyle, the woman who signed the deed.
He claims there is no valid appointment as a result. The bank must now submit the original documents to the court by next Monday.
Senior Counsel for Bank of Ireland Cian Ferriter argued that there is no doubting the binding nature of the document.
However, Ms Justice Finlay Geoghegan said the court must be satisfied.
"It is the receiver's right to possession which is being relied upon to get an injunction for Mr and Mrs O'Donnell to leave their house," she said.
She added that the court will sit at 2pm on Tuesday to discuss this one matter and speaking time will be confined to a maximum of 10 minutes for each side.
'Living rent free at banks expense'
During today's hearing, Ferriter said it is clear that the bank owns the property under the terms of mortgages and it had, through the receiver, an immediate legal right to possession – without a court order – since June of 2012.
He also added that any entitlement to Gorse Hill was given up by Mr and Mrs O'Donnell in the terms of the settlement agreement they unequivocally accepted and agreed to.
He's simply trying to come with something… with a view to buy more time. He wants to remain bankrupt in the house, rent-free at the bank's expense.
Yesterday, Brian O'Donnell said he and his wife have 'a contractual right of residence' at Gorse Hill since 2000 based on an agreement with Vico Ltd. The shareholders of Vico Ltd are his four children.
Today, Judge Finlay Geoghegan questioned, "If Vico Ltd is not a trespasser I don't think Mr and Mrs O'Donnell could be seen to be a trespasser. Does Vico become a trespasser as soon as it refuses to hand up possession?"
Ferriter replied, "Yes, because that's the essence of it. It gives up it's legal right to remain in possession or occupation or for anyone else to remain in possession or occupation.
The court has to look at the reality at what happened here. It's not that Mr and Mrs O'Donnell were residing in the property for the last number of years. They were living in the UK but came over when their children were due to vacate – in essence to frustrate the bank.
He also said there was not a single legal document anywhere that shows that Vico Limited had granted a right to reside to Brian and Mary Patricia O'Donnell.
Ferriter described Gorse Hill as 'a very high quality luxury property'. Adding, that the pair are bankrupt.
"They haven't put evidence in front of the court about how they could maintain the property, they couldn't afford to insure it."
The Court of Appeal adjourned this afternoon without conclusion. However, it was stated that a decision is hoped to be made by the end of next week.
The three judges hearing the case are Ms Justice Finlay Geoghegan, Ms Justice Mary Irvine and Mr Justice Michael Pert.
Brian O'Donnell and his wife Mary Patricia will remain at the Killiney mansion over the weekend until the court makes a decision over this long-running battle for Gorse Hill.