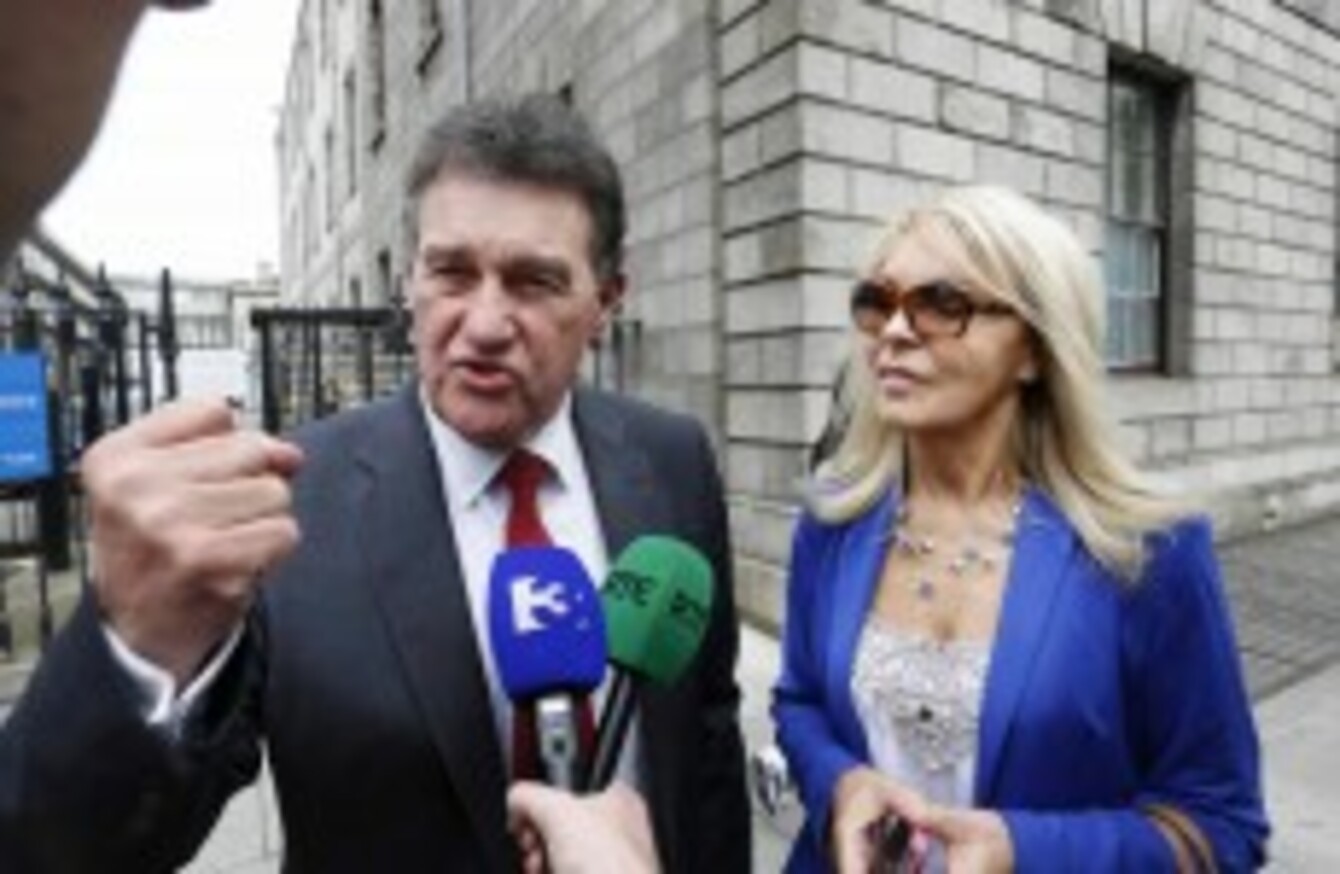 Jackie Lavin and Bill Cullen at the Four Courts to support Michael O'Flynn this week.
Jackie Lavin and Bill Cullen at the Four Courts to support Michael O'Flynn this week.
MULTI-MILLION EURO takeovers, an Irish company involved in a global merger deal, a titanic struggle in the Four Courts, and echoes of boomtime past as Ireland is declared "the fastest-growing economy in Europe".
And we thought August was supposed to be a slow news month.
Here's what's been happening in the world of business and economics this week.
Need to know
O'Flynn-v-Blackstone
It was a big victory for the little guy down at the Four Courts this week when Cork developer Michael O'Flynn saw off an attempt by Blackstone, his new bankers, to take over his companies.
That is if the little guy is an international property developer responsible for some of the most high-profile and ambitious building projects in the country.
Nonetheless, the O'Flynn case is an important one.
It may be the first shot in a protracted battle, with the parties set to face off in the High Court again in October, but Justice Mary Irvine's withering verdict on Blackstone's case is a strong indication that the new owners of Nama loans will have to tread carefully when it comes to dealing with their debtors.
The case, when it is heard, is also likely to provide a fascinating insight into how Nama does business with international funds looking to snap up loans and assets held by the bad bank.
The agency is very secretive when it comes to negotiations, and the court case will examine in great detail exactly how the deal with Blackstone was struck, after which O'Flynn alleges the company changed tack and tried to take full control of his property empire.
IMF loans
There was good news this week as the IMF said that we can pay back our €20 billion plus debt to them ahead of schedule, and with no penalty.
It's not clear just how much this would save, but earlier figures circulated by Michael Noonan showed that lessening our debt burden by €15 billion would save us €375 million per year, so there's a good bet that it could be even more.
The only problem is that we might have to get sign off from our other buddies in the Troika, whose loans get equal billing when it comes to the timing and repayment of our debts. On top of that, bilateral loans advanced by the UK and others also have to be looked after.
Sources suggested, however, that the overall goodwill towards Ireland for being the 'best in class' of the bailed-out nations might play into our favour when it comes to striking a deal with our other debtors.
#Open journalism No news is bad news Support The Journal

Your contributions will help us continue to deliver the stories that are important to you

Support us now
On top of this, the fact that we will most likely fail to get any benefit from retrospective recapitalisation of the banks also lends weight to our case.
It certainly gives Messrs Howlin and Noonan something to sink their teeth into when they get back from the holidays.
Nice to know
Now you know
One for the road
Using your smartphone as a WiFi connection? Here's what you need to know.