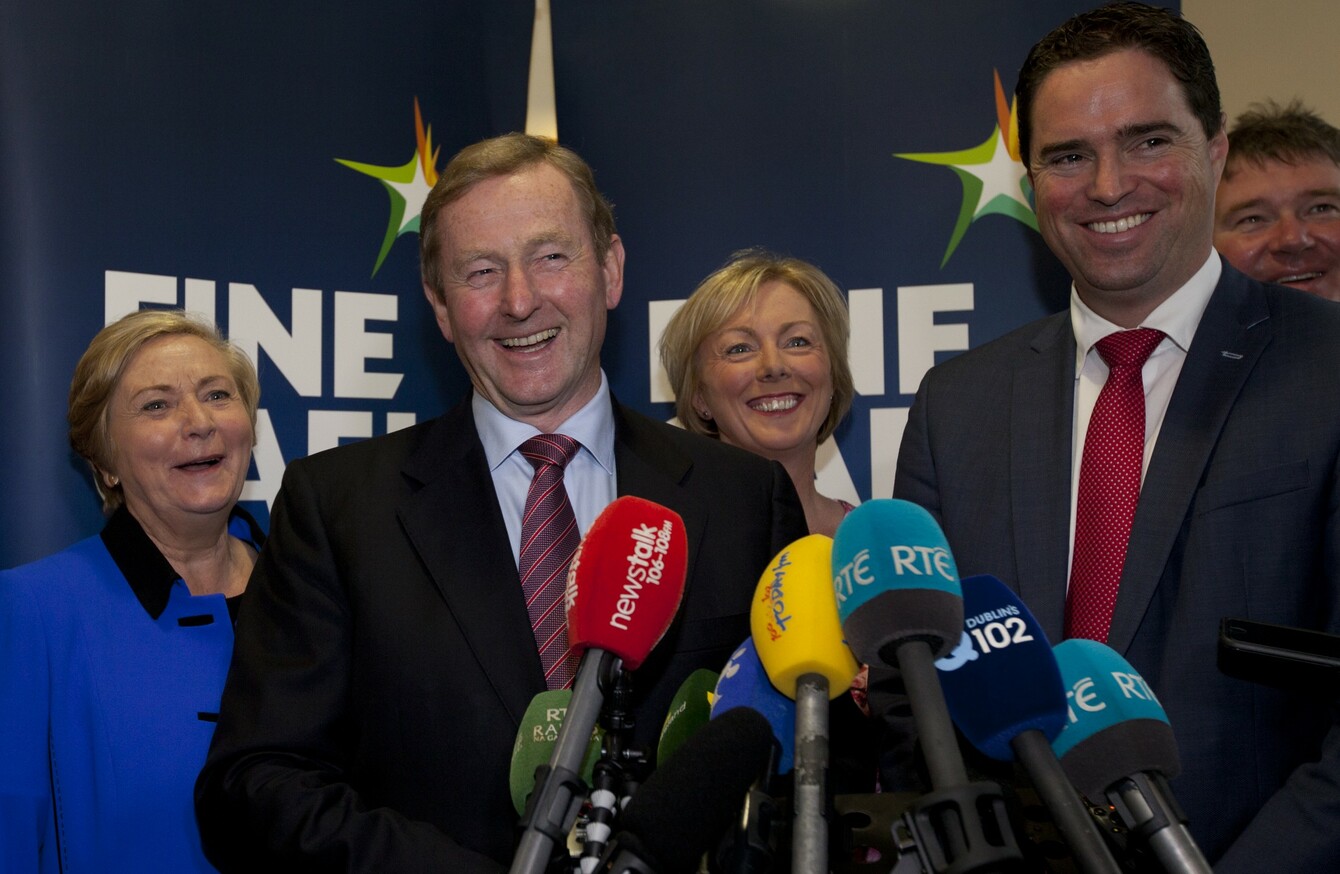 Image: Eamonn Farrell
Image: Eamonn Farrell
THERE WILL BE a reduction in the Universal Social Charge (USC) in the Budget this October but the details of the changes are yet to be finalised.
Speaking at the Fine Gael think-in in Kildare yesterday, Finance Minister Michael Noonan explained there is still much finessing to do ahead of 11 October.
"We will be reducing the USC, but the details of that reduction… haven't been worked out yet, and won't be worked out for some time," he said.

The Fine Gael manifesto committed to a 1% cut to the USC – something Noonan reiterated last year.
However, Noonan conceded that his party is "no longer committed to the detail".
The Programme for Government is the policy position.
Obviously, the government wasn't re-elected in its older form, everybody knows that – the Programme for Government is now the new document against which we are working.
It is different than the Fianna Fail manifesto, the Labour manifesto and everybody's manifesto. Obviously, we are not building a Budget on the manifesto, we are building a Budget on the Programme for Government. 
The programme states that phasing out of the USC will be part of a wider medium-term income tax reform plan.
The minister went on to say there will be no shocks in this year's Budget.
I don't think this will be a Budget of surprises… If you want to see what's in the Budget, look at the Programme for Government.
"This year's budget will be bigger than last year's – and it will be bigger on the expenditure side of about €1.7 or €1.8 billion."
However, he said the government will remain conscious of Brexit, be prudent with Ireland's macroeconomics and has no plans to raise tax.
Noonan clarified the only increases to be announced will be in excise on tobacco and the well-signalled new sugar tax. The latter will likely not come into play for another year, as the minister explains:

I would like to introduce a sugar tax on the same day as the the UK authorities and they are introducing it in 2018, not 2017, because of cross-border considerations, it is important we align the two. 
It will be the first Budget Day for Paschal Donohoe, who holds responsibility for public expenditure since taking on the new gig. Speaking in Kildare, he said the government would need the support of all parties to ensure the Budget passes.
He said his party-led minority would be emphasising to Fianna Fáil that all of the Programme for Government cannot be delivered in a single year.
Noonan signalled that the public can expect significant improvements in public services in the next Budget. "Lots of extra teachers and guards," he said.
Taoiseach Enda Kenny yesterday announced that an extra 650 teachers would be hired in 2017.
First-time buyers
Meanwhile, the Minister for Housing Simon Coveney said he will be making the case that a large Budget allocation should go to his department.
In an interview with TheJournal.ie last weekend, he said:
Every minister is going to advocate for their own area. I want to follow through on the promise that housing is the number one priority and that has to be reflected in the Budget as far as I am concerned.
The Cork deputy – who many have tipped as the next leader of Fine Gael – said first-time buyers will be central to this year's budget.
According to him, he now has the "most important political brief" and it his job to fix the "broken housing market".
He plans to have a host of initiatives to tackle the housing crisis announced in the October Budget.
One of his proposals involves offering homeowners five years' rent up front so that vacant properties can be brought back into use.
"There [are] about 200,000 vacant properties excluding holiday homes," according to the minister.
"I have launched pilot projects in Carlow and Waterford where I have asked the local authority to approach property owners.
"It could deliver units quickly," he said.
Property owners will be offered five years rent up front, up to €30,000. This will allow property owners bring the property into a rentable condition.
The tenancy will then be managed by local authorities or housing bodies for the next five years.
Help-to-buy scheme
The minister is also hoping to announce a help-to-buy scheme. He said first-time buyers are being "locked out" of the market.
This is largely being blamed on the Central Bank mortgage rules. Buyers are required to produce 20% of a house's value as as deposit, while first time buyers are required to produce 10% on properties up to a value of €220,000.
A review of the rules is currently underway by the Central Bank. Noonan said the Department of Finance has made a submission in relation to overhauling them.
"It's up to the Central Bank if they are going to change that, it is not up to the government," said Coveney.
The results of the review are not expected before this year's Budget. Noonan said he expected the results to be released in November.
"We do control a number of levers. One of those is a principle of a help-to-buy scheme… the likely construct of that will be the form of a first-time buyers support either through the tax system or through a grant.
This is linked to new-build houses for first-time buyers, although Coveney said Noonan could take a different view.
"This will drive the supply of houses," he said.
Anything we do has to drive supply.
"There aren't that many second-hand homes ready for sale at the moment. We need to dramatically increase the private delivery of first-time buyer targeted homes that are for sale somewhere between €250,000-€300,000 – that kind of price range."
He said public land will also be used private house developments that will reduce costs.
At a housing conference in Cork last week, the minister also signalled there would be no VAT rebate for developers.
The minister said there was only a "finite amount of money" in this year's budget and it had to be spent in the most ideal way.