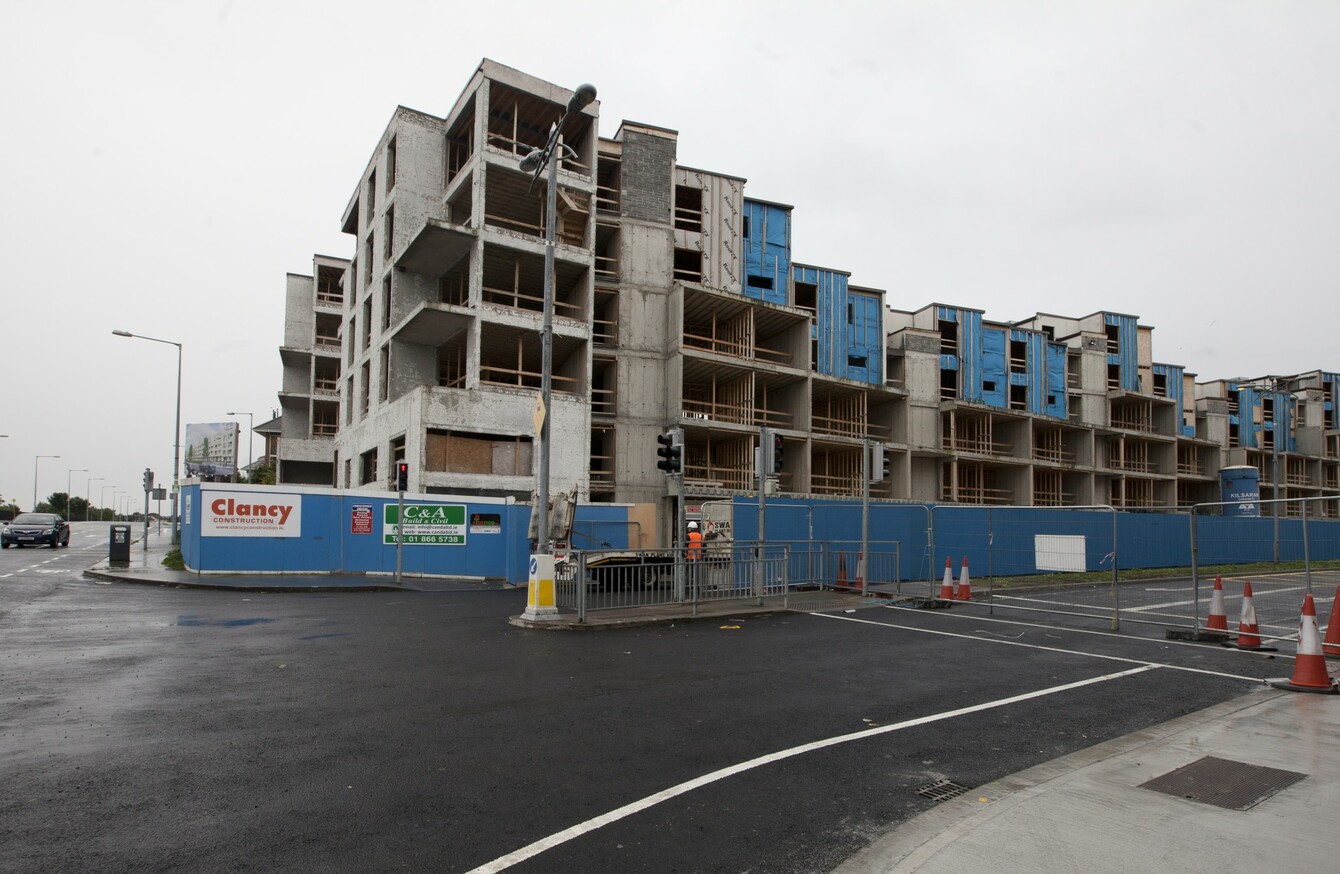 The controversial Priory Hall building.
Image: Eamonn Farrell/RollingNews.ie
The controversial Priory Hall building.
Image: Eamonn Farrell/RollingNews.ie
THE GOVERNMENT IS to introduce a bill to regulate builders and contractors as part of new measures to regulate building construction.
In a statement to TheJournal.ie, the government said it would bring a draft Building Control Bill before the Oireachtas in the current Dáil term.
If passed, the bill would place the current voluntary Construction Industry Register Ireland "on a statutory footing" – providing in law for the registration of builders, contractors and specialist sub-contractors.
This is seen as an additional consumer protection measure giving consumers who engage a registered builder the assurance that they are dealing with a competent and compliant operator.
As the government promises to build thousands of homes to fix the housing crisis, a group of politicians are in the process of reviewing Ireland's building regulations.
Self-regulating industry
Two weeks ago, the Joint Committee on Housing, Planning, Community and Local Government heard submissions from experts on how the sector should be regulated.
Orla Hegarty, an assistant professor at the UCD School of Architecture, Planning & Environmental Policy has appeared before the committee before on this subject, and said that the regulations put in place in 2014 weren't solving the main problems.
Hegarty said that a lack of third-party oversight caused problems with modern developments.
"Under [regulations implemented in 2014] it is on the owner to appoint somebody."
But in the case of a self-builder or a developer, they're effectively appointing someone to police themselves.
So there's a conflict of interest there. On top of that the appointed person doesn't have to be independent of the process and has no legal powers.
Structural problems could be caused by three main issues: design flaws, construction errors, low-quality materials or faulty equipment.
"All of these problems could be compounded by poor maintenance, by subsequent work to the building, by accidental damage, or even the environmental conditions the material is in."
She said that the protection of property, and the protection of life were two separate concerns, and that regulations needed to be in place to ensure fire safety, disability access, drainage, staircase safety, minimum sound transmission between buildings.
Commercial buildings, schools, and hospitals are built for the long-term, she said, and this ensures more stable structures.
"Commercial owners are more experienced, and more invested in the durability and quality of the building in order to protect their capital investment."
She told the committee that often these problems don't appear immediately, and take a lot of time to appear, and that the developer "may not be around" by the time the problems appear, which creates legal difficulties.
If the owner and developer are the same entity, there's a conflict of interest. There's a need to protect consumers' rights.
#Open journalism No news is bad news Support The Journal

Your contributions will help us continue to deliver the stories that are important to you

Support us now
Hegarty also added that there was great uncertainty around compensation after a problem comes to light and that insurance that covers structural problems also needed to be looked at.
A number of apartment complexes built during the boom years failed to live up to planning requirements, with many of them requiring additional works to bring them up to fire safety code.
These have included Priory Hall in north Dublin and Longboat Quay in Dublin's docklands.
More recently, residents of Beacon South Quarter have been footed with a €10,000 bill per apartment to fix water ingress in some of the apartments and bring others up to fire and safety standards.
There's also been a suggestion that the number of buildings that have serious structural problems is much higher than what's represented in the media, as owners are fearful attention will lower the prices of their properties.
If your home has structural faults because of poor building regulation, get in touch by emailing your story to tips@thejournal.ie