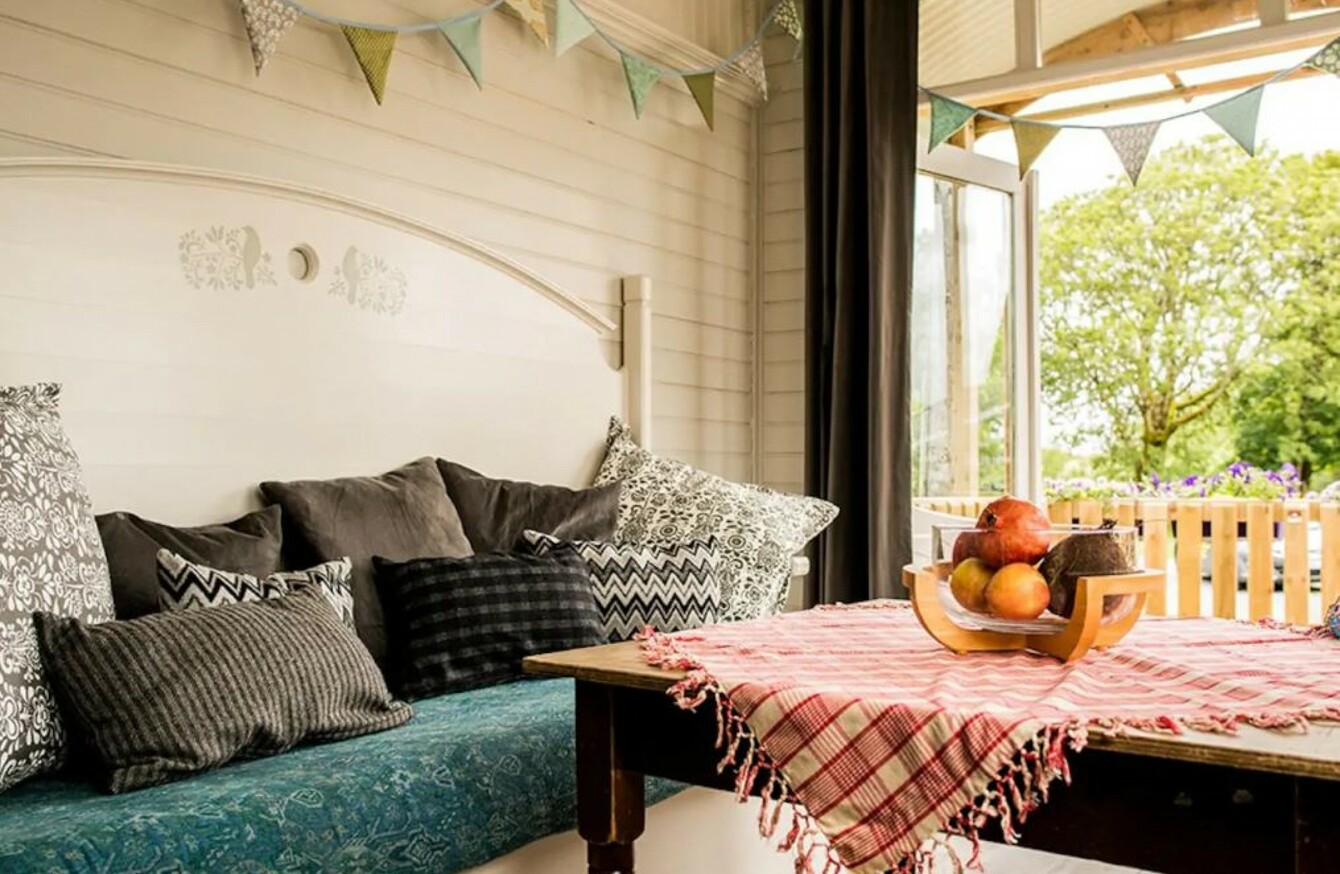 Image: Burren Glamping
Image: Burren Glamping
MOST PEOPLE CAN say they've stayed in a hotel on holidays: that's fairly standard. But not everyone out there can tell you they've spent a night in a converted horse truck. A comfortable and cosy night, at that.
For a truly creative answer to the "What did you get up to on your time off?" question, book in for a stay at Burren Glamping in Co. Clare.
Set on a working traditional farm, the former horse truck has been in operation as overnight accommodation since 2015. The beautiful wooden-clad cabin offers a great opportunity to explore the UNESCO-designated sites of the Burren, with free range rare breed pigs, donkeys, hens and a few dogs and cats to welcome you back for the evening.
Owned by Eva and Stephen Hegarty, both tour guides with decades of experience, you'll be in good hands.
Lest you think that a converted horse trailer sounds a little sparse, you'll be reassured to learn that it not only has an electric shower and flushing toilet, but also looks like the cosiest spot you could spend a weekend, tucked in next to the wood burning stove after a full day driving on Clare's twisting and turning rural roads.
Guests are welcomed into the fold of the farm immediately, says Hegarty:
Since we only have one accommodation unit we have time to spend with our guests. We invite them to visit the farm and introduce them to the animals, tell the story of our farm and the area and invite them into our home for a meal.
Hegarty also notes another perk of the accommodation: guests have access to archaeological sites on surrounding private land that most tourists will never get to see.
People have been farming here for 6000 years. For anybody interested in visiting sites, we know the hidden gems and could get access to sites that visitors would not find so easily on their own.
The couple can also suggest the right places and times of years to see the best botany the Burren has to offer – so be sure to contact them ahead of your visit.
Burren Glamping is part of the Burren Food Trail, meaning the Hegartys are incredibly well-informed on he best places to eat in the area, whether you're looking for locally sourced ingredients, great service, a packed whiskey menu or all three.
And all that, while staying in a cosy, comfy horse truck, checking quite a few boxes off your holiday bucket list.
Find out more on the Burren Glamping website or check out the Airbnb listing here.