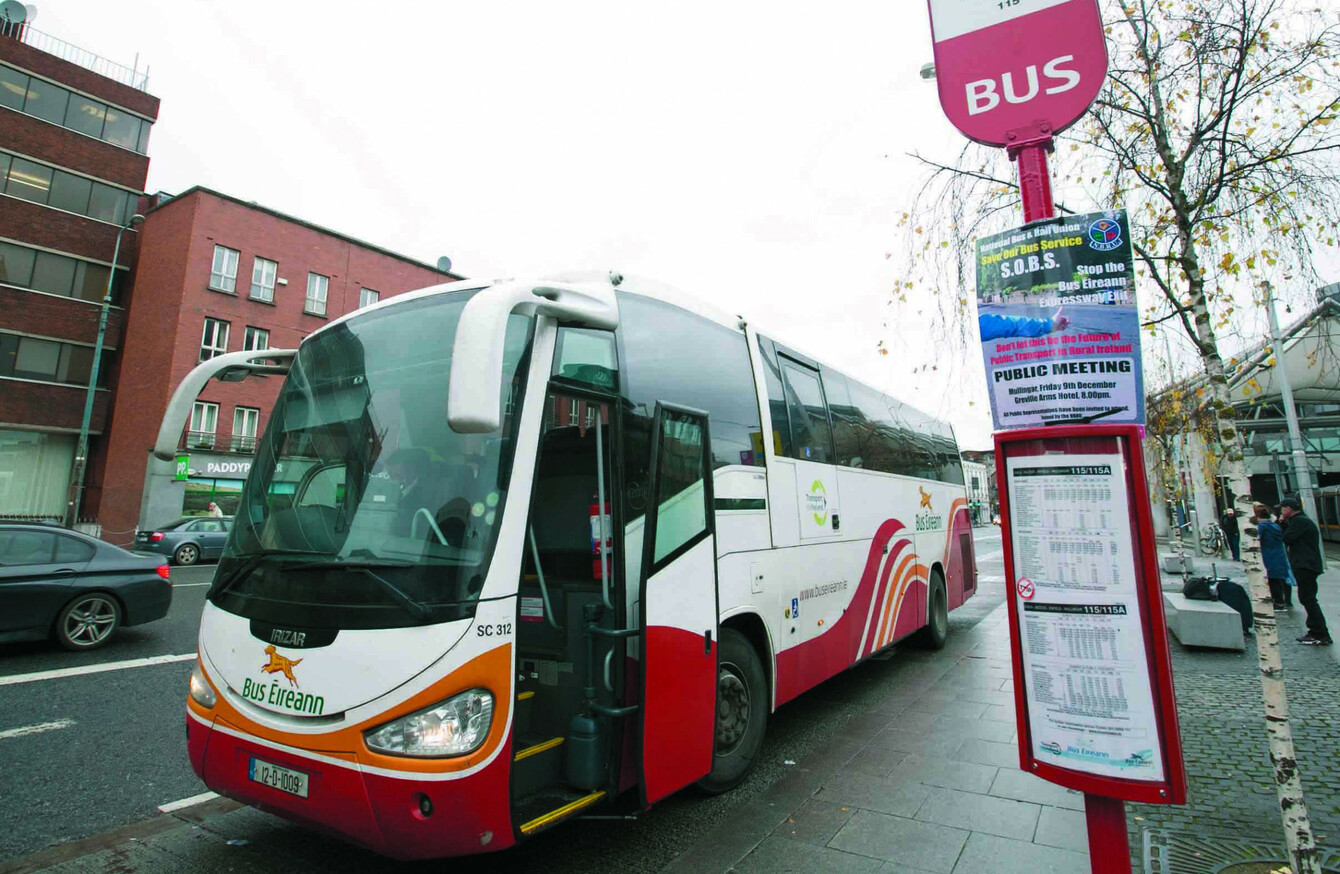 File photo.
Image: Sam Boal/RollingNews.ie
File photo.
Image: Sam Boal/RollingNews.ie
THE NATIONAL BUS and Rail Union has criticised Ireland's transport authority for plans to put a number of Bus Éireann routes out to tender.
The National Transport Authority (NTA) gave official notice over the weekend of its intention the directly award to Bus Éireann a contract for operating public transport services by bus.
This contract will start next year from 1 December and last for five years, following on from the expiry of the current contract on 30 November next year. 
As well as the usual five-year routes, the NTA also announced that it will award Bus Éireann the contract to run certain other routes for no more than two years.
It is planned that these routes will be put out to competitive tender, allowing other companies and operators to take up the contract.
The NTA first announced its intentions to put up to 10% of the routes that form part of the Bus Éireann contract up for competitive tender in October. That has now been reduced to 5%. 
"These proposals are carefully balanced to continue to introduce competition into the bus market in a structured manner that safeguards the delivery of services for the customer and maintains the ongoing improvement of the public's bus services," NTA CEO Anne Graham said at the time.
"Private bus operators will be able to compete for some routes while the public will always have a decent and reliable Public Service Obligation service, provided by a combination of incumbent operators and operators that are new to the market.
We believe that competition improves services which can only be good for the customer.
Currently, the three routes in to be put out to tender are 101, 101X and 133, all Dublin and east coast commuter routes. 
The advance year notice was given by the NTA over the weekend as required under law. 
Criticism
The National Bus and Rail Union – who represent Bus Éireann workers – has strongly criticised the planned move by the NTA to put the contract out to tender, calling it "a direct challenge to those of us that represent the best interests of both the taxpayer and the workers that work in this company".
General Secretary of the NBRU Dermot O'Leary said the move to open up the routes to tender will have a negative effect on transport workers and the State. 
He said that NBRU had written to the Workplace Relations Commission (WRC) in October raising concerns that the move potentially breached a 2015 agreement reached between the unions and the NTA. 
O'Leary said that politicians and political parties who "say they oppose privatisation, to challenge this attack on ordinary decent workers".
"The NBRU will now seek assistance from the WRC and request that it will intervene in order to prevent the inevitably of industrial action across our public transport system in 2019," he said.
TheJournal.ie  has contacted the NTA for comment.