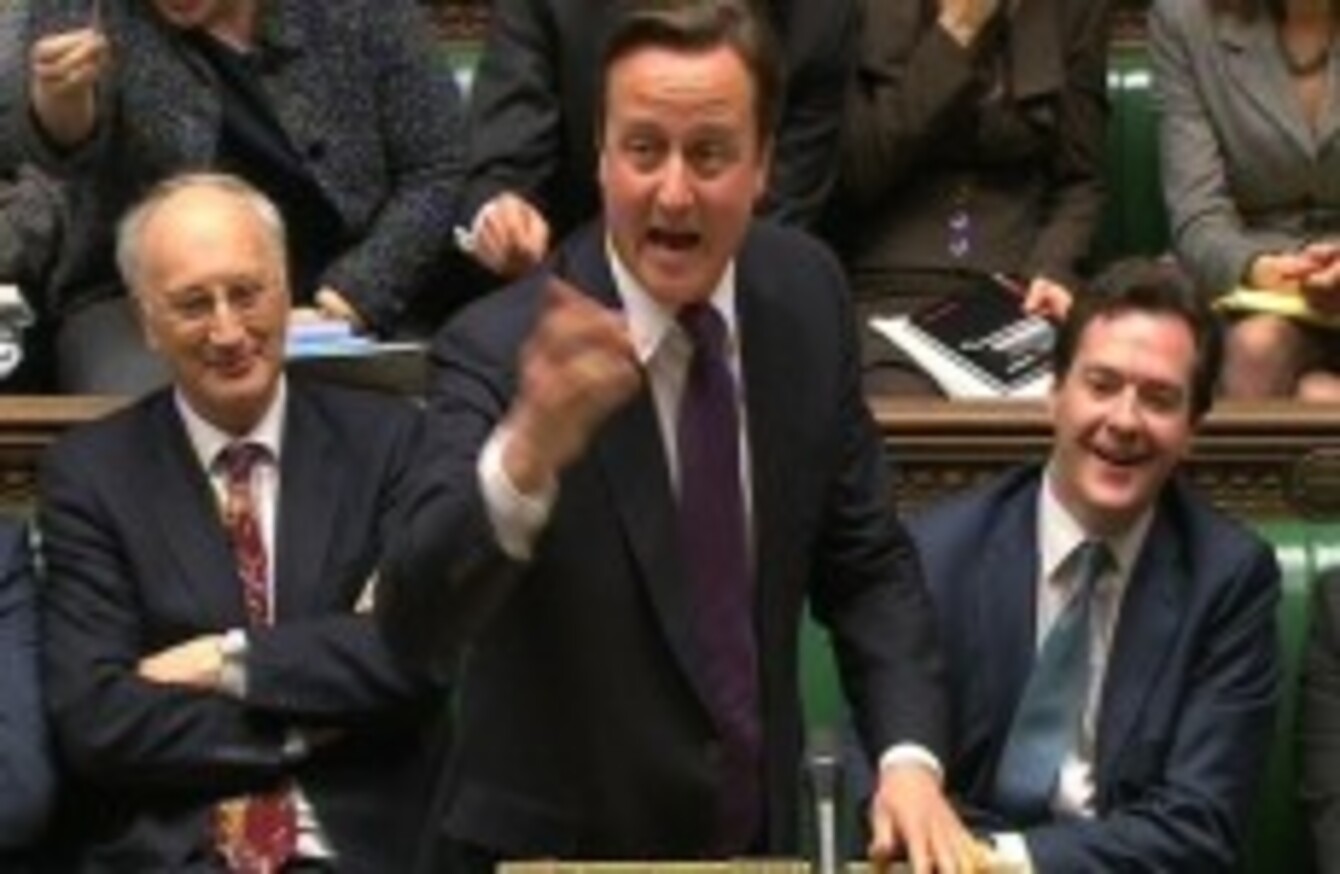 David Cameron in the House of Commons today.
Image: PA/PA Wire/Press Association Images
David Cameron in the House of Commons today.
Image: PA/PA Wire/Press Association Images
BRITISH PRIME MINISTER David Cameron faced criticism from the opposition in the House of Commons today but insisted that he had to veto the changes to the EU treaty agreed by all EU states except Britain last Friday.
Facing MPs for the first time since the veto, the first ever invoked by a British leader in the country's 38 years in the European Union, Cameron insisted that he negotiated the deal in "good faith" but said that he had to veto as he could not secure "sufficient safeguards" on financial regulation.
"I went to Brussels with one objective – to protect Britain's national interest. And that is what I did," he insisted.
The exchanges were notable for the absence of deputy prime minister Nick Clegg who had initially supported his coalition colleague's decision to veto before firmly coming out against it over the weekend saying Britain risked being "a pygmy in the world," and isolated from key decisions.
Clegg's Liberal Democrats are considered the most pro-European of all mainstream parties in the UK while the Conservatives have a vocal euro-sceptic wing who implored Cameron to ensure the country retained its sovereignty in the Commons last week.
Clegg's decision to stay away today was a talking point with opposition Labour MPs shouting "Where's Clegg?" across the Commons floor but his office said he "did not want his presence to be a distraction."
Speaking today, Cameron defended his decision:

(YouTube: telegraphtv)
He warned that the agreement which the country had opted out of was not without its problems.
"This is new territory and does raise important issues which we will want to explore with the 'euro plus' countries," he said, telling MPs that unlike a new EU treaty, the plan for the pact doesn't "carry the same dangers for Britain – nonetheless, it is not without risks."
He said some uncertainty lies ahead. "I think we are going to see now, frankly, a period of great change in Europe. No one quite knows where this new organisation outside the European treaties will go, and what powers it will seek and how it will act," Cameron said.
The opposition Labour Party said Cameron's veto had failed to halt Europe's march toward closer fiscal ties.
"It's not a veto when the thing you wanted to stop goes ahead without you. That's called losing," Labour's leader Ed Miliband said.
But Britain's government is worried that the new European pact would overlap with the existing EU treaty.
In particular, Cameron's office said it was not clear how EU institutions such as the European Commission, the EU's executive based in Brussels, could be used under two different, possibly competing, regimes.
"There are issues that are raised by this, about institutions serving two masters — the euro zone and the European Union — and we need to look at those issues very carefully," Cameron's spokesman Steve Field told reporters.
"If you have the institutions serving the 27 and serving the 17, there is potential for conflict of interest."
- additional reporting from AP