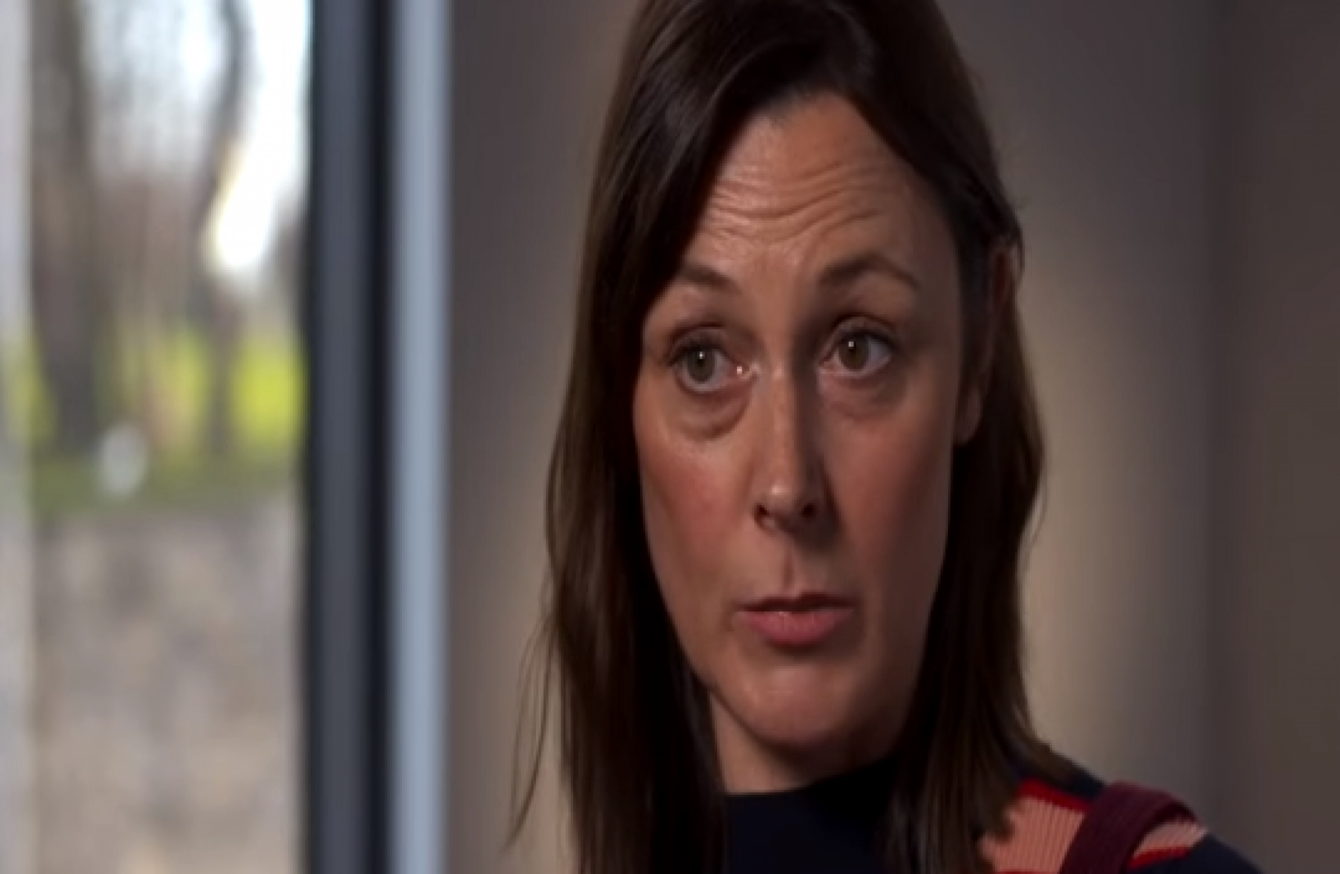 Alison McCormack.
Image: RTÉ Investigates
Alison McCormack.
Image: RTÉ Investigates
A HOSPITAL PATHOLOGIST working at St James' Hospital misdiagnosed two cancer cases, a new investigation reveals.
RTÉ Investigates has confirmed that two patients had their cancer misdiagnosed at the hospital.
One of the patients - Alison McCormack – discovered a lump on her right breast in 2010.
After a series of tests at St James's Hospital she was diagnosed with DCIS (Ductal Carcinoma in Situ), a localised form of breast cancer, in 2010.
This was seen as a fortunate diagnosis as it is technically precancerous (Stage 0).
"So my surgeon had explained you're lucky to have DCIS, as in it's a cancer that is curable by surgery," Alison said.
She went on to have a mastectomy and breast reconstruction but because her cancer was diagnosed as non-invasive, it was decided that further treatment such as chemotherapy wasn't needed.
Two years later in October 2012, Alison discovered a lump on her neck and was again referred to St James's for tests.
"I saw my own consultant and she said that they'd looked at the biopsy and it was the original breast cancer that was back, it was the DCIS and it had now spread into the lymph nodes of my armpit and up to my neck," Alison said.
So we were shocked and we couldn't, we couldn't understand it and actually she couldn't understand it either. She basically said it's very rare for DCIS to come back.
Discovery 
Alison began a year-long treatment plan including an aggressive 6 month course of chemotherapy.
She had all the lymph nodes in her right arm removed and had five and a half weeks of radiation. The treatment has left her with lifelong health issues including lymphedema which results in severe swelling of her right arm.
She kept wondering why her cancer had come back. In late 2013, she began to ask questions and at her request a meeting with St James's Hospital was arranged.
Alison was informed then that the cancer had been misdiagnosed  – almost a full year after she re-presented at the hospital with cancer in her neck.
After a receiving a report of the misdiagnosis, Alison found out that the hospital had been aware of it since February 2013 but she had not been informed.
"Had Alison not pursued the questioning that she was determined to find out about, there is absolutely no way she would ever have learned that were was a mistake on the part of this hospital," said Rachael Liston, Alison's solicitor.
The report confirms that originally the lump on her neck was reported as showing DCIS only. However, after doctors reviewed the original slides they discovered that invasive cancer had been missed by the pathologist.
The report concluded that the error was one that could have been made by any pathologist and did not represent incompetence.
Review
To support this finding, St James's decided to review a portion of the doctor in questions's caseload.
In all the doctor had analysed over 300 breast cases in 2010 – the year of Alison's misdiagnosis. The review looked at every 10th case, as well as a further nine DCIS cases – that is cases with a precancerous diagnosis similar to Alison's.
So of the 39 cases reviewed, two were found to have been misdiagnosed. It is not clear if the second person has been informed of the misdiagnosis.
#Open journalism No news is bad news Support The Journal

Your contributions will help us continue to deliver the stories that are important to you

Support us now
Both cases came from the DCIS category only, meaning the pathologist had misdiagnosed 2 out of nine cases – an error rating in excess of accepted international pathology norms.
Professor Ian Ellis, a leading consultant pathologist based at Nottingham City Hospital, reviewed Alison's case.
"It sounds very small, two out of 39 but these are very, very fundamental and serious errors so they are red flag type of errors," Ellis concluded.
And so in my opinion that is of concern. The number of breast cases that he had looked at were a few hundred, that's not a huge number of cases and certainly if I was asked my opinion on what to do I would recommend a review of all the cases.
St James's Hospital decided a full review of all breast cases examined by the pathologist was not required.
In a statement to RTÉ Investigates, St James's said it was aware in February 2013, there had been a breast cancer misdiagnosis in the case of Alison McCormack, however the hospital did not inform her of the misdiagnosis for a further 9 months.
It said it "treated the review of her case, which was completed in February 2013 as part of the overall review and shared it with the patient together with other related documents in November 2013 when the review was complete".
The hospital also said it "fully acknowledges that the missed diagnosis error occurred. For this the hospital was and remains unequivocally sorry."
Despite repeated requests from RTE Investigates, St James hospital failed to confirm that the second patient has been informed that she was misdiagnosed.
You can watch an account of the full investigation tonight on RTÉ Prime Time