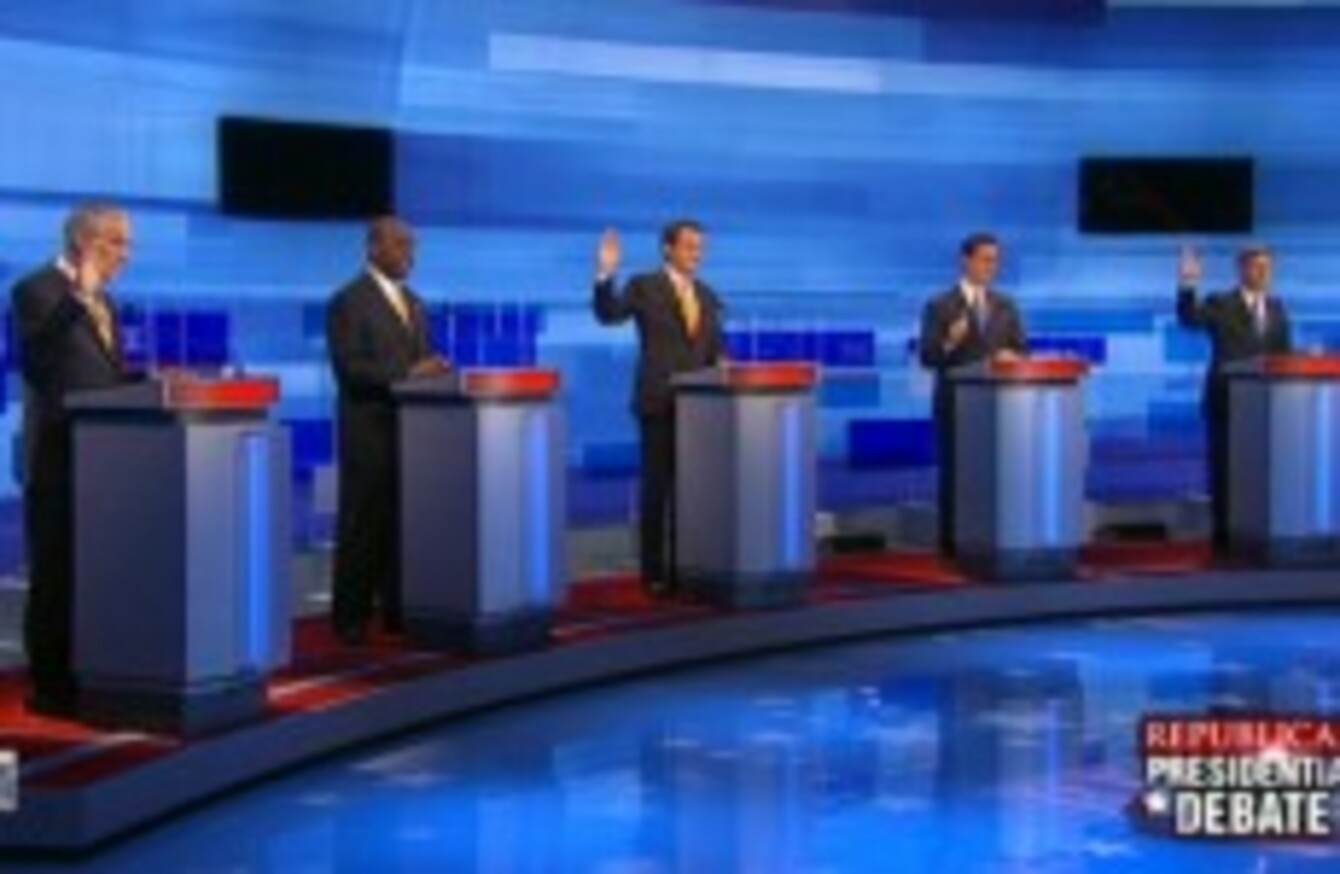 The candidates debated in South Carolina
Image: Screengrab via Fox News
The candidates debated in South Carolina
Image: Screengrab via Fox News
IT WAS NOTABLE largely for its lack of big name contenders but candidates for the Republican nomination for the presidential election in 2012 attacked President Barack Obama's foreign policy at the first debate in South Carolina  on Thursday night.
On Fox News, candidates attacked Obama's decision not to show photos of Osama Bin Laden's dead body following his assassination last Sunday.
Congressional representative Ron Paul, who ran for the nomination in 2008, said the issue was about government transperancy.
While former Minnesota governor Tim Pawlenty insisted that to show the apparently grisly photograph of Bin Laden "would have been okay".
The debate also featured former New Mexico governor Gary Johnson who is a former pot smoker, former Pennsylvania senator Rick Santorum and businessman and former pizza mgnate Herman Cain.
ABC News reported little fireworks from the event whilst The Slate noted that it attracted little interest from voters or the media in light of the current news.
The US' main newspapers instead focused on Bin Laden's death four days on – and even Pippa Middleton, the sister of newly wed royalty Kate.
However, a blog posting on The Washington Post says that a number of important lessons could be taken from contest including that Pawlenty was the only one of the five men who had a realistic chance of winning the Republican nomination.
The debate was most notable however for its lack of big names including 2008 vice presidential nominee Sarah Palin, 2008 contenders Mitt Romney and Mike Huckabee, business magnate Donald Trump, former congressional leader Newt Gingrich and the former US ambassador to China Jon Huntsman.
Cain criticised the absentees during the course of the debate, saying: "The first rule in leadership is you have to show up."