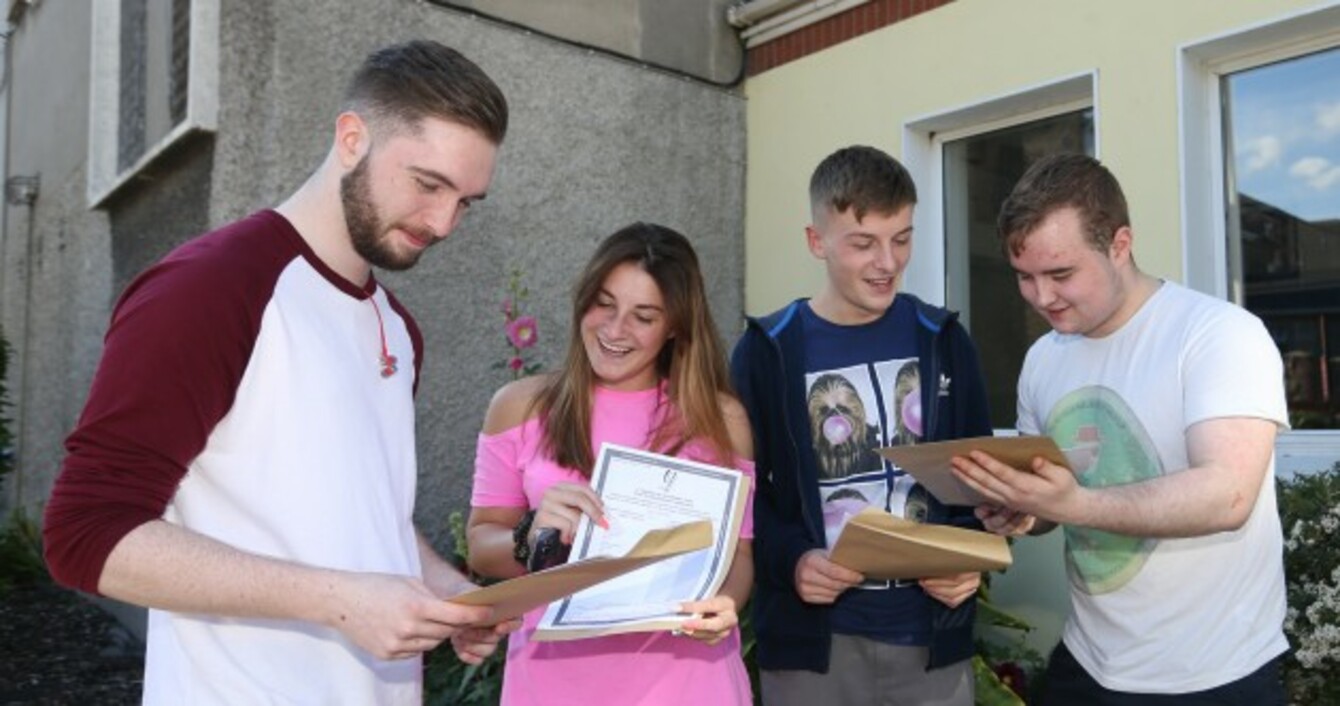 Image: Sam Boal
Image: Sam Boal
IT'S A couple of days after 56,000 students found out their Leaving Certificate results and today is the big day.
Whether delighted or disappointed thousands of young people in Ireland will be finding out today if they are successful in getting their first round college choice as offers are distributed by the Central Applications Office.
For many, the offers will indicate what they will be studying for the next few years, where they will be living or possibly whether they should return to resit the Leaving Certificate to secure higher points they might need.
CAO offers will be available from 6am this morning.
So how does it all work?
CAO points are calculated based directly on a student's best six subjects in their Leaving Cert. The points for each course are not a measure of the difficulty of the course - it's merely based on the results of the people who want to get in.
Most Leaving Cert subjects are taken at two levels – either Higher Level ('honours') or Ordinary Level ('pass'). (A couple of subjects are also offered at Foundation Level, but they do not count for the purposes of CAO points.)
While every exam in the Leaving Cert does ultimately result in a percentage grade, this isn't what students are given on results day. Instead, they're given a letter grade which corresponds to the percentage score that they got.
Those grades are outlined on this table:
First round offers: What do I do?

Source: CAO/Vimeo
Students will log in to their 'My Application' section of the CAO website where they will be able to accept any offers made. Offers are also issued by post. Students are urged to check the date in which it states that offers must be accepted by.
If students do not accept by this date the offer will lapse.
Students must accept their offer through the CAO. Students are reminded that the notification that they have a place is not the acceptance.
Students must acknowledge the offer and accept it through the CAO website. This year, round one acceptances closing date is 24 August at 5.15pm.
Acknowledgement of acceptances must be posted within 3 working days.
For students who do not get their first choice option, round two options kick in.
Round Two offers will commence on 26 August. The reply date for round two is 2 September at 5.15pm. Other offers will be issued as necessary until mid October until vacant course spaces are filled.
I may have missed the course by 5 or 10 points, what should I do?
If students are unhappy with the result of one or more of their results they can have their exams rechecked which may result in them reaching the required points.
If students manage to get the extra 5 or 10 points required, they must be offered the place, but sometimes these offers might have to be deferred if the course has been filled for the year, but it totally depends on the course.
Further offers continue into rounds four or five.
Another option for students who feel they are in limbo is the Available places section where courses that still have places are advertised. The facility is open to new and existing CAO applicants and students can apply for these places online at no extra cost.
New courses that were introduced and accredited after the CAO this year are also on the Available Places list.
The places tend to go fast so students are advised to log on straight away when the courses are advertised. Students can reapply and if they meet the requirements and they will be offered a place.

Source: CAO/Vimeo
What are the other options?
Don't panic if you don't get your first round offer, there are a number of different routes students can take such as PLC courses and further education colleges.
Often these colleges have links to other colleges, so students can enter the course at a lower level, and then progress into a degree in another college.
For more information you can visit the CAO website here. For further advice you can contact the National Parents Council helpline on 1800 265 165.