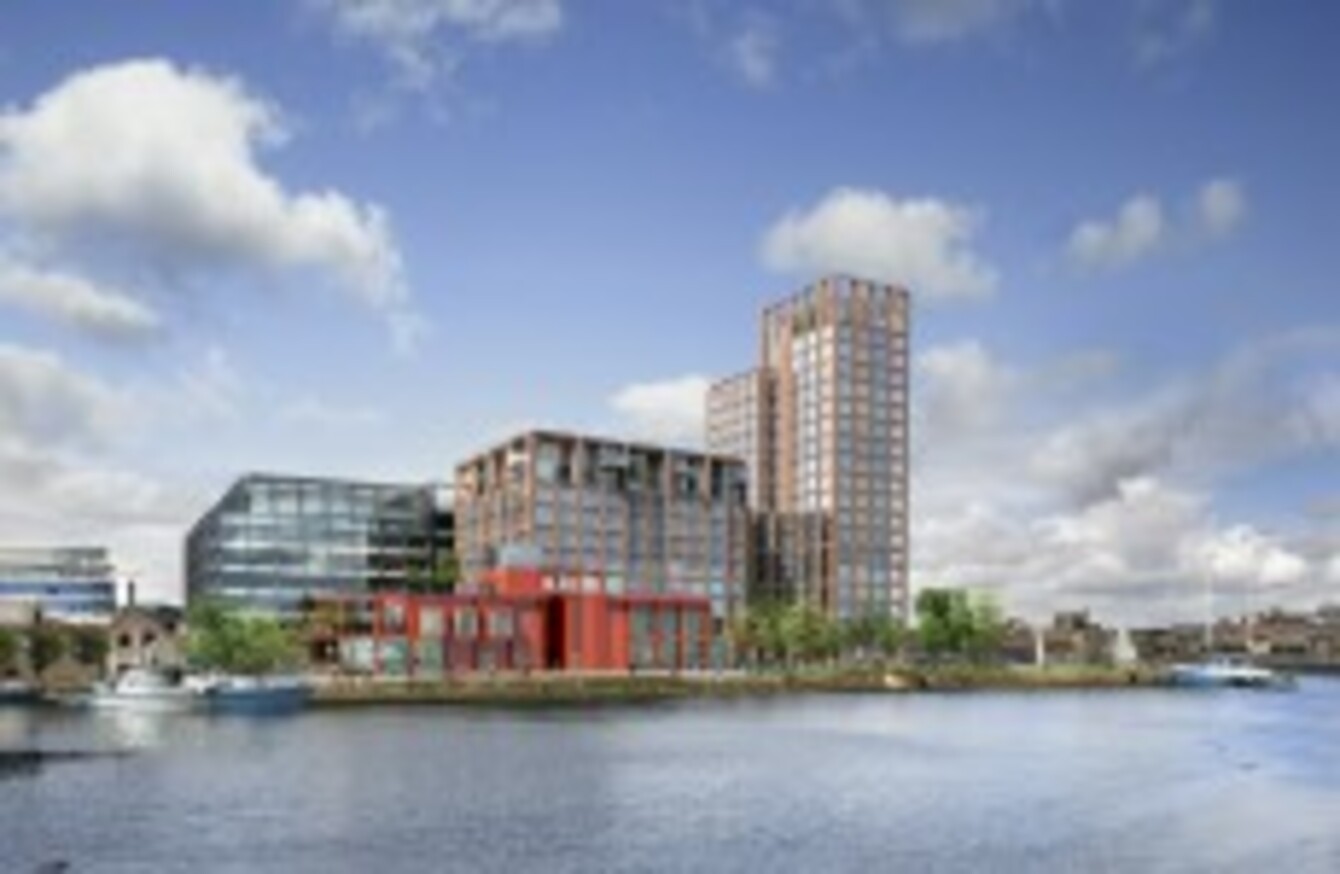 A MAJOR HIGH-rise development is being planned for part of the Dublin docklands area.
Global property company Kennedy Wilson and its equity partners, in a joint venture with NAMA, submitted planning yesterday for what they described as a "visionary development" on Sir John Rogerson's Quay in Dublin 2.
The plans
Capital Dock is over 4.8 acres in size and one of the largest undeveloped sites in Dublin's CBD (central business district). Under the plans, there will be 600,000 square feet of new space delivered to this prime waterfront location.
This includes 313,000 sq ft of office space across three buildings, and 204 high-quality residential units across two buildings.
One of the buildings will incorporate a 19-storey tower.
The proposed development, which has water on two sides, will also include a 1.5-acre landscaped public park and square, cultural space and a retail/leisure offering.
A planned pedestrian footbridge across the River Liffey will also give it a boost.
Site assembly was finalised at the end of 2014 following the completion of a joint venture arrangement between Kennedy Wilson and NAMA.
This entailed the pair merging their adjacent sites at Sir John Rogerson's Quay. Kennedy Wilson is the majority partner and acts as Development Manager to the project.
When will work begin?
Kennedy Wilson said it expects to obtain planning later this year and to commence on site in early 2016, with the first office building available in 2017.
Peter Collins, Managing Director of Kennedy Wilson Europe said the development at Capital Dock "will be the standard-bearer for integrated office and residential development".
He said they believe the development "will have a transformative effect, not only on the skyline of the Dublin Docklands, but on the public social, cultural and business realm in this part of the city".
Brendan McDonagh, CEO of NAMA, said the application"is the latest example of NAMA's commitment to facilitating quality development in the Docklands area and maximising the return for taxpayers from the loans NAMA acquired".
It also demonstrates our continuing progress in meeting the commitment to fund and otherwise facilitate the delivery of office, commercial and residential development the Docklands area and elsewhere in response to demand.