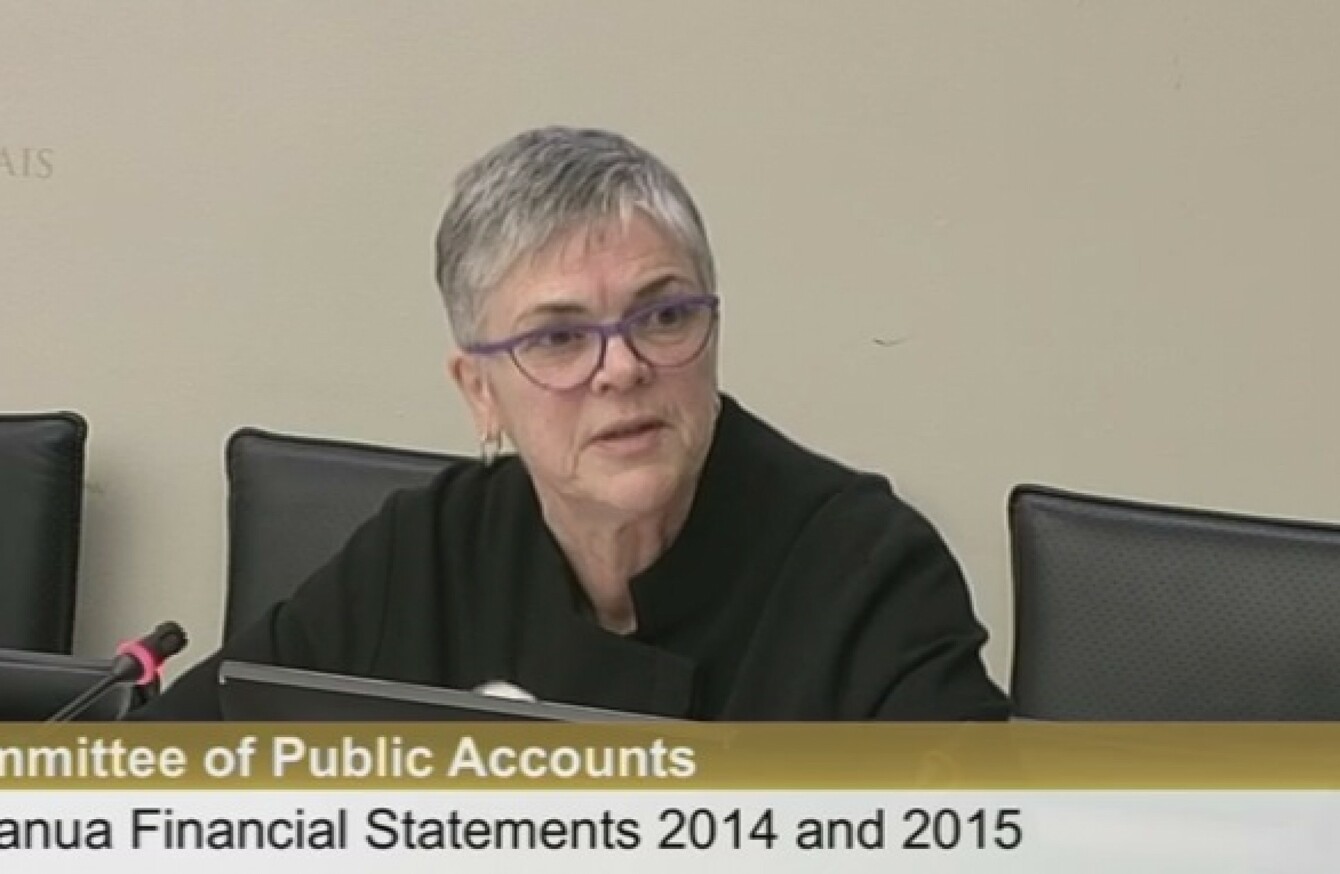 Caranua CEO Mary Higgins.
Caranua CEO Mary Higgins.
THE CHIEF EXECUTIVE of Caranua has withdrawn "unreservedly" the comments she made on RTÉ's Joe Duffy Show in which she described survivors of institutional abuse as "these people" who are "damaged".
During robust questioning at the Dáil Public Accounts Committee yesterday, CEO Mary Higgins faced tough questions about how survivors of abuse have been treated by Caranua.
The Caranua scheme was set up to assist those who were abused in residential institutions, aiming to provide help to the survivors as they face into old age, with their health, education and housing.
Since its establishment in March 2013, Caranua has spent some €56 million supporting former residents, while €5 million has been spent on administration costs.
'Terrible' language 
Describing the statements as "terrible", Independent TD Catherine Connolly said she did not want to repeat the words used by Higgins for fear that it would be further insult to the survivors.
"But this language was used. 'These people are damaged. The hole in them cannot be filled by what we do unfortunately'," said Connolly.
"Did you use that language? Did you say that?" she asked.
"I don't know definitely that I said that," said Higgins. "But I do think it's the reality that the damage that was done to people who were placed in institutions when they were children is profound and it is life-long and part of the damage causes people to not expect other people to want to do something good.
"If you think we are the face of the State, the State that did this to people, it is understandable that people would be angry with us," replied Higgins.
"Are you withdrawing those comments?" asked Connolly.
"Yes, I withdraw those comments. Unreservedly I withdraw those comments," said the Caranua CEO.
Previously, Education Minister Richard Bruton said the comments "were unfortunate and could certainly be open to misinterpretation".
Frustrations of applicants 
However he said the organisation had a difficult job to do, particularly in its early phase, which was very frustrating to the many survivors who were making applications to the group.
"It is vital that in all of our dealings with victims of abuse they are dealt with in a sensitive, fair and compassionate manner," said Bruton.
Though it was set up in 2013, it did not start accepting applications until early 2014. It received more than 2,800 applications in its first quarter. Due to staffing issues, the organisation was not equipped to handle such volumes.
"When the applications came in it was overwhelming," said Higgins.
However, Connolly pointed out the organisation had over nine months to get its house in order before applications began flooding in.
Since its establishment, there have been numerous complaints made from survivors about the service.
As far back as 2014, TheJournal.ie reported that survivors were unhappy with the redress scheme.
Long delays 
The committee heard yesterday that many survivors had felt "re-traumatised" following their experience dealing with Caranua. Connolly said applicants, most of whom are elderly, complained about the long delays in the decision-making process, as well as being treated with disrespect when told that their case had been refused.
#Open journalism No news is bad news Support The Journal

Your contributions will help us continue to deliver the stories that are important to you

Support us now
Earlier this month, Clare Daly raised the issue of survivors appealing decisions waiting up to 12 months for a decision.
Minister Bruton said 2016 saw a significant increase in the number of appeals rising from 89 in 2015 to 165 in 2016.
Unfortunately, the increased volume has led to a delay in the processing of appeals. I am conscious of the need to deal with appeals promptly and officials from my Department are exploring a number of options including the appointment of more than one appeals officer.
Capping limit 
Issues relating the cap placed on payments were also raised with Higgins.
When the legislation came into effect governing Caranua and when guidelines were published in May 2014 there was no limit on what survivors could apply for.
However, in July 2016 a cap of €15,000 per applicant was introduced.
Higgins said that average pay-out to survivors is €13,000.
When asked how Caranua reached the figure of the €15,000 cap, she explained that the €110 million fund the organisation "is limited".
"We don't know how many are likely to apply," she said, adding that it if spending continued as it was going, all the money would be spent and it would not have benfitted every survivor.