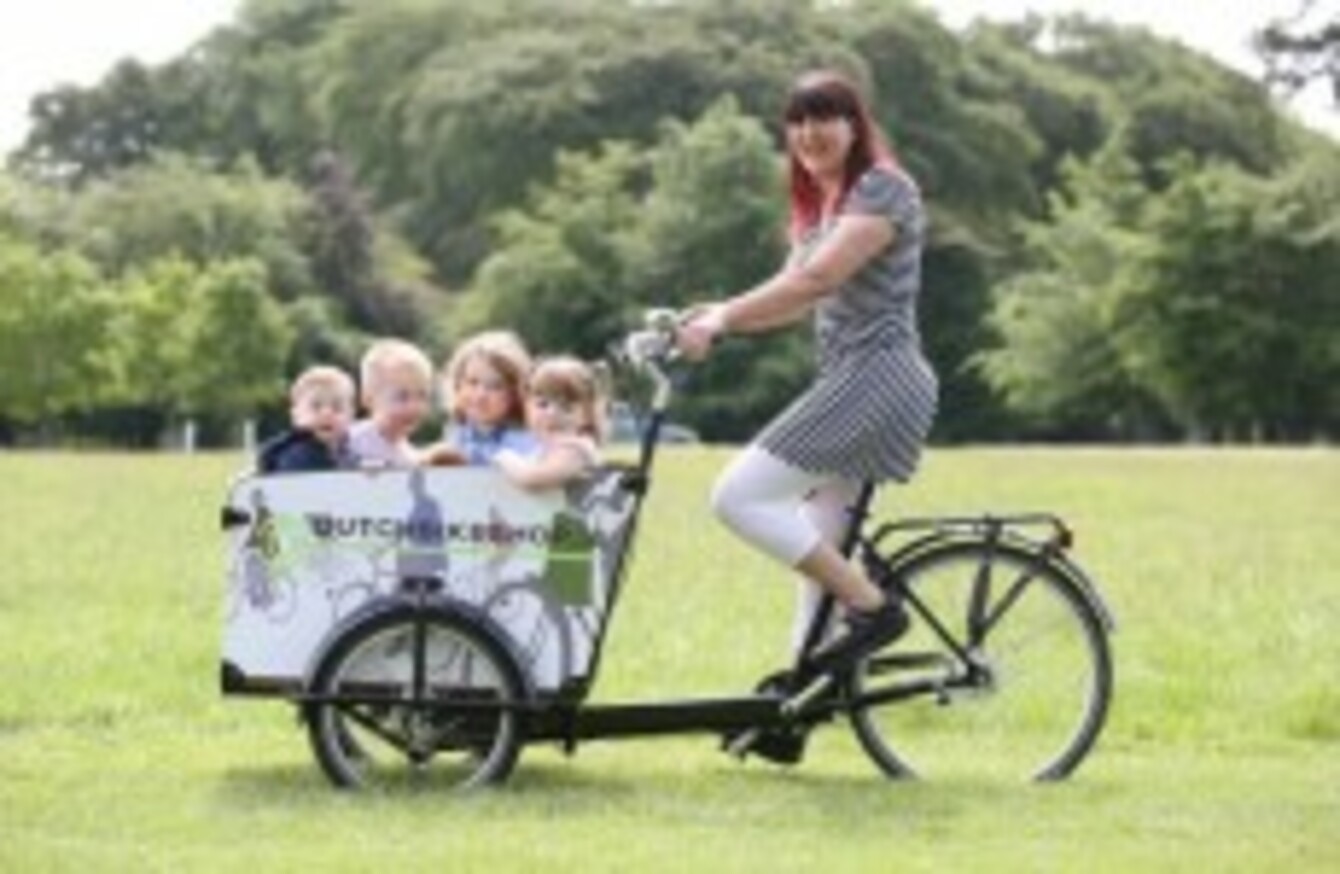 Image: Photocall
Image: Photocall
IT'S AN ALL too familiar part of daily life for Ireland's army of commuters: overtaking cars, streets heaving with buses and lorries, and motorcyclists snaking through bumper-to-bumper traffic.
Few considered the humble bike to be a solution when Dutch woman Astrid Fitzpatrick moved to Dublin 13 years ago.
So limited was the cycling market back then, in fact, that she had to ship a cargo bike all the way over from Amsterdam.
I was pregnant at the time and had two kids already. I wanted a way to bring them around without giving up cycling.
Now, Astrid uses the three-wheeled bike for everything from shopping to school runs, in between running her own Dutch bike shop.
In the decade or so since she settled in Dublin, the number of customers buying cargo bikes has nearly doubled every year, she says.
Cars have gotten used to us. They know they'll get a bump if they crash into us, so they tend to avoid going near us.
And, like many other cyclists, she welcomes new plans to ban cars from Dublin city centre.
Things are improving, but there's still a long way to go. I'd like to see segregated roads all over the city. Drivers and cyclists shouldn't be pitted against each other.
You don't need a bike, though, to compete in the 2015 Irish Cargo Bike Championship that Astrid has organised for next week, as there'll be a limited number available on the day.
The competition, now in its third year, will see teams battle it out in a variety of challenges in the Phoenix Park from 1pm on 21 June.
Competitors will be put through their paces in an egg and spoon race, a sprint, a flag pick up race and a loading race, where the person who can load their bikes with the most items will be the winner.
"Another one will involve 'ringsteken', a Dutch game where teams have to slide rings onto sticks," Astrid says.
Take part
The championship is just one of many National Bike Week events taking place across the country this coming week. We've listed a selection below – but the full list of events is available on bikeweek.ie.
Carlow: Tomorrow, 10am, Institute of Technology – Family cycle and festival
Clare: Tuesday, 11am, Lahinch car park – Foraging cycle
Cork: Tomorrow, 2pm, Aberstrewary NS – Coastal fun cycle
Donegal: Monday, 7:30pm, Aura Leisure Centre in Letterkenny - Family cycle
Dublin: Tomorrow, 3pm, Blackrock Village – 10km fun cycle
Galway: Tomorrow, 10am, Terryland Castle - Guided heritage cycle
Kilkenny: Wednesday, 1:15pm, The Parade – Lunchtime cycle
Louth: Tomorrow, 3pm, Ardee parish centre – Family cycle
Mayo: Tomorrow, 9am, Kilsallagh post office in Westport - Ladies' fun cycle
Meath: Tomorrow, 9:30am, Senechalstown GAA centre – 5km cycle challenge
Wexford: Tomorrow, 10am, Kilgannon Garden Centre – Family cycle