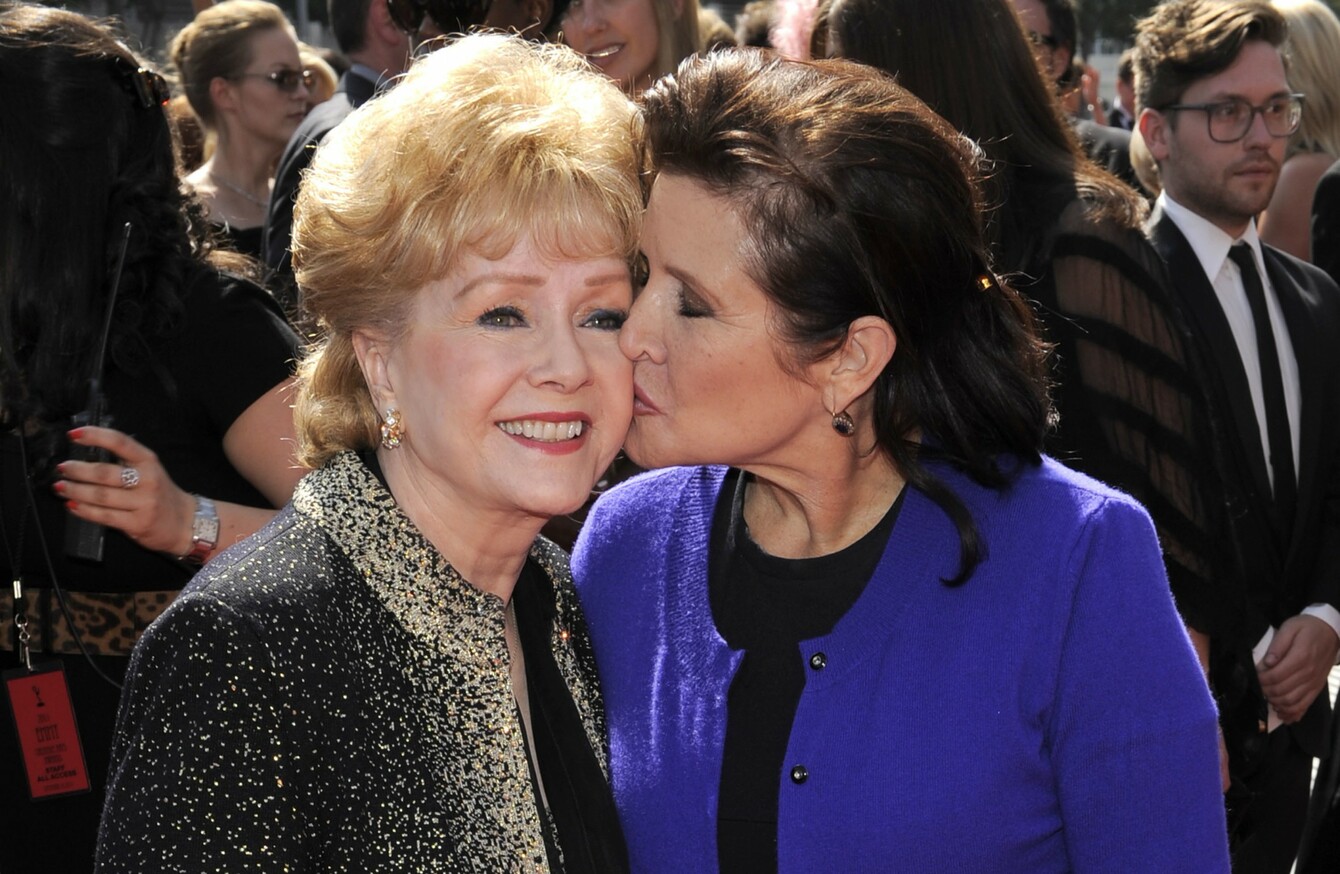 SCREEN ICON DEBBIE Reynolds and her daughter, Star Wars legend Carrie Fisher, are to be buried side by side among numerous stars of Hollywood's Golden Age this week, according to US media reports.
ABC News said a private memorial service limited to family and close friends would take place tomorrow.
Reynolds's son Todd Fisher told ABC's 20/20 last week that he was planning a joint service at Forest Lawn Memorial Park in the Hollywood Hills with the help of Billie Lourd, his niece and Carrie Fisher's daughter.
The Hollywood Reporter quoted a family source as confirming there would also be an event at the Beverly Hills compound where Reynolds and Fisher were neighbours.
"I'm not sure what they're calling it – a funeral or a wake – but it will be Thursday at the house," the source said.
It will be exactly what they both wanted, to be together.
Other celebrities laid to rest at Forest Lawn include Bette Davis, Reynolds's onscreen mother in A Catered Affair (1956), and Reynolds's close friend Liberace.
Silent film star Buster Keaton, Oscar-winning Rod Steiger and David Carradine, the star of Kung Fu and Quentin Tarantino's Kill Bill films, are also buried there.
Stars of the screen
Reynolds, who tap-danced her way into American hearts as a star of Singin' in the Rain, died on Wednesday last week, a day after daughter Carrie Fisher's death.
The 84-year-old suffered a stroke at the Beverly Hills compound as she was making funeral arrangements for Fisher, who had suffered a heart attack.
"She didn't die of a broken heart. She just left to be with Carrie," Todd Fisher told 20/20.
Fisher, who catapulted to worldwide stardom as rebel warrior Princess Leia in the original Star Wars trilogy, died in Los Angeles four days after suffering a heart attack on a transatlantic flight. She was 60.
Lourd opened up last Monday about losing her mother and grandmother just a day apart, telling her Instagram followers their prayers and kind words had given her strength "during a time I thought strength could not exist."
"There are no words to express how much I will miss my Abadaba and my one and only Momby. Your love and support means the world to me," the 24-year-old wrote.