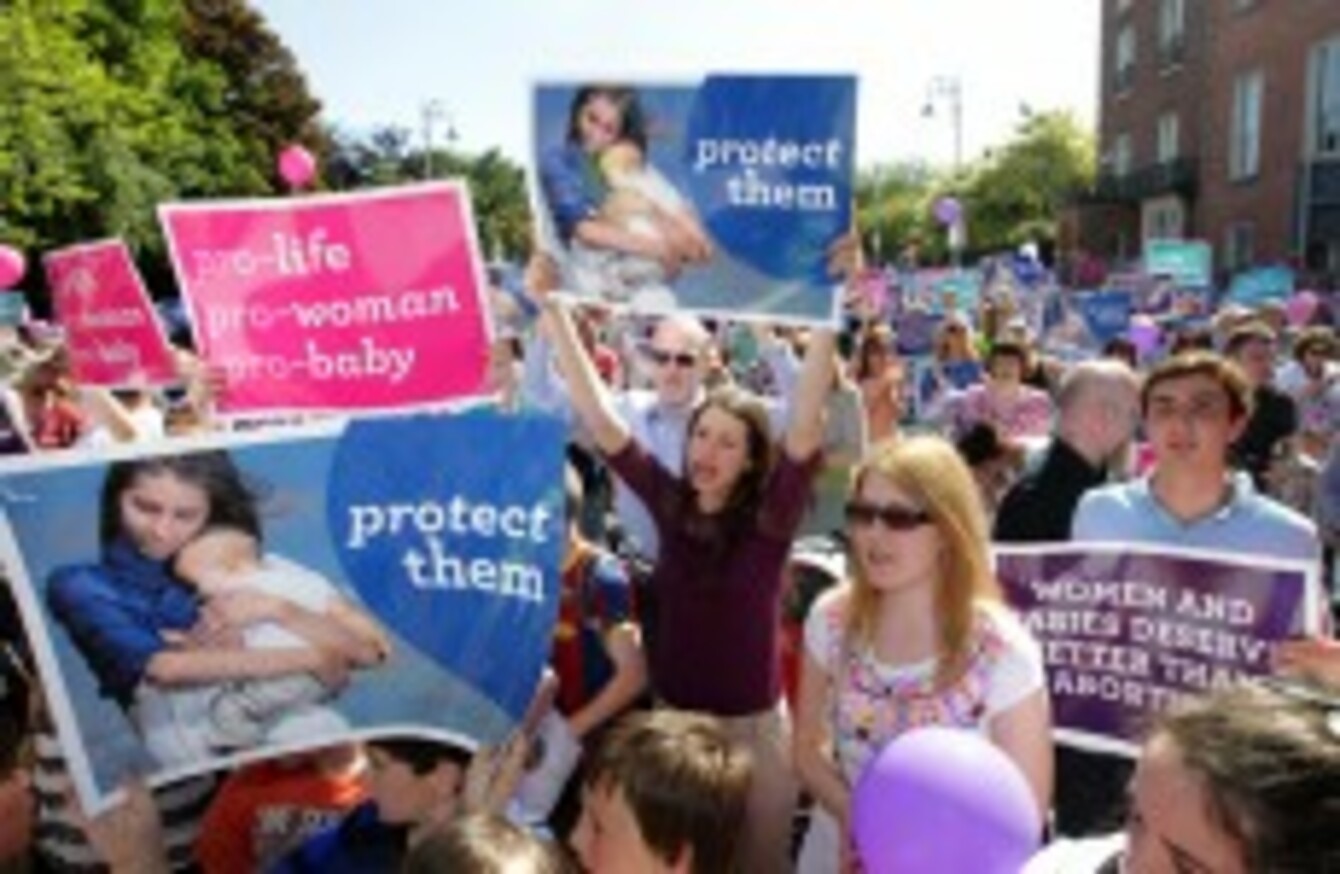 Saturday's Pro-Life Vigil in Dublin.
Image: Photocall Ireland!
Saturday's Pro-Life Vigil in Dublin.
Image: Photocall Ireland!
"EVERY HUMAN LIFE is precious, every human life is beautiful, every human life is sacred. Choose life!" is the concluding line of a strongly-worded statement from the Irish Catholic Bishops' Conference.
As they gather for their June General Meeting, Irish Catholic bishops have outlined their reasons for opposing the government's Protection of Life during Pregnancy Bill 2013.
The group, which is currently meeting in Maynooth, said Ireland has arrived at a "defining moment".
"No individual has the right to destroy life and no State has the right to undermine the right to life," the statement reads.
Yet the Irish Government is proposing abortion legislation that will fundamentally change the culture of medical practice in Ireland.  For the first time legislation will be enacted permitting the deliberate and intentional killing of an unborn child. This represents a radical change. Every citizen, not just people of faith, should be deeply concerned.
The body explained the Catholic Church believes that treatments to save a mother which may put the life of her baby at risk are ethically permissible "provided every effort is made to save both the mother and her baby".
This is different from abortion, which is the direct and intentional taking of the innocent life of the unborn.  No matter what legislation is passed in any country, abortion is, and always will be, gravely wrong.
The bishops also claimed that the Irish people have been misled on the issue and that the government is not obligated to legislate for the X Case.
They criticised the proposed name of the bill, stating the intentional destruction of the unborn can not be described as life-saving or pro-life.
Commenting on the heads of the bill that were published earlier this year, the organisation said the legislation would allow for a "very wide margin of subjective professional assessment" by which a termination can be legally justified.
"As we have learned from other countries, such legislation opens the door to ever wider availability of abortion," it continued. "We remain convinced that enhanced medical guidelines, which do not envisage the direct and intentional killing of the unborn, could provide the necessary clarity as well as a morally, legally and medically acceptable way forward.  While good health can normally be restored, life, once taken, can never, never be restored."
Echoing calls from the religious congregations in Ireland last week, the bishops have asked for a wider use of conscientious objection. They believe it is "ethically unacceptable" to expect medical staff with an objection to nominate others to take their place.
"Neither should any institution with a pro-life ethos be forced to provide abortion services."
Priests across the country have been asked to pay the Choose Life pray at mass in the coming weeks.