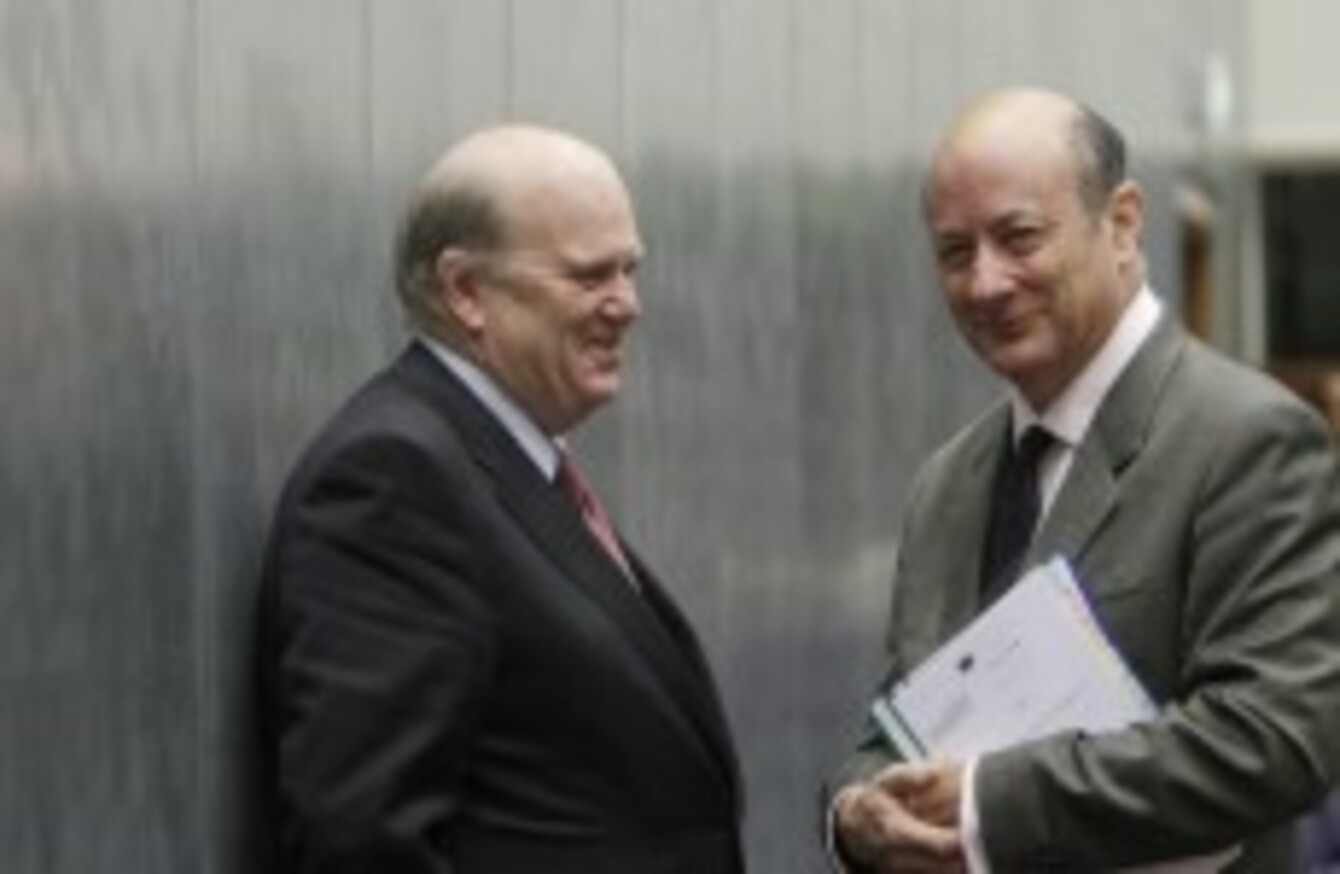 Michael Noonan and Polish Finance Minister Jacek Rostowski at yesterday's ESM meeting in Luxenbourg
Image: Virginia Mayo/AP/Press Association Images
Michael Noonan and Polish Finance Minister Jacek Rostowski at yesterday's ESM meeting in Luxenbourg
Image: Virginia Mayo/AP/Press Association Images
A MEETING OF eurozone finance ministers has decided to change the status of the European Stability Mechanism (ESM), meaning that if money from Europe's permanent bailout fund is lent to Ireland, Greece or Portugal, it will not be a preferred creditor.
The move has been welcomed by both Taoiseach Enda Kenny and the Finance Minister Michael Noonan, with the latter saying it will ease Ireland's return to the international markets, reports the Wall Street Journal.
Noonan said that it is "very good news", reports Bloomberg, because Ireland had been hoping for the change in creditor status, and it means that money borrowed from the ESM will not have to be paid back before private bondholders are reimbursed. Reuters reports that preferred creditor status for the ESM may have discouraged private bondholders from buying bonds from Ireland, Greece or Portugal.
The three countries stand alone in their exemption though – any other country needed a bailout in the future will have to pay back IMF and ESM loans first.
Noonan said potential lenders may be worried about Ireland going for a second bailout and therefore would be reluctant to take a risk. He said that this change negates those worries.
Enda Kenny said the changes to the ESM are welcome for Ireland and the rest of Europe. He said it signaled confidence in the Irish economy and that it would also give the bondholders a much-needed sense of confidence, reports RTÉ.
Ireland will test the debt market in 2012 and Noonan said there should then be funds available from international investors. He has previously said that Ireland has enough money to last until the middle of 2013.
He also says that a decision on Ireland's interest rate on its bailout loan will have to wait, citing French president Nicolas Sarkozy's insistence on a corporate tax rate reduction as one reason. Tánaiste Eamon Gilmore said yesterday that Ireland does have the support of Germany on the issue.