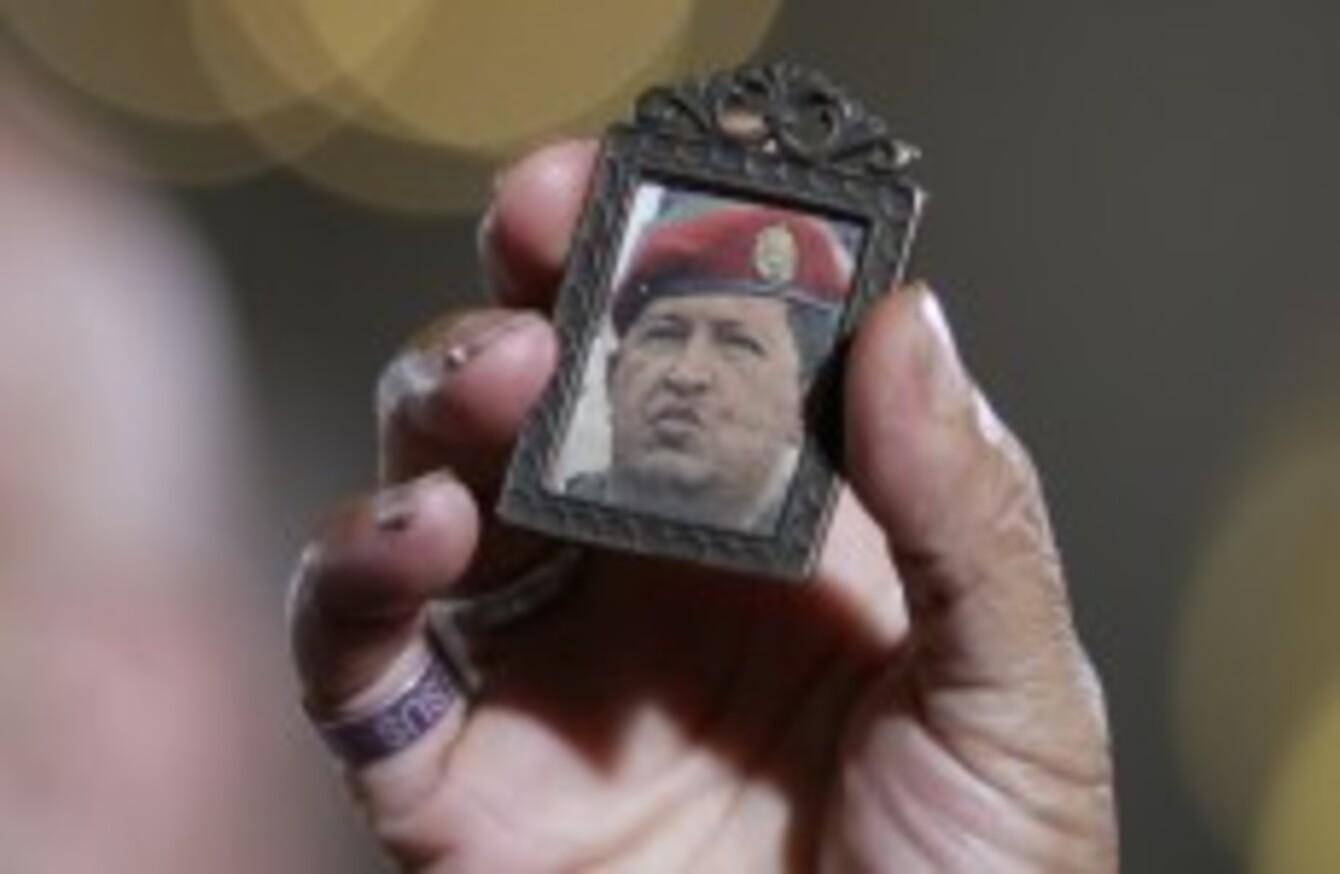 A woman holds up an image of Venezuela's President Hugo Chavez as people gather to pray for him at a church in Caracas, Venezuela.
Image: AP Photo/Ariana Cubillos
A woman holds up an image of Venezuela's President Hugo Chavez as people gather to pray for him at a church in Caracas, Venezuela.
Image: AP Photo/Ariana Cubillos
HUGO CHAVEZ'S TOP aides accused the opposition and the media of using the Venezuelan president's poor health to wage a "psychological war" to destabilise the country, as the cancer-stricken leader struggled with a severe lung infection.
The hardline stance was adopted after Vice President Nicolas Maduro returned from a visit with the ailing Chavez in Cuba, where he is suffering from complications more than three weeks after undergoing cancer surgery.
Information Minister Ernesto Villegas said a "severe pulmonary infection" that Chavez developed after the surgery had led to a "respiratory insufficiency" requiring strict adherence to his treatment.
Villegas then leveled the charge that the president's health had become the target of a campaign to destabilise the government and finish off its socialist revolution.
The government "warns the Venezuelan people about the psychological war that the transnational media complex has unleashed around the health of the chief of state, with the ultimate goal of destabilising the Bolivarian Republic of Venezuela," he said in a televised statement.
Demands for details
The statement came amid rising demands at home for a detailed accounting of Chavez's condition and whether he is fit to take the oath of office January 10 for another six year term.
Venezuela's constitution calls for new elections to be held within 30 days if the president is unable to take the oath of office or dies during his first four years in office.
But Maduro and National Assembly speaker Diosdado Cabello, the regime's number two and three leaders, made clear on their return from Cuba that they were not preparing for a transfer of power.
"Here there is only one transition and it began at least six years ago and it was decreed by comandante Hugo Chavez," Maduro said, referring to the launch in 2006 of the president's socialist revolution.
Maduro and Cabello spoke on Venezuelan state television, as they toured a coffee packaging plant in Caracas that had been taken over by the state.
Rumours of power struggle
Both men went out of their way to deny rumors of an internal power struggle between them, with Maduro saying they had sworn before Chavez that they would remain united.
"We are here more united than ever," said Maduro, who is Chavez's handpicked successor. "And we have sworn before comandante Hugo Chavez, and we reaffirmed to him today in our oath … that we would be united with our people."
Referring to the reported rift, Cabello said the opposition would have to wait "2000 years for that to happen" and said "no conciliation is possible with this opposition."
Maduro accused the opposition of "lies and manipulation, a campaign to try to create uncertainty."
"We know that the United States is where these manipulations are being managed," he said. "They think that their time has come. And we have entered a kind of crazy hour of offensive by the right, here and internationally."
It was unclear whether Maduro was referring to US-based Venezuelans or the US government.
Earlier in Washington, State Department spokeswoman Victoria Nuland denied claims that US officials were meddling in Venezuelan affairs, but acknowledged they had been in contact with Venezuelans "from across the political spectrum."
"There's no 'made-in-America' solution here. This has to be something that Venezuelans have to do," Nuland said.
"The message we are giving to Venezuelans of all stripes (is) that we want to see any transition be democratic, be constitutional, be open, be transparent, be legal within Venezuela, and that it has to be decided by Venezuelans."
Recovery has been difficult
Chavez was re-elected October 7 despite his debilitating battle with cancer and the strongest opposition challenge yet to his 14-year rule in Venezuela, an OPEC member with the world's largest proven oil reserves.
But he has not been seen in public since he underwent a long and complicated surgery 23 days ago for a recurrence of cancer, and officials have acknowledged that his recovery has been difficult.
The rector of the Central University of Venezuela, Cecilia Garcia Arocha, proposed sending a team of medical experts to Havana to assess his condition. Opposition leader Antonio Ledezma said it should include opposition figures.
Cancer was first detected by Cuban doctors in June 2011, but the Venezuelan government has never revealed what form of the disease he is battling.
Information about his progress has come in vague, often upbeat comments and tweets by Maduro and a handful of other aides and close allies.
On Thursday, Maduro, who spent five days in Havana, said Chavez was "battling" for his health.
"We ask once more for respect for president Chavez fight to fully regain his health in a complex situation," he said.