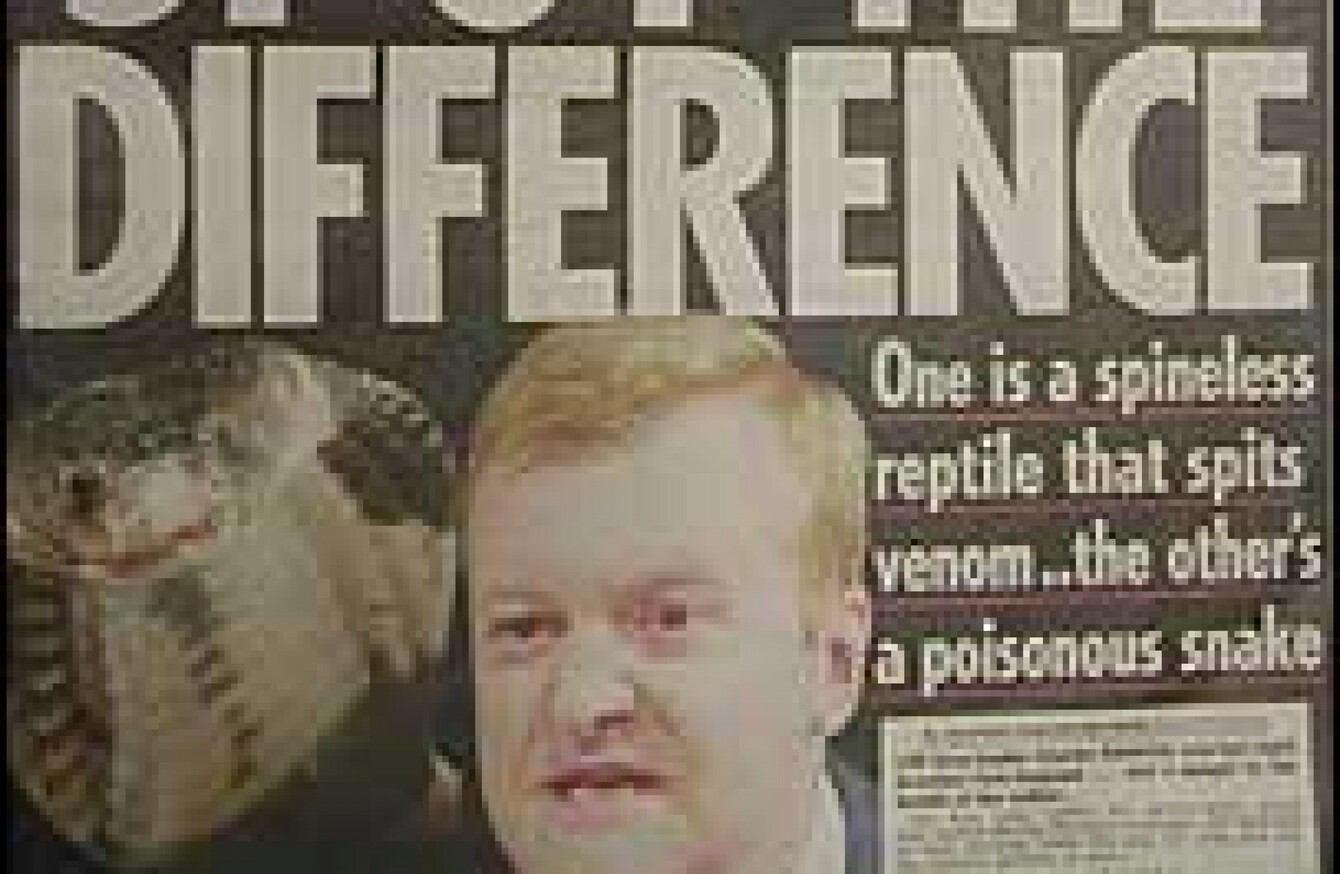 The infamous 2003 front page of the The Sun called Charles Kennedy a "spineless reptile" for opposing the Iraq War
Image: Twitter
The infamous 2003 front page of the The Sun called Charles Kennedy a "spineless reptile" for opposing the Iraq War
Image: Twitter
AMONG THE MANY opponents of the Iraq War were Liberal Democrat leader Charles Kennedy and former foreign secretary Robin Cook.
Kennedy was then leader of the Liberal Democrats, the only main party at Westminster to vote against the war.
Robin Cook was lord president of the council and leader of the House of Commons under the Labour government, before resigning in a famous speech that eviscerated the foreign policy of Tony Blair's government.
Among the backbenchers sitting behind Cook while he gave the speech was one Jeremy Corbyn, who this week paid tribute to his former colleague following the Chilcot report.
Cook, Corbyn told parliament, "said in a few hundred words what has been confirmed by this report in more than two million".
No weapons of mass destruction
At the time, 13 years before Chilcot, Cook said:
We cannot base our military strategy on the assumption that Saddam is weak and at the same time justify pre-emptive action on the claim that he is a threat.
"Iraq probably has no weapons of mass destruction in the commonly understood sense of the term—namely a credible device capable of being delivered against a strategic city target."
He added: "Why is it now so urgent that we should take military action to disarm a military capacity that has been there for 20 years, and which we helped to create?"
Why is it necessary to resort to war this week, while Saddam's ambition to complete his weapons programme is blocked by the presence of UN inspectors?
Two years later, Cook was dead after suffering a heart attack in the Scottish Highlands on 6 August 2005.
He wasn't the only one to take a brave stand against a war, which was backed by 412 to 149 MPs in the House of Commons.
Unwavering
The then Liberal Democrat leader, Charles Kennedy, was unwavering in his opposition to the war, and spoke at the massive anti-war rally in Hyde Park in February 2003.
Britain's .@LibDems were right in 2003, and today in standing up for the nation's voice against the Iraq War. pic.twitter.com/oWYVzs3JzD

— Liberal Democrats (@LibDems) July 6, 2016
He was demonised for his stance by many with The Sun even calling him a "spineless reptile".
#Open journalism No news is bad news Support The Journal

Your contributions will help us continue to deliver the stories that are important to you

Support us now
In his speech at the time, Kennedy criticised the absence of a peace process in the middle east, and said the UN and western powers should devote their energy to that, instead of invading Iraq.
"That absence of a middle east process can only fuel extremism and international terrorism," he said.
This is the riskiest moment for Britain since Suez.
"Our country has a principled and a responsible role to play on the world stage but to do so we have to pursue international justice through the United Nations and our government has got to take its people with them.
It's patently failing and that is my message for you today.
Charles Kennedy died in 2015 at his home in Scotland at the age of 55, after suffering from alcoholism.
Dartboard
At the release of the Chilcot report, The Sun deleted another 2003 article from its online archive that featured a dartboard of anti-war "traitors", including Kennedy and Cook.
Lord Hunty, a health minister and Home Office minister John Denham also featured for quitting in protest.
It surfaced on social media, however.
Here's The Sun's full Iraq 'traitors' dartboard article – other 'traitors' included the late Robin Cook & Kofi Annan pic.twitter.com/jyfHUqfouA

— Jon Stone (@joncstone) July 6, 2016