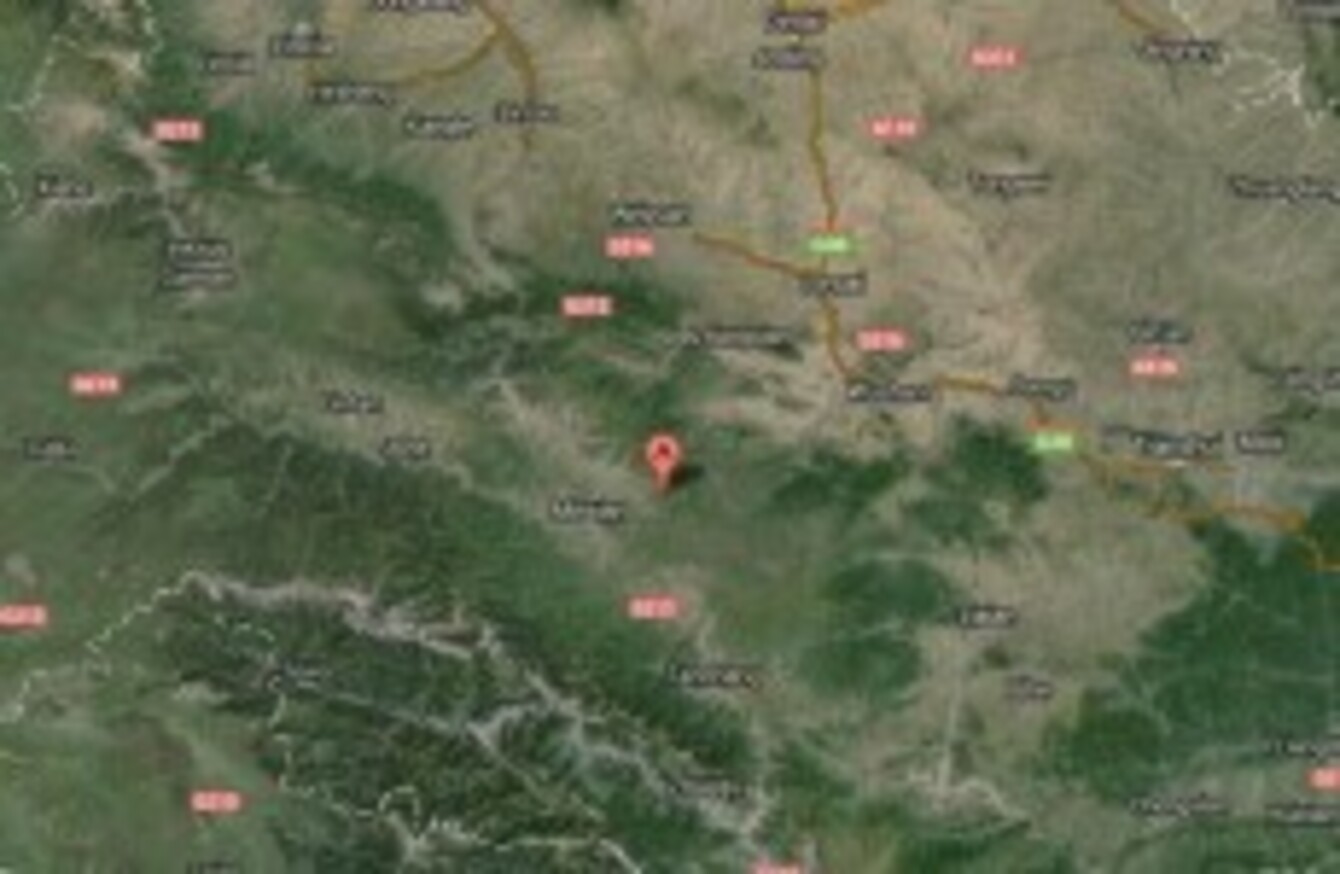 USGS location for where the earthquake occurred
Image: Google Maps
USGS location for where the earthquake occurred
Image: Google Maps
AT LEAST 54 people were killed and more than 300 severely injured when two shallow earthquakes struck northwest China early today, officials said, as rescuers battled to reach survivors in the remote, mountainous area.
The local government in Dingxi in Gansu province, where the 5.9- and 5.6-magnitude tremors struck, gave the figures on its verified social media account.
"More than 21,000 buildings were severely damaged and more than 1,200 have collapsed," an official at the provincial earthquake bureau told AFP, adding that 371 aftershocks had been recorded.
The US Geological Survey said the initial 5.9-magnitude quake hit at 7.45 am (23.45 GMT Sunday), with its epicentre 151 kilometres west of Beidao in Gansu at a depth of just 9.8 kilometres.
A second 5.6-magnitude tremor hit the same region at 9.12 am and was 10.1 kilometres deep, USGS said
Witness
A resident of Min county told AFP he was at work at a medicine production plant when the tremor struck and he saw tower blocks shake "ferociously".
"I was in the workshop. I felt violent shaking and so I ran to the yard of the plant immediately," said the man, surnamed Ma.
Our factory is only one floor. When I came to the yard, I saw an 18 storey building, the tallest in our county, shaking ferociously, especially the 18th floor.
An official surnamed He from the Min county Communist Party committee told AFP there were more than 200 injured in seven affected townships in the area.
While Gansu is one of China's more sparsely populated provinces, Dingxi city, which includes the worst-hit counties, has a population of about 2.7 million.
A report on the 163.com Internet news portal said 500 troops, including 120 specialised rescuers were on their way to the disaster zone.
Pictures broadcast on state television showed rural villages with rubble-strewn streets.
A total of 380 buildings collapsed and thousands were damaged in Zhang county, according to an online post by the Dingxi local government. Communications were cut off in 13 towns in the county, the official Xinhua news agency said, and power was off in some areas.
Main tremor
The quake was felt in the provincial capital Lanzhou and as far away as Xian, the capital of the neighbouring province of Shaanxi, Xinhua reported.
Beijing's own China Earthquake Networks Centre put the magnitude of the larger quake at 6.6, it added.
The China Earthquake Administration said the same fault zone was linked to a magnitude 8.0 quake on July 21, 1654, Xinhua added.
The USGS rated the main tremor at seven on its "shakemap", with shaking perceived to be "very strong" and the potential to cause "moderate" damage.
Weather reports also said rain was expected in the area, which could hamper rescue efforts in the mountainous region.
Disaster relief agencies have sent 500 tents and 2,000 quilts to the quake-hit area, Xinhua said.