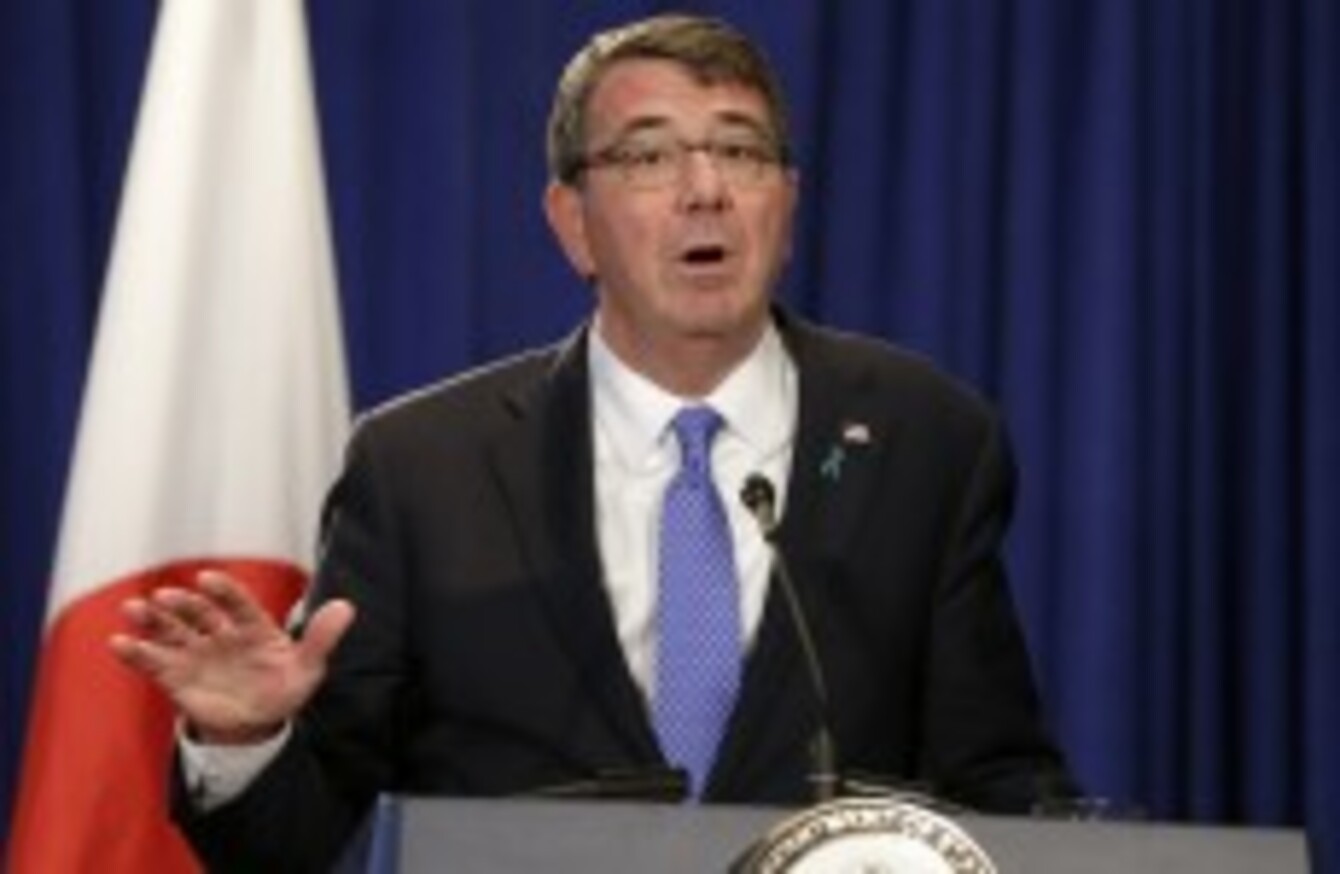 US Defence Secretary Ashton Carter
Image: AP Photo/Seth Wenig
US Defence Secretary Ashton Carter
Image: AP Photo/Seth Wenig
CHINA HAS TODAY rejected US demands to stop intensifying reclamation works in the South China Sea, saying it was exercising its sovereignty and using the outposts to fulfil international responsibilities.
Admiral Sun Jianguo, deputy chief of the general staff department in the People's Liberation Army, told a security summit in Singapore that "the situation in the South China Sea is on the whole peaceful and stable, and there has never been an issue with the freedom of navigation."
"China has carried out construction on some islands and reefs in the South China Sea mainly for the purpose of improving the functions of the relevant islands and reefs, and the working and living conditions of personnel stationed there.
"Apart from meeting the necessary defence needs, it is more geared to better perform China's international responsibilities and obligations regarding maritime search and rescue, disaster prevention and relief, maritime scientific research, meteorological observation, environmental protection, safety of navigation, fishery production, services," he added.
China insists it has sovereignty over nearly all of the South China Sea, a major global shipping route believed to be home to oil and gas reserves.
"When dealing with maritime disputes with relevant neighbouring countries, China has always kept in mind the larger interest of maritime security," Sun told the annual meeting known as the Shangri-La Dialogue.
"In spite of the sufficient historical and legal evidence and its indisputable claims, rights and interests, China has exercised enormous restraint, making positive contributions to peace and stability of the region and the world at large."
Beijing 'out of step' 
Sun was speaking a day after US Defense Secretary Ashton Carter demanded an immediate end to all reclamation works by claimants and said Beijing was "out of step" with international norms with its behaviour in disputed waters.
"First, we want a peaceful resolution of all disputes. To that end, there should be an immediate and lasting halt to land reclamation by all claimants," Carter said yesterday at the same forum with Sun and his delegation in the audience.
"We also oppose any further militarisation of disputed features," he said.
He acknowledged that other claimants have developed outposts of differing scope and degree, including Vietnam with 48, the Philippines with eight, Malaysia with five and Taiwan with one.
"Yet, one country has gone much farther and much faster than any other.
"China has reclaimed over 2,000 acres, more than all other claimants combined and more than in the entire history of the region. And China did so in only the last 18 months," Carter said.
Beijing has accused Washington of carrying out provocative moves in the South China Sea.
In an interview released over the weekend by the Wall Street Journal, China's ambassador to the United States, Cui Tiankai, said US actions and rhetoric could make the region "less stable".
The Chinese military this month ordered a US Navy P-8 Poseidon surveillance aircraft to leave an area above the heavily-disputed Spratly Islands. But the American plane ignored the demand.
This was "clearly an attempt to provoke and escalate the situation," Cui said.