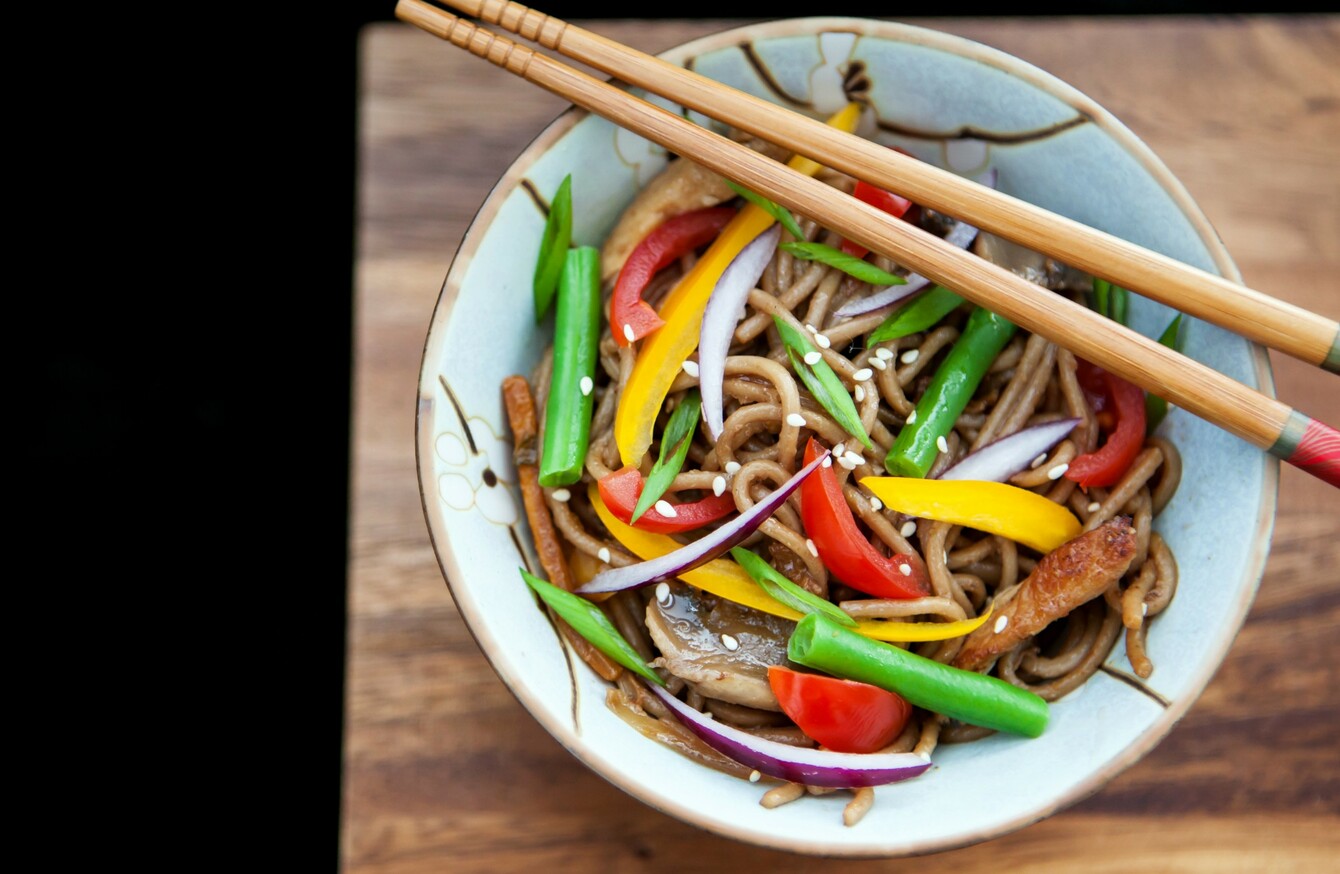 Image: Shutterstock
Image: Shutterstock
A WEEKLY TAKEAWAY is a ritual for many, and Chinese-inspired food tends to be high on the list.
Whether it's a Friday night spice bag or a midweek beef and broccoli, Chinese recipes make for a seriously satisfying order-in meal – but sometimes it's just as handy to DIY those dishes.
It's quite easy to get that authentic taste at home once you start playing around with flavours.
Having ingredients like soy sauce, oyster sauce, rice wine and sesame oil in the cupboard is a great starting point for making an array of recipes – and from there you can adapt dishes by adding in new veggies, swapping tofu for beef, using up leftover roast chicken, or just sliding a fried egg on top.
I've listed some favourites that will hit all of those takeaway cravings, whether it's some quick midweek noodles or a moreish chicken satay…
1. Soy and sesame chicken traybake
In a large bowl mix together grated ginger and garlic, chinese five spice powder, sesame oil and a splash of soy sauce. Add in chicken thighs, coat in the marinade, and leave in the fridge to marinade for 30 minutes (or a few hours if you have time). Once you're ready to cook the chicken, place it in a preheated oven along with some roughly chopped peppers and red onion. Bake for 30-40 minutes, until the chicken is thoroughly cooked. Serve with fried rice and some steamed bok choy.
2. Pork chow mein
Cook a couple of portions of egg noodles according to packet instructions, then rinse in cold water and set aside. Slice pork fillets into thin strips and fry in hot wok until browned, then add in some garlic, ginger, sliced peppers, mushrooms, baby corn and mangetout.
Cook for a few minutes, then stir through some soy sauce, rice wine and a pinch of white pepper. Finally, toss through the cooked noodles and a dash of sesame oil. Serve straight away topped with finely sliced spring onion and fresh chili. This dish can easily be transformed into a tasty vegetarian main by switching the pork for tofu, as seen in this recipe by Cheftographer.
3. Chicken satay skewers
Make a marinade for the chicken by mixing together a dash of soy sauce, sesame oil, turmeric, curry powder, ginger and garlic. Cut the chicken into large chunks and coat in the marinade. Thread the chicken onto skewers, then allow to marinade for about half an hour. Grill the kebabs for about five minutes on each side and, while they're cooking, make the satay sauce. Pour a tin of coconut milk into a pan along with curry powder, 2 spoonfuls of peanut butter, soy sauce, a squeeze of honey and lime. Bring to the boil, then simmer gently for 5 minutes. Serve the skewers on a bed of noodles with the satay sauce on the side.
4. Beef with oyster sauce
Start by prepping a marinade of soy sauce, oyster sauce, rice wine/sherry and corn flour until combined. Thinly slice some beef, then add this to the marinade and mix it together until the meat is coated. Cover, and leave to marinade for at least 30 minutes, or overnight if making in advance. Remove the beef from the marinade, fry in a very hot wok until it starts to turn golden brown, then add in garlic, ginger, mushrooms and peppers, and fry for another minute. Add in the remainder of the marinade, and bring to a simmer. After 2 minutes the sauce should have thickened and will be ready to serve with boiled rice or noodles.
5. Prawn and crunchy cashew noodles
Season the prawns (cooked or raw) with salt and pepper, and fry in some oil in a hot wok. Add garlic, chilli, peppers, and spring onions, and stir fry for 2 minutes. If cooking from raw, stir fry until the prawns turn pink. You could add in any veggies you have at this point – this recipe uses sugar snap peas, stir fried for a couple of minutes, for extra crunch. Meanwhile, toast some cashew nuts in a dry pan, taking care not to burn them. Add some soy sauce, oyster sauce and a pinch of white pepper to the wok, and toss to combine. Stir through the toasted cashew nuts, and serve with fried rice. Prawns and cashews are a classic combo, but this dish would work equally well with chicken, beef or tofu.