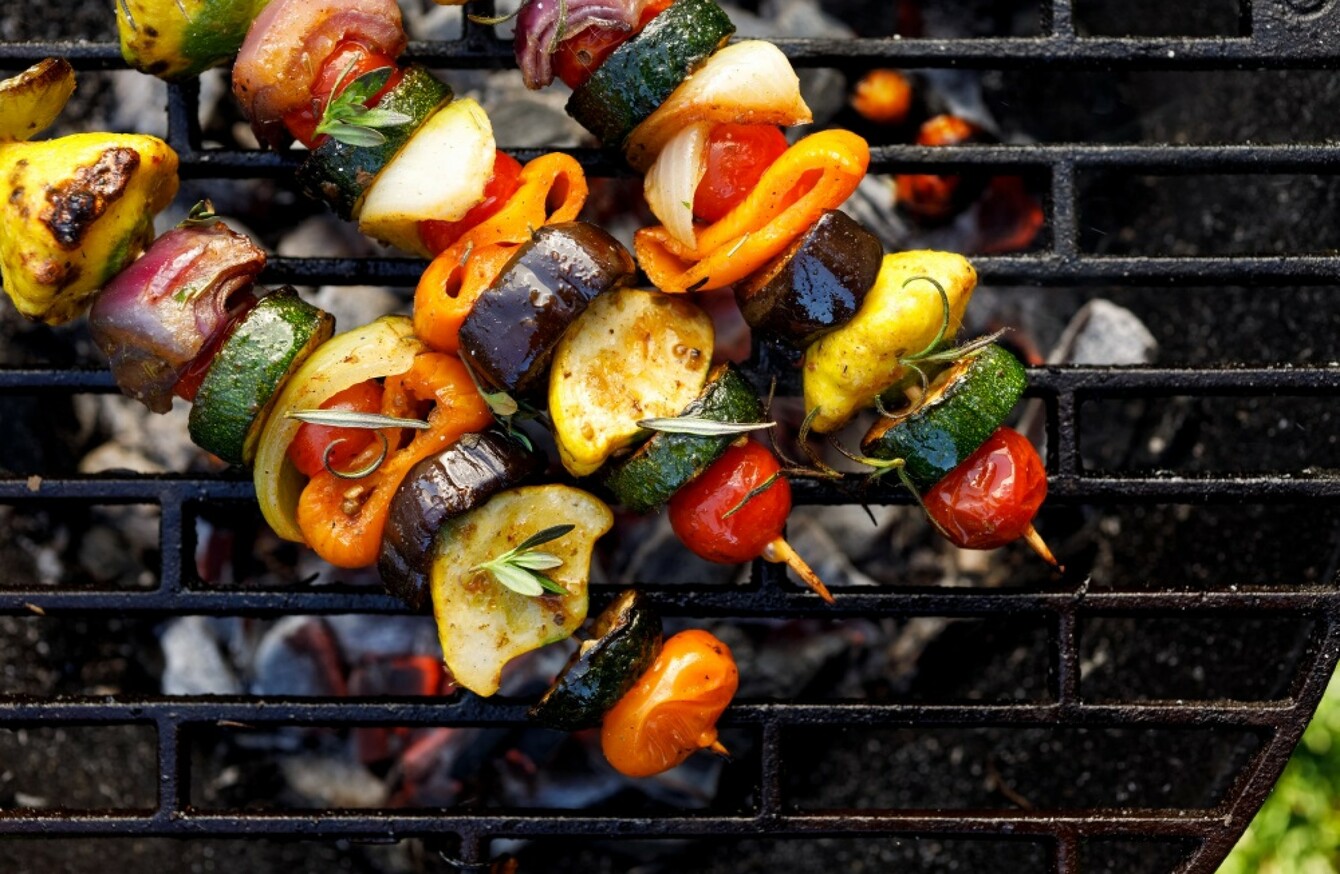 Image: Shutterstock
Image: Shutterstock
SUMMER MEANS OUTDOOR eating and BBQ grilling (weather permitting, of course).
That delightful charred smokiness can add incredible complexity of flavour to countless foods, but here in Ireland we tend to keep things pretty safe, with chicken drumsticks, burgers, sausages and maybe a few salad leaves to liven things up.
But a BBQ minus the meat can be just as satisfying, whether you're cooking for vegetarians or simply want a few additional options on the table.
Most vegetables barbeque incredibly well, especially Mediterranean varieties like courgette, peppers, aubergine and tomatoes, all of which are in season at this time of year.
Similarly to meat, vegetables taste great when marinated, and they take on those lovely chargrilled flavours and textures in the same way meat would.
Read some of our favourite veggie recipes below- just in time for your next BBQ…
1. DIY roast veggie skewers
The best thing about vegetable skewers is that almost any combination of vegetables will work. Cut a few peppers, courgette, red onion and aubergine into large chunks and place in a bowl. If you like, you could add some cheese (stick to cheeses that will hold their shape when heated, like halloumi or paneer, as in this recipe by Supper in the Suburbs).
Drizzle with a good dash of olive oil, season, add crushed garlic, dried herbs, and toss until all of the vegetables have been coated, adding more olive oil if necessary. Next, spear the vegetables onto the skewers, and set them aside until you're ready to cook. Once the BBQ is hot, place them on the grill for about 10 minutes, turning frequently. When the vegetables are slightly charred and cooked to your liking, they're ready to serve. Pro tip: If you're using wooden skewers, remember to soak these in warm water before adding the veggies, to prevent them from burning. 
2. Charred stuffed tomatoes
Stuffed tomatoes make a delicious and hearty addition to a veggie barbeque. To prepare the tomatoes, cut the top quarter off and scoop out the seeds. In a bowl, mix together some cooked couscous, chopped spring onions, olives and basil. Season to taste, then fill the inside of the tomatoes with the mixture. Top with breadcrumbs, grated cheese and chill until ready to cook. Once the BBQ is at a medium heat, drizzle the tomatoes with olive oil and place them on the grill. Cover with the lid, and cook for 10 minutes, taking care not to burn them. If the barbeque is too hot, simply wrap the tomatoes in tinfoil to cook.
3. Portobello mushroom burgers
Mushrooms barbeque really well and their meaty texture provides a great filling for veggie burgers. Clean the mushrooms and brush with a mixture of olive oil and balsamic vinegar. Season with salt and pepper, then place on the grill for about five minutes on each side. Before you remove them from the barbeque, top with a slice of buffalo mozzarella and allow this to melt. Once the mushrooms are cooked and the cheese has melted, assemble the burgers on a toasted brioche bun with sliced tomato, rocket, red onion and relish. 
4. Spicy charred halloumi 
As well as adding halloumi to the veggie skewers above, you can make it the star of the show with these halloumi lollipops. To make the marinade, mix together olive oil, the juice of half a lemon, chilli flakes, black pepper and dried oregano. Slice halloumi into long strips (about 1 cm thick) and brush them with the marinade. Allow to sit in the fridge for a few hours, then push the skewers into each piece of cheese. Cook on the BBQ for about a minute on each side, until the outside of the cheese is crisp and charred. Serve straight away with a side salad, or enjoy as a pre BBQ canape!
5. Beetroot wedges
Beetroot is such an underrated vegetable, and it works really well as an alternative to potato wedges. Remove the top and bottom of the beetroot, and cut into wedges. Measure out some tinfoil, and pop the wedges in there along with a generous drizzle of balsamic vinegar and a drizzle of honey. Close over the tinfoil leaving just a little gap for steam to escape, then place onto the BBQ. Roast for about an hour, until the beetroot wedges are cooked through. This a very simple hassle free side dish that you can leave on the BBQ while you cook everything else. For a more luscious flavour, crumble over feta cheese before serving.
More: What to make when… you have a bag of rice that needs a good home>