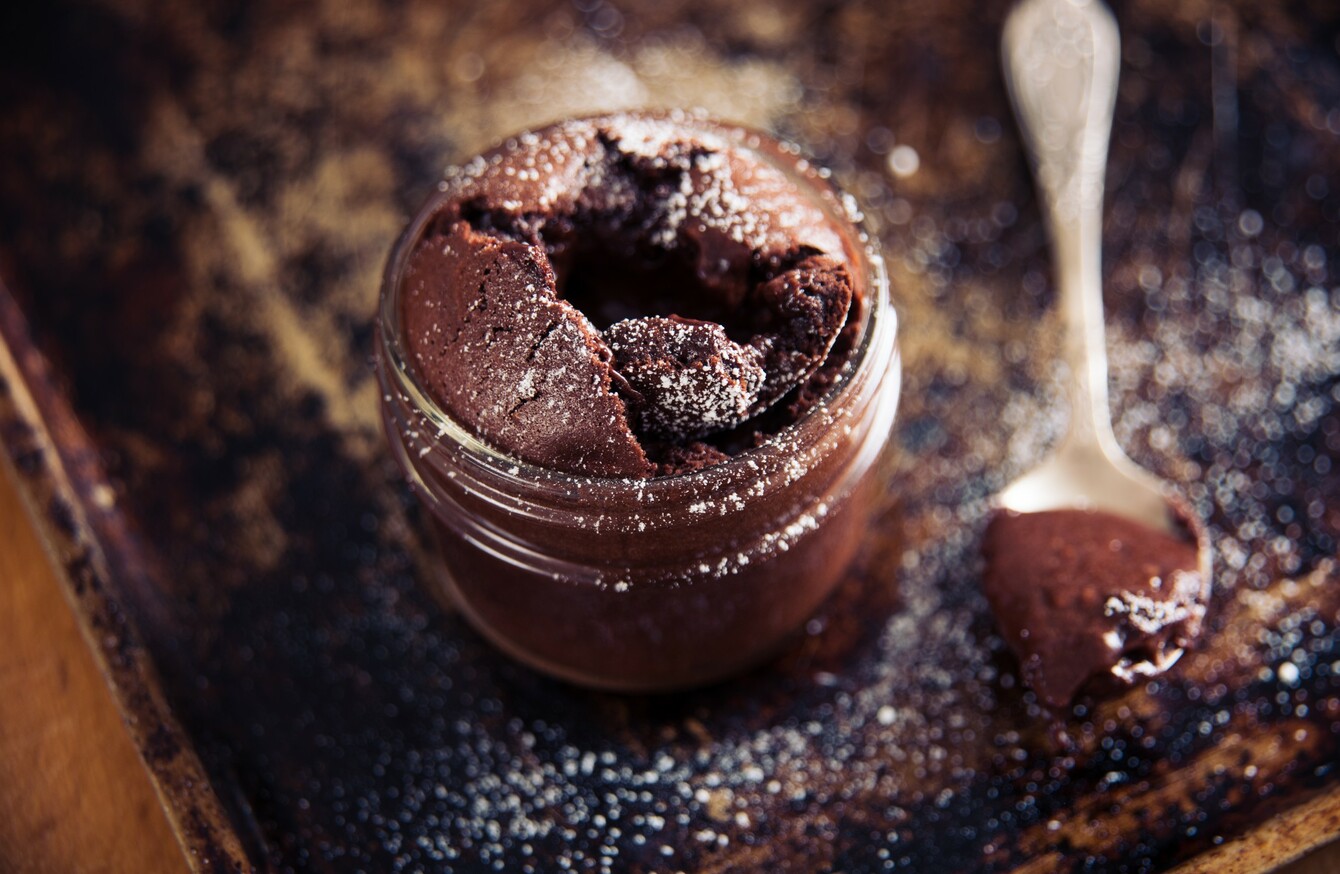 Image: Shutterstock/Anna Hoychuk
Image: Shutterstock/Anna Hoychuk
EVEN THE MOST balanced of daily diets should leave room for indulgence, but sometimes a bar of chocolate or a few biscuits with your tea just won't do the trick.
In those moments, you need to look to the next level: a homemade, deeply decadent chocolately dessert. Chocolate is an easy ingredient to work with, so making something from scratch doesn't necessarily mean spending lots of time or effort in the kitchen, either.
From oozing chocolate fondant pots and creamy cheesecakes to rich rocky road bars, here are a few of my favourite chocolate-based recipes. These are handy to have up your sleeve if you want something tasty to please a crowd, without having to go Great British Bake Off on things.
1. Chocolate fondant pots: These decadent chocolate pots make an impressive dessert and are a great last minute treat for unexpected guests as they only take 20 minutes to make. Melt a 180g bar of good quality milk chocolate in the microwave and set aside. Using an electric mixer, beat a cup of sugar and a generous knob of butter together until fluffy, then stir through a heaped spoonful of sugar, 2 beaten eggs, and the melted chocolate. Divide into oven proof soufflé pots and bake in a hot oven for 12-15 minutes until still gooey in the centre. Serve straight away, with an optional scoop of ice-cream.
2. Mini chocolate cheesecakes: First, blitz some biscuits in a food processor, stir through some melted butter, and spoon into jars/bun cases to make the base. In a bowl, make the cheesecake filling by whisking a tub of cream cheese, a carton of double cream, icing sugar, and vanilla extract until soft peaks form. Next, stir through cooled melted chocolate until combined, and spoon on top of the biscuit base. Chill in the fridge for a few hours, and top with some chocolate shavings and blueberries, strawberries or raspberries. Want to add even more extra flavour? Adding some orange extract or white chocolate chips to the filling will definitely make for a more complex taste.
3. Post-Halloween rocky road bars: Rocky road is a great way to use up any leftover chocolate or sweets leftover from trick or treaters this year (if you're lucky enough to end up with leftovers). From Smarties to marshmallows and even biscuits, almost anything will add a delicious layer to a rocky road. First, melt some chocolate and butter, then add in a tin of condensed milk and stir together. Next, gather whatever sweets or biscuit you'd like to use, and place them in a ziplock back before crushing with a rolling pin (some texture is nice, so don't crush them too much). Fold the wet and dry mixtures together, and tip into a brownie tray lined with parchment. Smooth the top, and chill in the fridge overnight, before cutting into squares. These can be stored in an airtight container for up to 10 days.
4. Sweet or spiced hot chocolate: With the cold weather setting in, a warming cup of hot chocolate can be just what's needed when you need a chocolate fix after a long day. Heat a pint of milk in a saucepan along with a bar of chopped chocolate, stirring until the chocolate has melted. Sweeten to taste with either honey or sugar, and add any extra flavours you like: a dash of cream liqueur can be delicious (adults only!), or some orange zest. For a really luxurious hot chocolate, you could even add in some cardamom, taking inspiration from Spill The Bean's recipe. Strain through a sieve before serving to ensure an extra smooth drink- and enjoy topped with some marshmallows and whipped cream.
5. Double chocolate chip cookies: Cookies served straight from the oven are hard to beat, while they're still warm and the chocolate chips are oozing! Cream 100g each of light brown sugar and butter in a bowl, mix in a beaten egg, then stir through 180g of self raising flour, 50g cocoa powder, and a bar of chopped chocolate (for the chunky chocolate chips). Mix until combined, then use your hands to roll the mixture into small balls (a little smaller than a gold ball). Place about 2 inches apart on a greased non-stick baking tray, and bake for about 10 minutes at 180°C. Allow to cool slightly on a wire rack, before drizzling with melted chocolate.