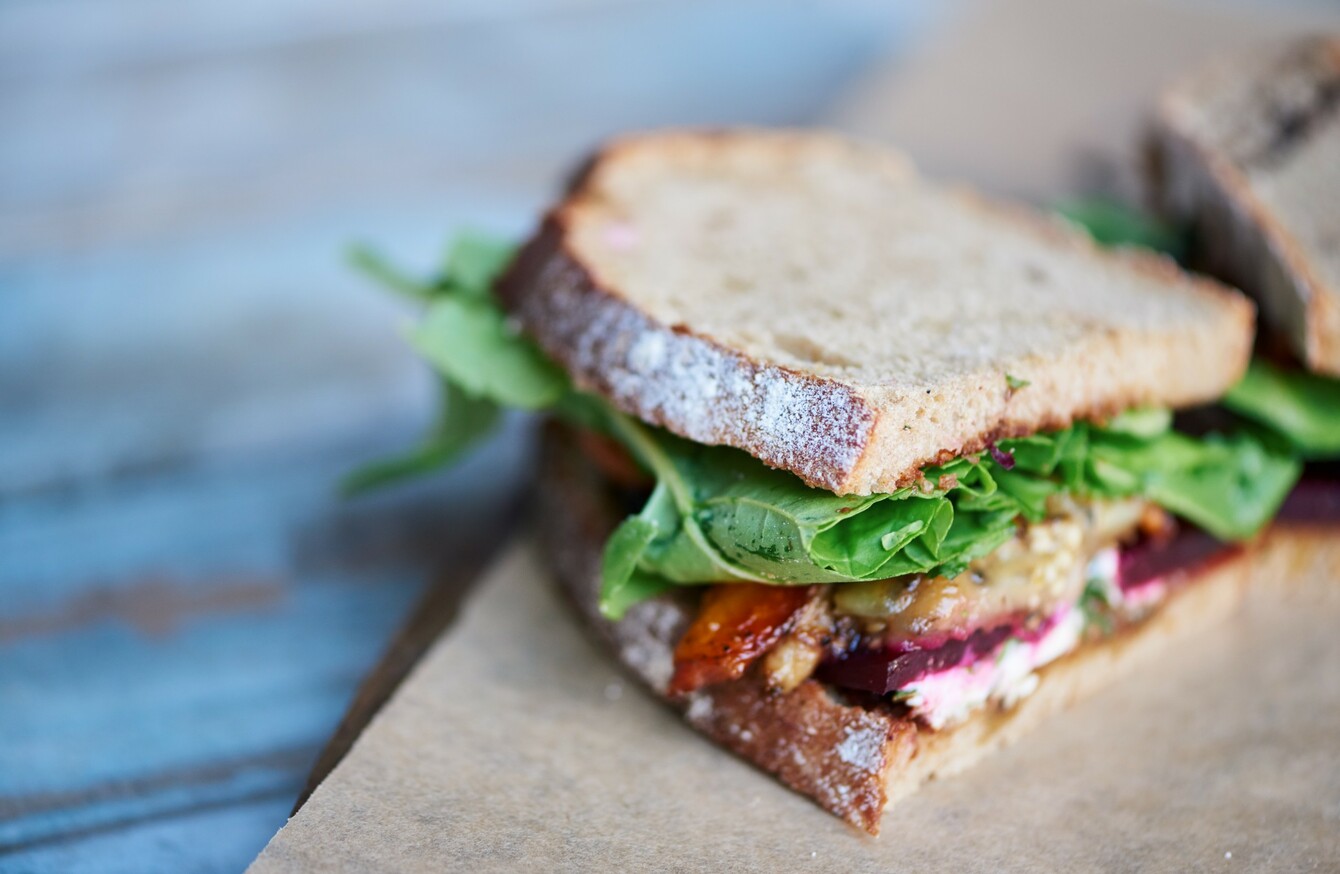 Image: Shutterstock/mavo
Image: Shutterstock/mavo
I'M ALL FOR making my own lunch, but it's so easy to get stuck in a rut, or to reach for the same sandwich… again.
Lunch hour is one to be cherished, and there is nothing worse than "filling a gap" with something totally unsatisfying. Lately I've been thinking about ways to liven up my routine – starting with the sandwich fillings.
Brilliant sandwich combinations are no accident; it's all about the combination of textures and balance of flavours. Like any great meal, a good balance of sweet and salty can work wonders, and splashing out on that fancy bread can make a huge difference, be it a crusty white or a rye sourdough.
Why not put the plain ham and cheese to the side for a week or two and try out one of these hero sandwich combos?
1. The no-toaster Reuben
A classic Reuben sandwich is usually toasted, but I've tried and tested a simplified version and it's just as tasty. The key to a great Reuben is in the dressing, similar to a Thousand Island dressing, but a lot tastier. In a bowl, mix together a spoonful each of mayonnaise, horseradish sauce and tomato ketchup along with a dash of Worchestershire sauce and a few drops of tabasco. Finely slice some gherkins and stir these into the sauce. Next, all that's left to do is assemble the sandwich: spread the sauce on two slices of rye bread, then top with lots of thinly sliced pastrami, sauerkraut and Emmental cheese. Sandwich together, adding an extra gherkin if you like, and serve.
2. Tuscan tuna wrap
Mediterranean flavours like sundried tomatoes, olives and lemon work wonderfully with tuna and can transform a simple tinned food into something special. Drain a tin of tuna and add to a bowl along with mayonnaise, Dijon mustard, a squeeze of lemon juice and seasoning. Stir to combine, then add in some freshly chopped parsley, chopped red onion, and sliced sundried tomatoes and olives. Spread the mixture onto the wrap and top with fresh tomato and spinach leaves. Wrap, cut in half, and it's ready to serve. I love the idea of using large green leaves or lettuce in place of wraps, as seen in this recipe from food blogger Claudialicious.
3. Brie, turkey and cranberry on wholegrain bread
The delicious combination of turkey, creamy cheese and tart cranberry doesn't need to be reserved for Christmas! Best served on a granary or wholegrain bread, this sandwich is delicious cold or toasted – I can't resist toasted for the melted brie. Spread cranberry sauce on a slice of bread, and mayonnaise on another. Top with sliced turkey, lettuce and brie, then sandwich together. Stuffing is optional but advised, and a great way to use up any leftovers from a weekend roast.
4. Coronation chicken and rocket
Coronation chicken is an excellent way to use up leftovers from a roast, and makes for a seriously tasty sandwich that works with any type of bread or baguette. For the dressing, add a few spoonfuls of mayonnaise to a bowl and mix in curry powder, raisins, chopped spring onion, mango chutney and seasoning. Stir until combined, then fold through some cooked shredded chicken. Lightly butter your bread of choice, then top with the coronation chicken mixture and some rocket leaves. Vegetarian? Take some inspiration from The Homegrown Forager and try using chickpeas instead of chicken.
5. Hummus, roasted pepper and goat's cheese wrap
Roasted peppers are a great staple to have in the fridge and make a delicious addition to sandwiches or salads. Plain wholegrain wraps would work well for this recipe, but if you can get a flavoured wrap with spinach, herbs or tomato, even better! Spread some hummus on the wrap and crumble over the goats cheese. Grate over some raw carrot, add some thinly sliced red onion, then the roasted peppers and some spinach leaves. Roll the wrap up and serve.