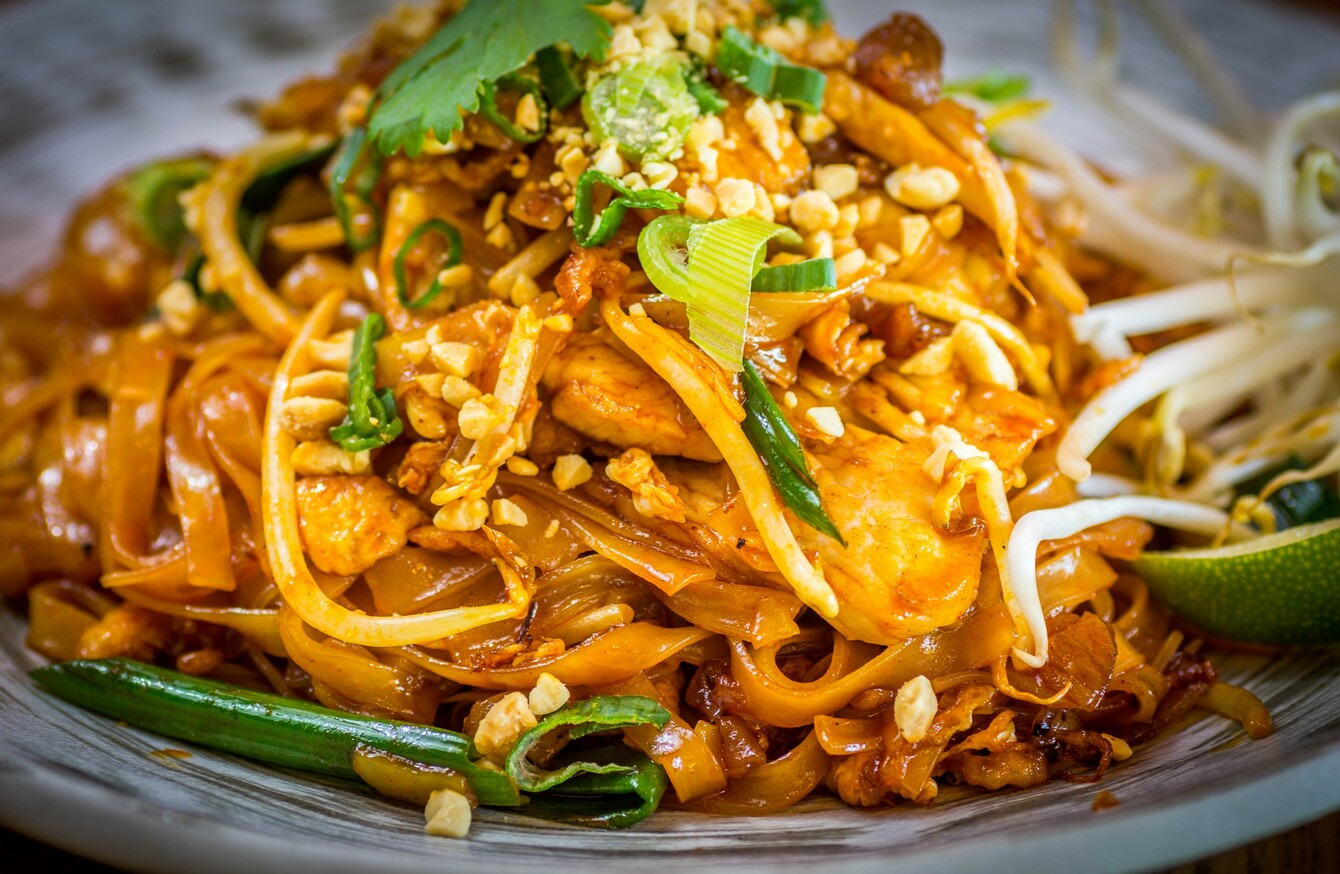 Image: Shutterstock/wing f chen
Image: Shutterstock/wing f chen
A STIR FRY is the ideal meal when you're looking to tick all of the boxes – it's healthy, quick and most importantly, full of flavour. Once you have some basic ingredients in the cupboard, you can make pretty much any type of stir fry you're craving.
Fish sauce, soy sauce, rice wine vinegar, curry powder and some sort of chilli sauce are all great ingredients to have on hand.
When cooking a stir fry, always prepare all of the ingredients you need before you turn on the hob. Stir fries are incredibly quick to cook, so this will save any panic and will ensure nothing gets overcooked.
Don't be afraid to cheat if you're in a hurry – using pre cooked noodles or pre chopped veggies can be a lifesaver when you need a quick midweek meal!
Pad Thai: Pad Thai is made using rice noodles, which are naturally gluten free and have a nice light texture. Begin by soaking the rice noodles in hot water while you prepare the rest of the ingredients.
Heat some oil in a frying pan and fry crushed garlic, ginger, prawns, spring onions and bean sprouts. Toss until the prawns have turned pink, then add in the cooked rice noodles along with a dash each of soy, sweet chili and fish sauce.
Move everything to one side of the pan and crack an egg into the other side, stirring until almost set. Add in a handful of crushed peanuts and toss everything together. Finally, stir through a squeeze of lime juice and serve.
Chicken satay noodles: Fry some sliced chicken pieces with sliced peppers and courgette in a hot pan. After a few minutes, stir in garlic, ginger, curry powder and soy sauce. Stir, then add in a dash of sweet chili sauce and a heaped spoonful of peanut butter.
Stir fry for a few minutes, adding a little water if the mixture is too thick. Once the chicken is fully cooked, toss through cooked noodles, a squeeze of lime juice and serve. Trying to go low carb? This recipe would also work really well with zoodles (spiralised courgette), as seen in Gem Lowe's recipe.
Chilli prawn noodles: Inspired by the Sichuan region, these chilli prawn noodles are full of flavour and really satisfy those take away cravings! Add fresh prawns, finely sliced red chilli (de-seeded if you don't like it too spicy), garlic and spring onions to a pan and stir fry for two minutes until the prawns are cooked.
Add soy sauce, rice wine vinegar, a pinch of sugar, chilli bean paste (if you don't have it, leave it out) and tomato paste and continue to stir. Toss through some cooked egg noodles and finish with a dash of sesame oil. Serve straight from the pan with some sliced spring onion.
Pork, broccoli and ginger noodles: This recipe is super quick to make, and can be on the table in less than 20 minutes. With added ginger and plenty of broccoli, this recipe is very healthy too!
Boil the noodles and broccoli in a pot of boiling water and once the noodles are cooked and the broccoli is al dente, drain and set aside. Heat some oil in a wok and once it's very hot, add in some strips of pork (you could also use minced pork).
Fry for a few minutes until brown, then add the broccoli, garlic and plenty of fresh ginger. Add in a dash of soy sauce, a teaspoon of honey, stir frying all of the time. Finally add back in the noodles, toss to combine, and serve with some sesame oil and toasted sesame seeds.
Teriyaki beef noodles: Prepare some egg noodles first by boiling them in hot water then rinsing in cold water, then set aside. Sear some thinly sliced steak in a hot frying pan, then add in ginger, garlic, sliced onion, peppers, pak choi and mange tout. The Diary of a Jewellery Lover uses a full joint of topside beef in her recipe, which we love.
Fry for a few minutes until the vegetables have started to soften, then add the noodles to the pan. Add in a splash of soy sauce, teriyaki sauce, and toss for 2-3 minutes until everything is combined. Serve straight away topped with some sliced spring onions.