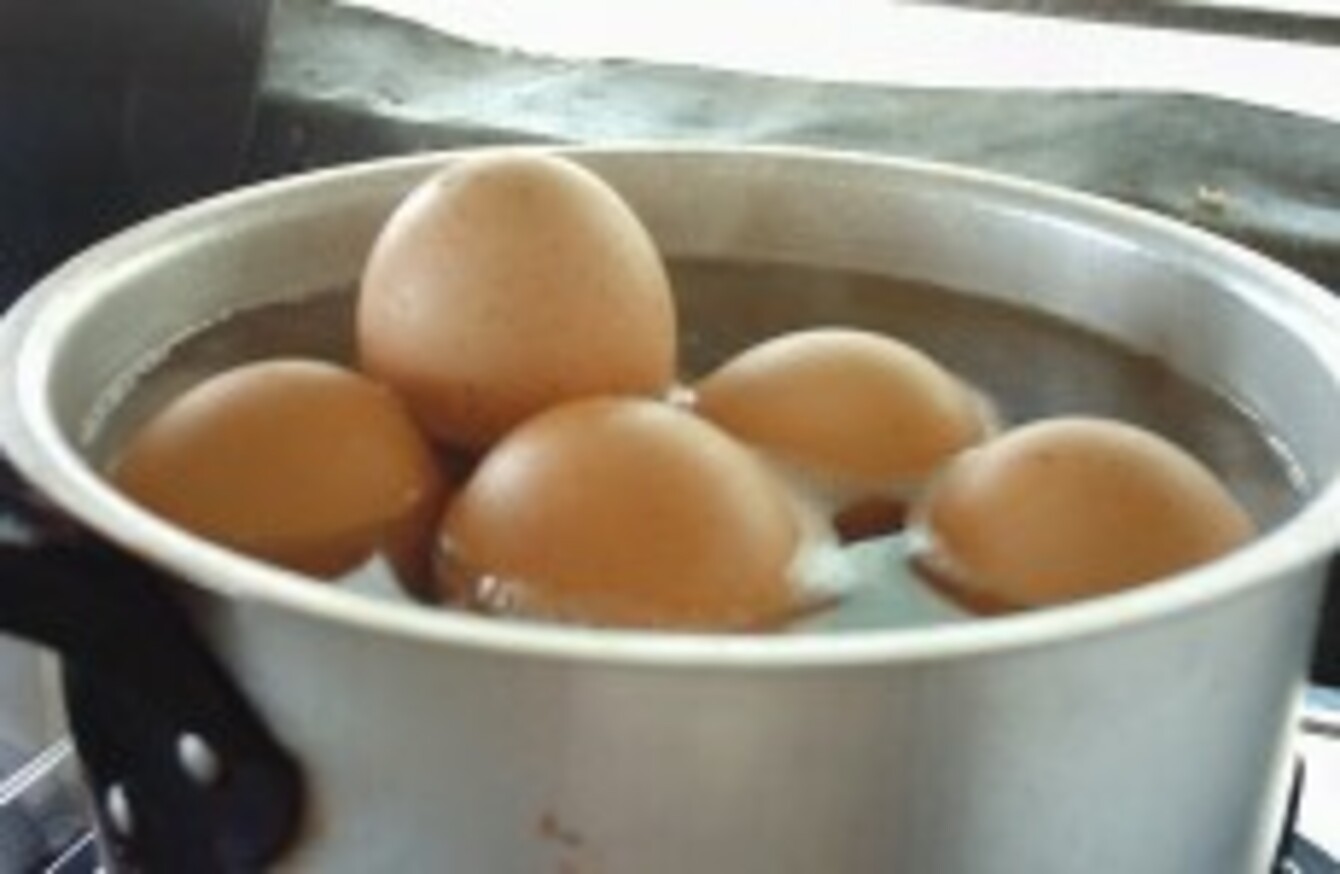 Soon you'll have an extra reason not to put all your eggs in one basket - the retail price of eggs is set to shoot up in the coming weeks.
Soon you'll have an extra reason not to put all your eggs in one basket - the retail price of eggs is set to shoot up in the coming weeks.
THE PRICE OF EGGS could rocket by between 20 and 30 per cent in the coming weeks – and lead to increased costs for Christmas foods as well as other products like ice cream and pasta.
The Irish Egg Association says the enforcement of a new European Union directive on the types of cages that can be used to accommodate hens has made a significant dent in the supply of eggs on the continent.
And while supply of eggs in Ireland has not been affected, thanks to government grants to replace any outdated cages, supplies in Europe have been cut as producers simply go out of business instead of investing money in a business where profits are falling.
IEA secretary Eoin Brooke told RTÉ's Morning Ireland that increased prices in feed had already meant the production of eggs was become less profitable, especially when combined with falling retail prices.
With a shortage of eggs on the continent, it is now possible that Irish producers will opt to export their stocks of eggs to countries where they can command a higher sales price – and leave Ireland with a significantly reduced price.
Big falls in major markets
Spain was one key example – where official EU estimates indicated an 8 per cent fall in egg production, but where "there are estimates that they're down by 20 per cent at the moment – and Spain is a major producer and exporter.
"We expect prices in this country to go up at least 20 per cent, maybe 30 per cent, over the coming weeks," he said, explaining that 8 per cent of Spanish egg output would be 1.5 times larger than the entire Irish market.
In some areas on the continent, he added, prices were already up by around two-thirds – but those increases paled in comparison to the increase of prices for processed egg products used in industrial baking.
"There will be massive shortages of eggs, and the prices will come through… there will be a shortage of dried and processed eggs for the bakery sector."
Northern Ireland, where supplies are being hit because of the new EU rules, is a particularly large user of industrial eggs as it supplies baked goods to the Republic and to mainland Britain – but producers there, Brooks said, were now paying the same price for industrial quantities of eggs as retail purchasers would have faced before Christmas.
This could mean an increase in the price of ice creams, sandwiches and pastas, he said, as well as hitting the price of Christmas-specific foods which would begin production from mid-summer.