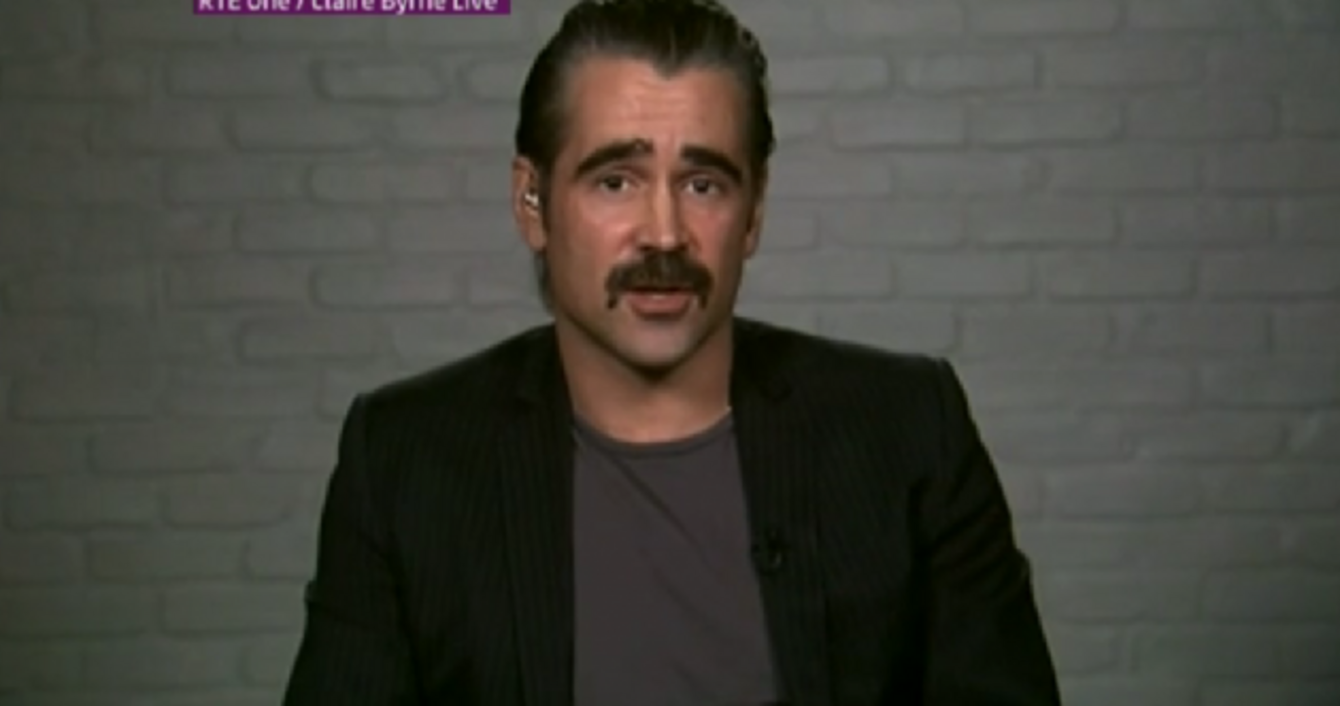 Image: RTÉ
Image: RTÉ
Updated 10.50pm
COLIN FARRELL HAS spoken out about how his brother was beaten up because he's gay, and how he believes 'it's sad, disappointing and unfair' that his brother had to leave Ireland to get married.
The Irish actor appeared on the first Claire Byrne Live show tonight to weigh in on the issue of same-sex marriage.
It comes after Health Minister Leo Varadkar spoke publicly about being gay yesterday morning. The Minister said he "wanted to be honest with people" ahead of the forthcoming same-sex marriage referendum.
Speaking about his brother Eamon, Farrell said he found out that he was gay when he was nine years old.
"I never thought of it in terms of any unnaturalness or any such thing and I've seen my brother go through a lot," the actor explained. "I've seen him be at the tail-end of the whip of intolerance many times through his life and they are his battles and they are his wounds and they are his traumas but bearing witness to them at close quarters – of course caring for him as much as I do – had an effect on me."
For his brother, being gay was nothing close to the "lifestyle choice" that some people speak about in this debate, Farrell said. Eamon came out to their mother at a young age and then suffered through a childhood and adolescence at tough Dublin schools.
I remember him coming home with blood on his shirt, and he got plenty of beatings and he got just called names continuously…so he had a very, very, very tough time, a lot of cruelty, like real, absolute shameful cruelty that was placed upon him…
Eamon married his partner, Stephen Mannion, in Canada. Farrell said, "To see them every day live their lives as a happily married couple is an amazing thing.
To think that they had to leave their own country to do that is sad and disappointing and just grossly unfair I feel.
The actor said he tries to understand the point of view of people who are against same-sex marriage but he can't see how declaring love and faithfulness between two people can be a threat to others.
All we've known up until now is marriage between a man and a woman and guess what? There's a hell of a lot of unsuccessful marriages between men and women. There's a hell of a lot of children who have to experience day-to-day the arguments, the bickering, the domestic violence, between their parents.
"We're talking about Irish society being the best version in any referendum, divorce, same sex marriage, being the best version of ourselves that we can be.
I carry Ireland with me everywhere I go, and I love my country deeply.
….This is my coming out of the closet as it were publicly and saying that I support this vote with every fibre of my being.
Farrell recorded the interview with Byrne via satellite link from Los Angeles.
First published 8am