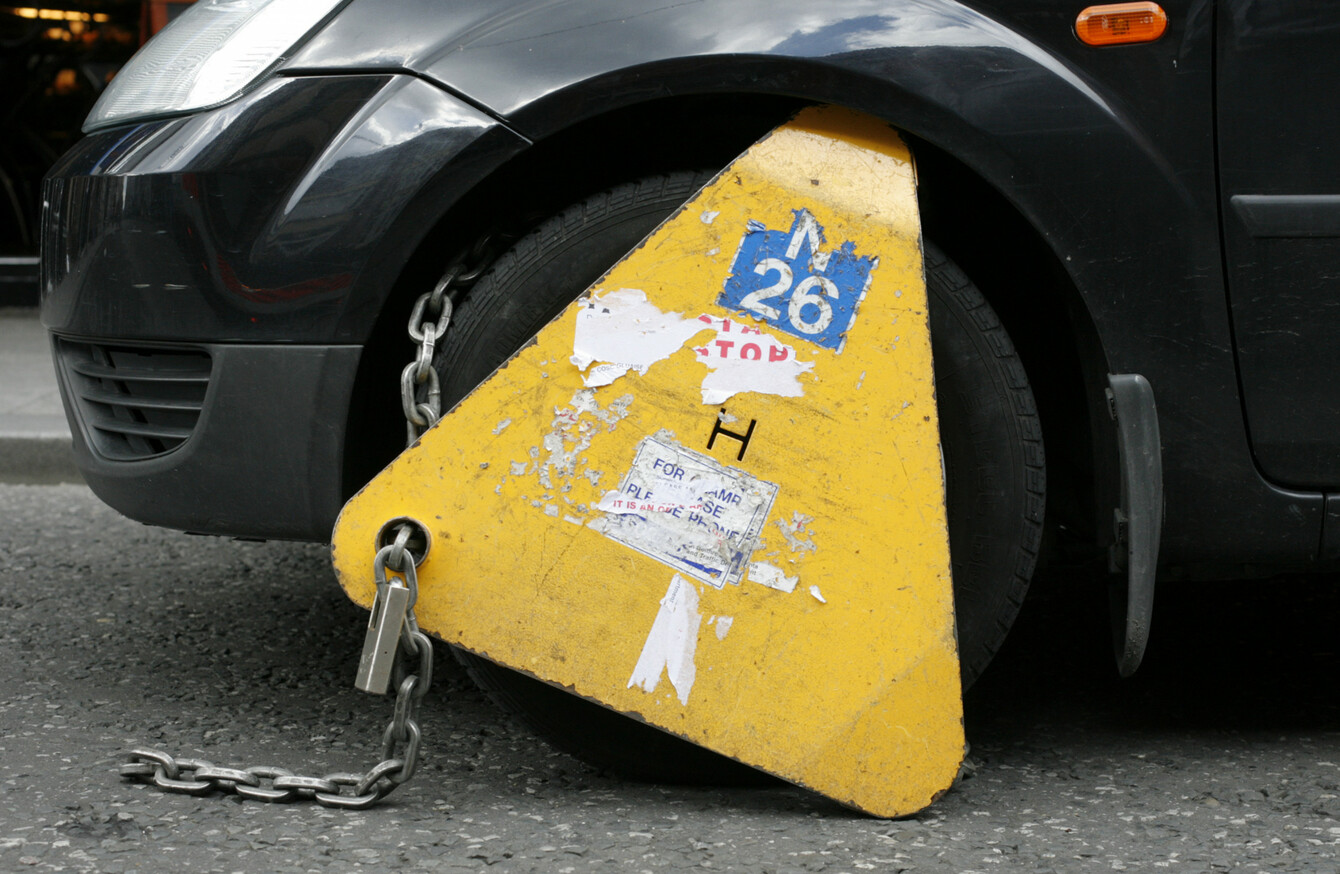 Image: Mark Stedman/RollingNews.ie
Image: Mark Stedman/RollingNews.ie
IN THE FIRST eight months of this year, there were more than a dozen reports of physical assaults or verbal threats against clamping staff by members of the public, TheJournal.ie can reveal.
Information released by Dublin City Council under the Freedom of Information Act details a number of serious incidents of aggressive behaviour and abuse faced by staff who enforce parking restrictions around the city.
In one incident on Great Strand Street in April this year, a member of the public "threatened, then physically pushed and spat at a staff member", according to the council's records.
Another serious report from June notes a clamper was "struck by a steel bar resulting in a leg injury".
Parking tickets are issued by An Garda Síochána but clamping and tow-away services in the city are operated by Dublin Street Parking Services (DSPS). The council says a vehicle may be issued with a ticket, clamped or towed-away for a number of reasons which include:
If your vehicle causes a hazard or obstruction;
If your vehicle is illegally parked;
If the time allowed on a Pay-and-Display ticket has expired.
One report notes a member of the public "punched and broke the wing mirror on a company vehicle before running away". And in an incident in January on Hill Street, one clamper was pushed to the ground while they were kneeling down to remove the clamp from a vehicle.
Other incidents include:
A member of the public who "aggressively threatened and then assaulted a staff member" on Hanover Quay in March.
A staff member verbally abused and work equipment knocked from their hands on Dominic Lane in January.
Two clampers verbally abused by another motorists while stopped at traffic lights on Northumberland Road in February.
A member of the public who kicked work equipment which was being carried by a clamper back to the company vehicle in Smithfield in May.
Last month this website detailed a number of similar incidents of similar behaviour towards traffic wardens across the country, including a number of serious threats and physical altercations.
Siptu organiser Brendan O'Brien, who represents both of these groups of workers, said there has been an increase in these kinds of hostile incidents involving parking enforcement staff in the last two years.
"There are a number of counties where it's gotten so bad that members are now required to wear body cams like you see on rugby referees in case anything happens, so there is a record of it. It's getting to that and clearly that's unacceptable," he told TheJournal.ie last month.
He also expressed concern about social media posts identifying staff and encouraging abuse or violence against them.
Dublin City Council and Dublin Street Parking Services did not respond to requests for comment.