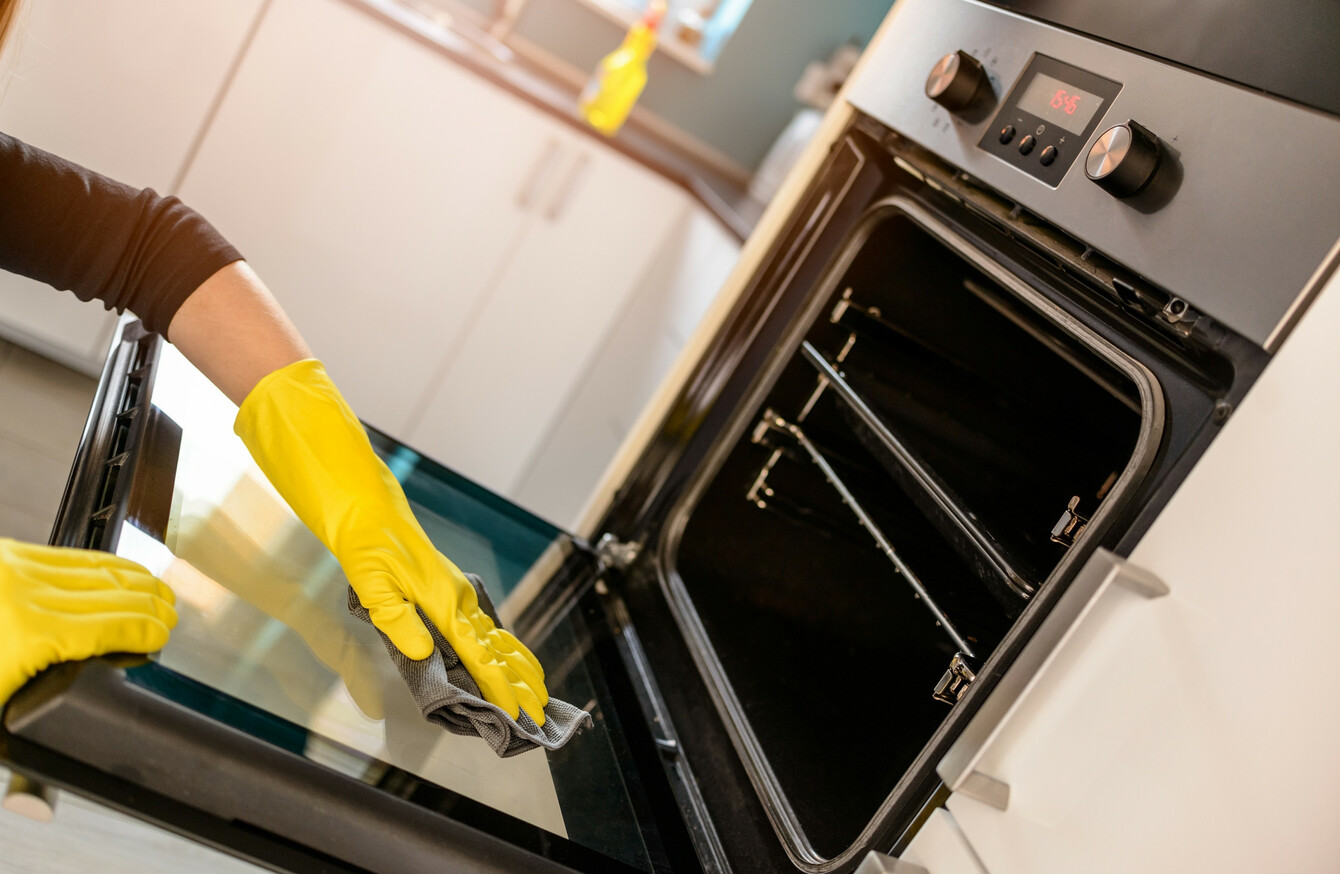 Image: Shutterstock
Image: Shutterstock
DESPITE OUR BEST efforts, every so often that huge Sunday roast or dinner party casserole bubbles up over the edge of the dish and down onto the oven rack and beyond.
Due to the high temperatures and long cooking times involved, food stains in the oven can be particularly difficult to remove. So what can we do when the inevitable happens?
1. If you can, get a self-cleaning model
If you're purchasing a new appliance, consider an oven with a self-cleaning option. This means that your oven has the ability to achieve temperatures of up to 500°C, thereby turning any food residue into ash that can be easily removed.
Be sure to keep the kitchen well-ventilated during this process, however, as the high temperatures can release fumes from the oven surfaces. Also note that the oven racks should generally be removed from the oven when in self-cleaning mode, and so they need to be cleaned separately.
2. Use a removable oven liner to avoid burned-on residues
A great way to keep your oven clean is to prevent food from getting burned on in the first place. A silicone oven liner can sit on the oven racks or bottom of the oven to collect any drips. Afterwards, the liner can be cleaned in the dishwasher. I recommend one of the thicker sheets on the market, as they are less likely to blow around in a fan oven and are also easier to handle.
3. Make sure to use a cleaner that's food-safe
An important consideration when cleaning your oven is that any cleaning products you use should be food safe. Lilly's Eco Clean is an Irish company that specialises in highly-effective chemical-free household cleaners, and their Degreaser and Descaler spray is ideal for tackling greasy stains around the kitchen. Spray and wipe surfaces for daily cleaning, or leave it for a few minutes to work on tougher stains. The vinegar component also ensures that it won't leave any streaks on the glass of the oven door.
4. Try a plastic-free scourer
Many people are now making a conscious decision to reduce the amount of plastic they use. So what are the options when you really need to scrub that oven? One that is growing in popularity is the luffa, a courgette-like vegetable that produces a natural fibre ideal for scouring tough stains. Little Green Shop, based in Mullingar, are stockists.
5. For the really tough jobs, turn to a specialist
If you've been putting off cleaning the oven for too long, then you might have a tougher job dealing with burned-in stains. In that case, you may want to use a specialist oven cleaner, like Astonish. This is a cruelty-free product that contains no harsh chemicals, yet is has also won industry awards for its effectiveness. It will even remove rust from chrome. However, it is an abrasive, so always test on a small area before use.