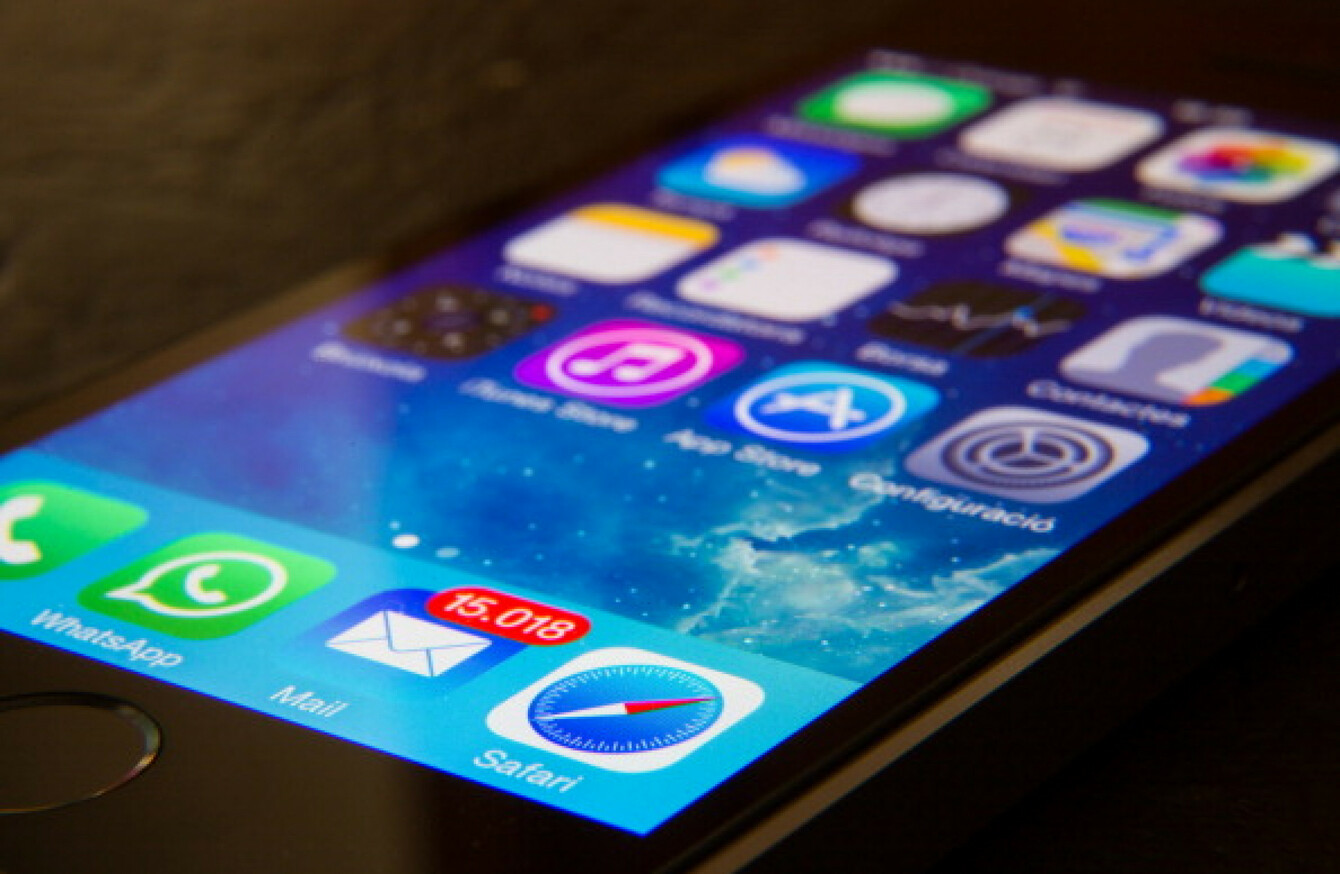 iPhones are listed as 'top sellers' on the Click.ie website.
Image: Getty Images
iPhones are listed as 'top sellers' on the Click.ie website.
Image: Getty Images
NUMEROUS ANGRY COMPLAINTS have been made about online tech retailer Click.ie with claims that the company has been unable to fulfill orders and in some cases has not provided receipts for purchases.
The company came into focus before the Christmas period with panicked customers who'd bought phones, tablets and other gadgets saying they had not arrived on time.
There were also complaints that Click.ie were unresponsive to the concerns of their customers and would not answer calls or respond to emails.
The problems appear to have persisted into the new year with one customer saying they were told during a visit to one store that "hundreds of other customers are in the same boat".
Click.ie lists seven stores around Ireland but its primary business is through its website where it sells refurbished smartphones at marked down prices. Click.ie says that its retail outlets and online store operate separately from each other.
Refurbished smartphones are phones that have been repaired and made to look new and generally come from China.
A number of years ago Apple began selling certified refurbished products but third-party retailers are now doing the same with Click.ie among the best-known sellers in Ireland.
The Facebook page has over 53,000 likes and runs 'like and share' competition, as well as advertising the previously owned tech that's on sale.
Posts on the Facebook page also appear to have numerous deleted user comments with some customers telling TheJournal.ie that their comments of complaint have been frequently removed.
Reviews for Click.ie on the website TrustPilot.com, which has 58 customer reviews of the company, are overwhelmingly negative and are all labelled as either 'poor' or bad'.
Customer David Glynn explained that his girlfriend spent €400 on a new phone through Click.ie's website three weeks ago, but said that when the money went through she received no confirmation of sale.
He added receipt was issued in the days after the sale either and they could not contact a customer representative.
She thought she was purchasing a phone from their online shop and after she put in her details €400 was instantly taken from her account by 'Cantec Office Solutions' and she didn't get sale confirmation. You can't contact them by phone because they never answer and it's the same with email and Facebook messages.
Glynn said that he finally got a response by tagging the name of company director Umar Anwar into his Facebook posts. He also said that Anwar worked in the Ennis branch of the store.
Company filings show that Umar Anwar is listed as one of three current directors of Cantec Office Solutions, which trades as Click.ie, and is resident in Ballynacally, Co. Clare.
The company's listed number also has a customer service section that redirects to a recorded message telling callers that the "mailbox is full and cannot accept new messages".
Cantec Office Solutions has gone through a number of different ownerships in recent years and in March 2017 an examiner was appointed to the company.
In response to queries from TheJournal.ie, Anwar acknowledged that communication with customers was not at the level he would want.
"We understand that the level of communication has been sub par, the reason being, we have limited resources in customer service to deal with the increase in orders we are currently experiencing which is being addressed and we can only apologise for this," Anwar said in an email.
We are working tirelessly to fulfil all orders more efficiently and to better communicate with our customers. The level of sales we are currently experiencing means we don't get to everyone immediately but rest assured we are and will get to everyone. We would advise customers to continue to call as we are implementing new processes on our customer services daily.
Refund
Glynn said that after tagging Anwar in the Facebook posts his wife received an email saying that her money would be refunded. So far, he says, no money has been received.
"That day she got an email saying she will get a refund if you give me your order number, but she didn't get an order number or confirmation or anything. She waited then for three days and got an email saying that's gone through. But it hasn't gone through yet."
On this receipt issue, Anwar said that the website automatically sends a confirmation of sale when a sale goes through and he is not aware of an occasion when no receipt was issued.
"We are aware of issues where customers could not find the email but after advising them to check their junk mail on almost all occasions they find it there," he added.
PayPal 
Another customer who contacted TheJournal.ie detailed a similar experience after paying €330 for a phone but not receiving it.
#Open journalism No news is bad news Support The Journal

Your contributions will help us continue to deliver the stories that are important to you

Support us now
Ciara Ennis said that after weeks of having her calls ignored she went to a nearby Click.ie store which provided her with another email address to contact.
This, she explains, was also ignored until she sent another email saying that she was going to take a case with PayPal over the issue.
When she raised this, Ennis said she received a response in five minutes.
"A very unhelpful and unapologetic response might I add," Ennis said.
She offered no apology and when I requested a refund she told me that because I took the action of involving PayPal I will now have to wait longer for my refund.
Ennis adds that she was told in the store in February that no orders had been shipped since December.
In a Facebook post last month, Click.ie acknowledged that there was "a backlog" of deliveries but sought to reassure customers that their products are being shipped.
Anwar said that it is "policy to refund any unhappy customers".
One industry insider who also works in the phone resale sector says that the refurbished phones being sold by Click.ie "aren't readily available" and can take weeks to come from China, possibly accounting for the delays.
"A refurbished phone is one that can be repaired several times, it goes to China and they can make them look brand new basically by putting a brand new front and back but it's like a used second-hand car, you don't know what has been done to it," they explained.
The stock that they're buying isn't readily available, so it's not like you can buy an easy amount of it all the time. So what they're doing basically is, they're taking people's money and they're buying the stock but by the looks of it and judging by the reviews, people aren't getting the stock and they're waiting months.
"To get stock from China you'll be talking at least three weeks. It leaves China, gets through customs, especially phones, getting phones from China is difficult because there are batteries and everything."
In response to concerns about Click.ie's supplies, Anwar said that the company does have sufficient stock for its customers.
"We do experience delays from suppliers which slows the process. However, we have a constant supply of stock coming in, once it's tested and quality approved it's shipped out," he said.