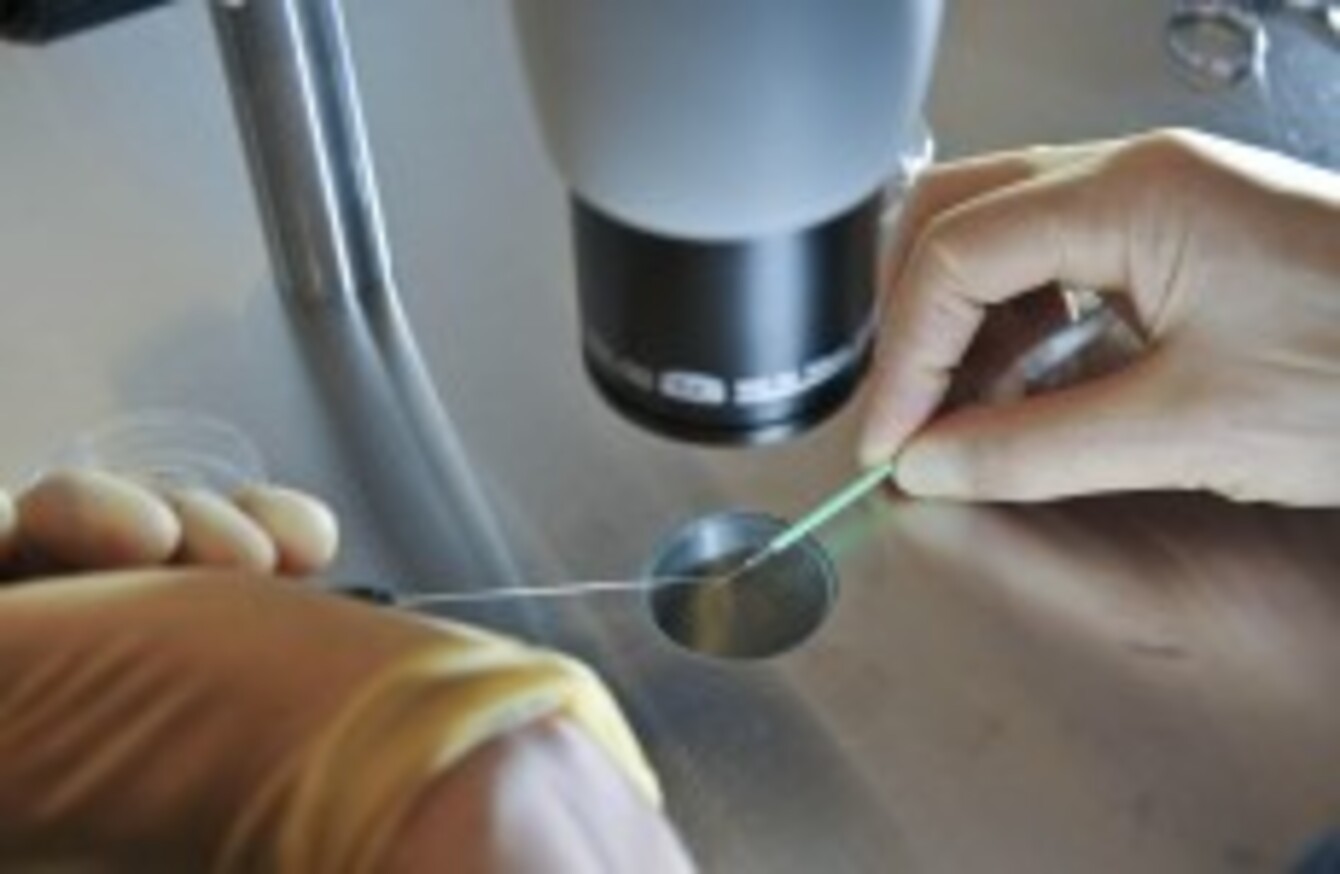 Image: Ben Birchall/PA Wire
Image: Ben Birchall/PA Wire
THE CYSTIC FIBROSIS Association of Ireland has welcomed news that two clinics in Ireland have been granted licences allow testing of embryos for genetic diseases such as cystic fibrosis.
The Beacon CARE Fertility Clinic in Dublin and the Cork Fertility Clinic were granted licences by the Irish Medicines Board (IMB) to test embryos produced through IVF to show if they are free of specific disorders and chronic illnesses.
This is the first time in Ireland authorisation has been granted to perform these fertility treatments and screening procedures which clinics will now offer to Irish couples who have previously had to travel overseas to receive such treatments.
Pre-implantation genetic diagnosis testing will mean that couple can choose not to keep embryos which prove positive for disease like cystic fibrosis.
A spokesperson for Beacon said that the new tests that are available will be able to screen for thousands of genetic disorders.
Speaking to TheJournal.ie Chief Executive of the Cystic Fibrosis Association of Ireland Philip Watt said this will be of great significance to Irish couples who have already been travelling abroad for the screening.
"We recognise there is a need for it to be available here," he said. "The key issue for us is that there needs to be independent counselling given to couples so that they're fully informed."
The Beacon CARE Fertility Clinic will also offer chromosome screening of eggs and embryos for abnormalities that can cause miscarriages and IVF failure.
Watt said these access to these kinds of services for people with cystic fibrosis would prove important as many of his associations members have successfully conceived recently with the help of IVF treatments.
"It can be very difficult for someone with cystic fibrosis to conceive", he said. "The recent success is so heartwarming. The chance of having a child is so important, especially for our members whose lives tend to be shorter."
Watt also called on the HSE to get involved to ensure that the service is made more affordable so that people on lower incomes can avail of it.
Beacon said the the chromosome screening costs €2,950 and pre-implantation genetic tests will cost €5,490 but couples using the service would be required to pay €4900 for fertility treatments on top of that meaning the cost could run up as far as €10,000 for couples trying to conceive.
"It can be extremely difficult for people to come up with that kind of money and we don't want this to be an elitist service," Watt said.