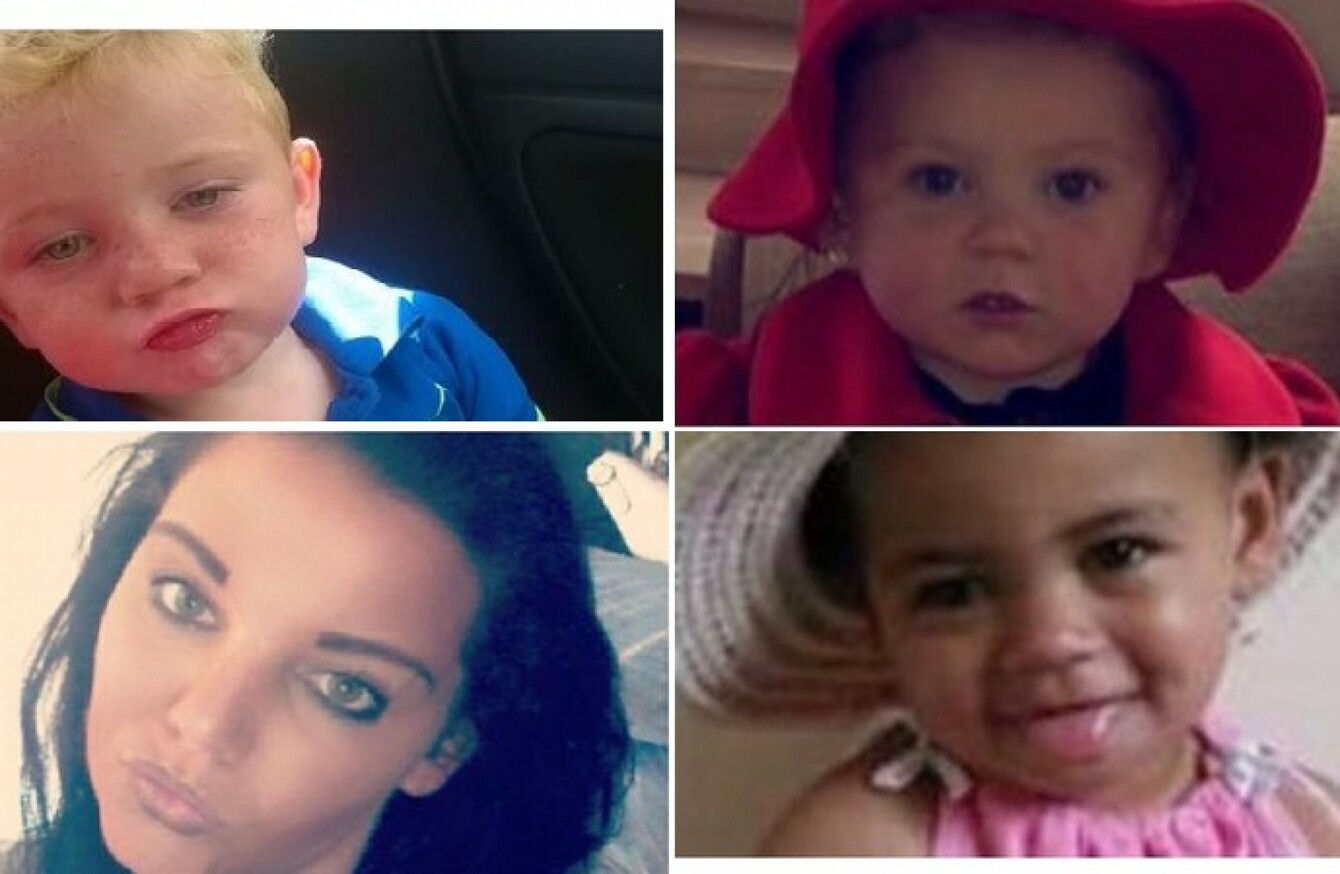 Annemarie O'Brien her daughter Paris and cousins Holly and Jordan.
Image: Facebook
Annemarie O'Brien her daughter Paris and cousins Holly and Jordan.
Image: Facebook
Updated 12pm
THE FUNERALS OF the victims of last week's fire at an apartment in Clondalkin took place in St Anne's Church in Shankill this morning.
27-year-old Annemarie O'Brien, who was seven months pregnant, died last Wednesday along with her two-year-old daughter Paris and their cousins Jordan (4) and Holly (3).
Jordan and Holly's mother Biddy remains in a critical condition in hospital. The family had been visiting Biddy's cousin when the fire broke out.
It is believed the fire was caused by a candle near a television.
Chief celebrant Father John O'Connor was assisted by Father O'Driscoll of the Parish of the Travelling people.
Holly and Jordan's father Jamie Sommers, Biddy O'Brien's husband, also attended the funerals today.
Father O'Connor told the Mass that Jamie is "deeply upset" over the loss of his two children.
"Last evening I spoke to Jamie and he told me how much Jordan and Holly loved their Mammy and how much she loved them," said Father O'Connor.
He said their father is "happy they are together".
"They are together, they are not alone, that is very important for Jamie. He wants his children to know that he will look after their Mammy," the Father told the congregation.
"Many of us may feel like saying to him [God] if you had been here,  Annmarie, Hannah Paris, AJ, Jordan and Holly would not have died. If you had been here Biddy wouldn't be gravely ill. Why did you let this happen?" said Father O'Connor.
All four deceased are related to the extended Lynch family, who lost relatives in the Carrickmines tragedy in October 2015.
'God's strongest soldiers' 
"For you as a family, this is not the first cross that you have been asked to carry, we all know that… Pope Francis says God chooses the strongest soldiers for the toughest battles and I believe these words are really applicable to you," the priest added.
You are God's toughest soldiers. You are not alone.
The apartment where the fire broke out was being used as short-term accommodation, where women and children can stay for up to two years.
Additional reporting Christina Finn