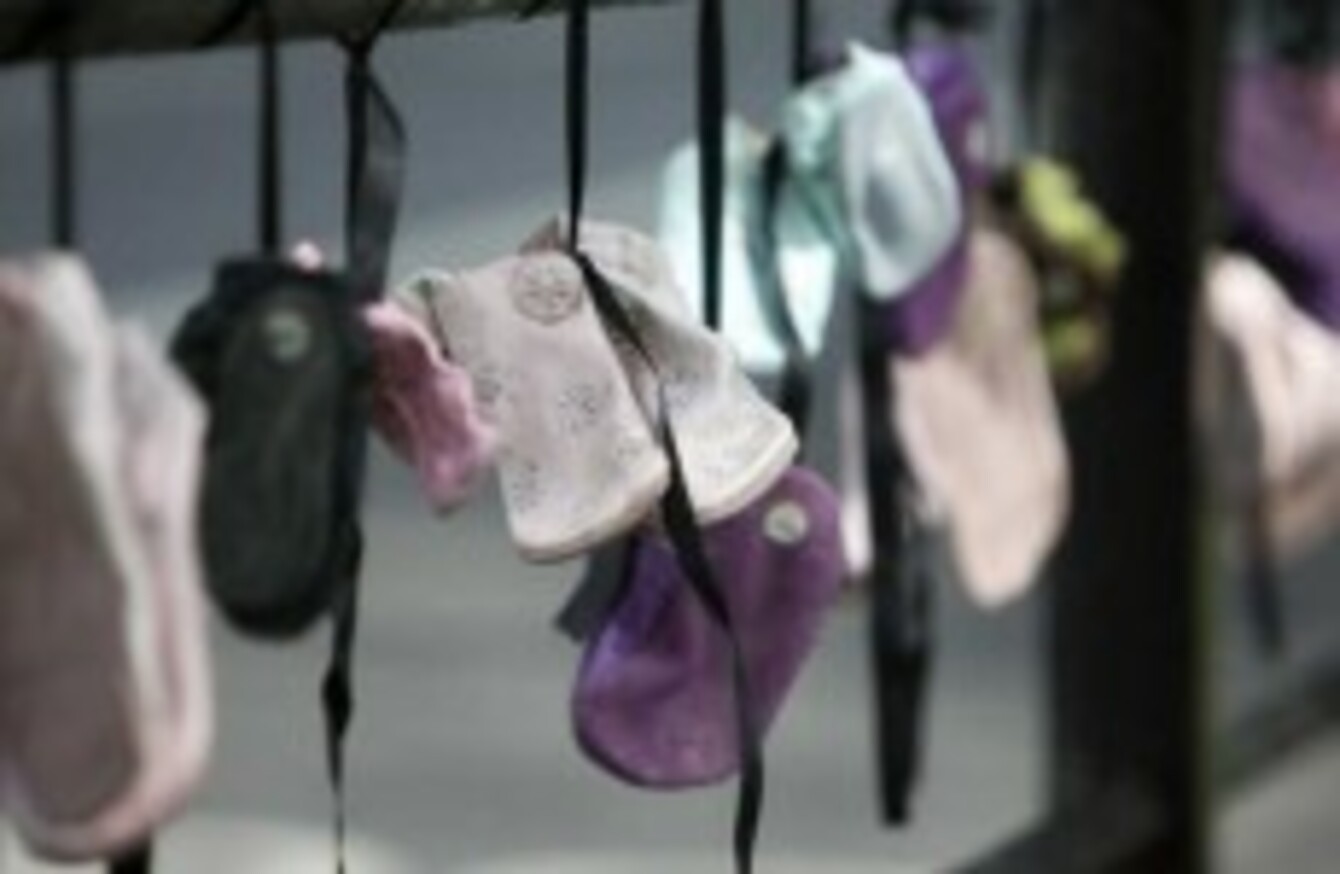 Children's shoes hung as a protest against clerical sexual abuse of children
Image: Eamonn Farrell/Photocall Ireland
Children's shoes hung as a protest against clerical sexual abuse of children
Image: Eamonn Farrell/Photocall Ireland
THE MURPHY REPORT into the handling of child sexual abuse claims in the diocese of Cloyne will be published this month.
Justice Minister Alan Shatter told RTE today that the Government would receive the report on 12 July, Tuesday week, and it should be "published very shortly" after that. The minister also said the publication of the report had been more "drawn out" than he had expected.
Bishop of Cloyne John Magee resigned from his position in March last year after two investigations into child abuse allegations in his diocese criticised his inaction on claims.
The Murphy Report into the situation in Cloyne has been long delayed:
A preliminary report into the handling of two child abuse claims in the diocese was published in December 2008. It was compiled by Ian Elliott of the National Board for Safeguarding Children and found the actions taken by John Magee and other Church officials was "significantly deficient in a number of respects".
The publication of Elliott's report itself was delayed, and both Alan Shatter and then Sunday Tribune journalist Justine McCarthy had criticised then Children's Minister Barry Andrews for not ordering the publication immediately when it was received in July.
A more extensive inquiry headed up by Judge Yvonne Murphy was ordered in January 2009. It was given a deadline of December 2010 for completion.
The Irish Catholic reported in January 2011, shortly after the Murphy inquiry concluded, that the findings of the judge would be delayed by legal concerns over reference to one person in the report.
It was then reported in March that the Murphy report into Cloyne would be published by early May. The Sunday Business Post reported that Justice Minister Alan Shatter had to ask the High Court if he could publish the report in full, or with some omissions in the case of ongoing investigations or court proceedings.
At the beginning of April, the President of the High Court Mr Justice Nicholas Kearns said it would be mid-July at the earliest before the report could be published in full because of pending criminal proceedings against one priest named in the report. It was first reported that most of the report could be published apart from Chapter 9 which contained references to that priest but then it emerged that other references in the report may have identified him.
On 21 April, Shatter said that the legal issues meant the report would not be published until the second week in May at the earliest.
Today, Shatter said that the report will be presented to the Cabinet on 12 July and published as soon as possible afterwards.