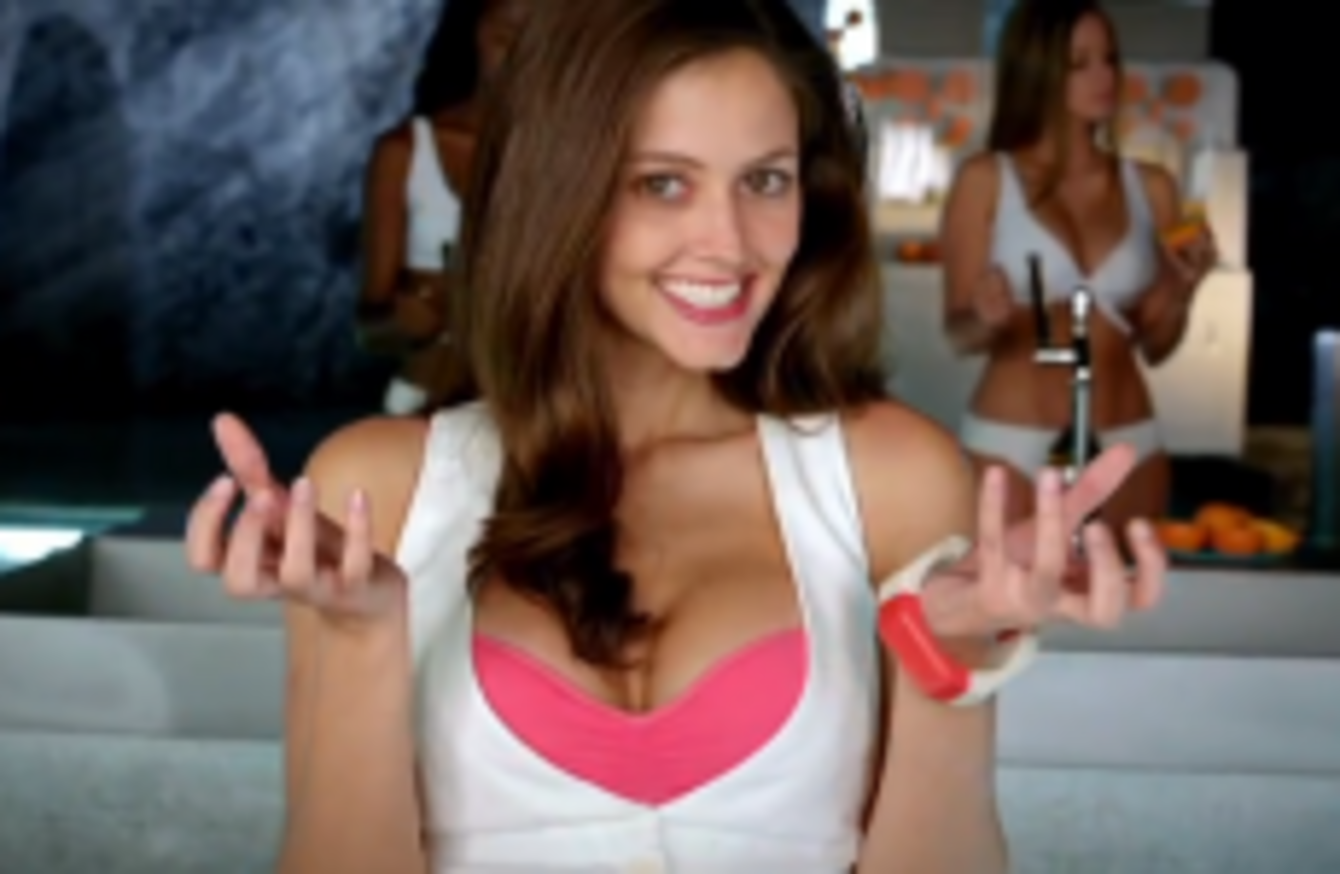 THE UK'S ADVERTISING standards watchdog has rejected a complaint against Club Orange's controversial 'get your hands on our bits' advertisements, dismissing a complaint that the advert was "offensive and irresponsible, because it was sexist".
The Advertising Standards Agency (ASA) rejected the complaint that the advert – which was screened in cinemas in Northern Ireland – was inappropriate to be aired before a movie rated 15.
The tongue-in-cheek ads see a series of women wearing tight, revealing clothing, teasing men that they cannot wait "to get your hands on our bits" – a double-entendre referring to the small orange pieces typically found in the soft drink.
The ruling follows a similar complaint being upheld by the ASA's Irish equivalent, which said an outdoor version of the ad was intended "merely to attract attention, as there was no tangible link between a pair of women's breasts and the brand Club Orange".
A cinema-goer had complained that the TV advert – shown before a cinema screening of the 15-rated Prometheus – was "sexist, objectified women and reinforced chauvinistic stereotypes to impressionable young people of how women should portray themselves".
The ASA accepted the explanation of Club's makers Britvic Ireland, however, who said the adverts were designed to target the product's core audience of men aged 18 to 30.

(YouTube credit: cluborange)
Britvic conceded that while the ad might not have been to everyone's taste, it had been carefully targeted and they therefore did not believe it was "either socially irresponsible or likely to cause widespread harm or offence".
The UK's Cinema Advertising Association (CAA) had also given the advert a 15 certificate, clearing it to be shown to cinema-goers ahead of films for that audience – because while "a small number of viewers might have found the ad offensive even with the age restrictions in place", it did not believe this would "amount to serious or widespread offence".
The ASA concluded that while the advert could be interpreted as objectifying women, "we considered that the average viewer would recognise the ad as an over-the-top satirical spoof and that therefore it was not likely to cause serious or widespread offence to audiences aged 15 or over".
The watchdog upheld another complaint about the ad, however, from a viewer who had seen the advert aired before a screening of The Dark Night Rises – which itself only carried a 12A certificate.
Although the CAA had given the ad a 15 certificate, the British Board of Film Classification had rated it 12A – an overlap which the CAA said had resulted in a technical error where the advert was shown to an inappropriate audience.
The association said it had taken the necessary steps to stop the error from recurring. Britvic Ireland told the ASA it had no plans to run the ads again in future anyway.